The term "sports bar" usually refers to places you passively slug down lukewarm Bud Light and stare at a flatscreen. When a bar does boast activities, it's mostly adult versions of what you'd find at Chuck E. Cheese's, like Barcadia, Dave & Buster's, or Main Event. Too bad we can't go down to the local baseball diamond bar and take batting practice while chugging those weird wine-based margaritas they sell by the yard at Rangers' games. Note: As a person who watches no fewer than 70 baseball games a year, if you know of such a place, hit me up.
It's rare to find bars dedicated to one specific sport and certainly not one where you can actually play at the same time, which makes the new Top Golf in Fort Worth interesting. Please note, as I talk about a golf-centric bar, that I'm not a duffer. I have taken lessons and played in the past but stopped before getting the required visor and melon-colored microfiber shorts of a legit lady golfer. Even though I don't use a pitching wedge regularly, I'm pretty damn good at raising a pitcher of cocktails with an orange wedge. Luckily, the club-swinging part is ancillary to the sport of consumption at this hotspot, and you don't need to start a scorecard to have a fine time.
Top Golf Fort Worth may have a startling amount of contenders in my Top 5 favorite summer cocktails for '17 category. The whole bar menu looked as if it had been created as a refreshing distraction from the fact that you are doing physical activity in a place that is hanging open to the searing Texas sun. A perfect example was the Frosé, with a cube of frozen rosé and berries floating in prosecco. If you really like the taste of coconut, check out Kenny's coconut mojito, with Blue Chair Bay white rum. But when I think of golf drinks, I think of the Arnold Palmer, and TG's version of the Tipsy Palmer was a tasty, albeit sweet, hat-tip to the classic, with Deep Eddy Sweet Tea vodka, Absolut Citron, iced tea, and lemon.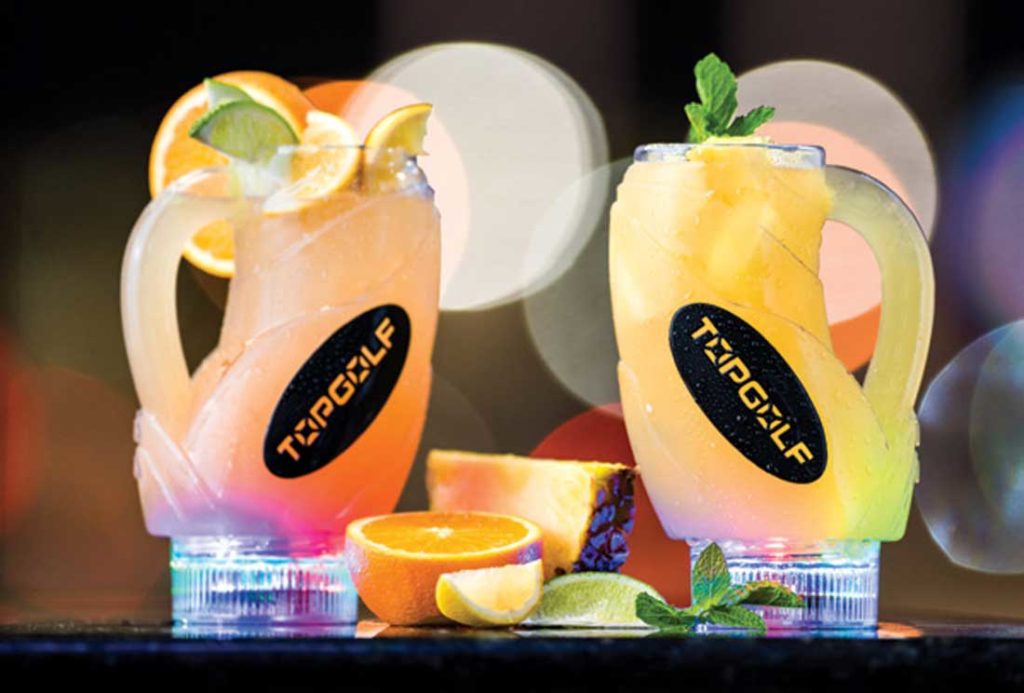 The bar's take on fishbowl drinks was a list of shareable cocktails served in a plastic-handled "Golfbag." The catch was that you needed a buddy for the round, as they were served only to parties of two or more. They may not disqualify you for getting caught solo drinking the Citrus Cabana Golfbag, with Deep Eddy Ruby Red vodka, St-Germain, lemon, lime, and orange juice, but I would recommend letting Lyft drive the cart home. Also, the place's beer and wine-in-a-can selections were available either by pitcher or bucket but also required a buddy for purchase.
Top Golf is technically local to North Texas, as its corporate headquarters is in Dallas, so perhaps management is particularly adept at catering to the booze-first/birdie-second attitude of local links fans. Wait times for the climate-controlled hitting bays were still very long, so prepare to spend time on the terrace or at the bar waiting to drive some balls. Regardless, Top Golf may be the way to score some fine summer drinks, even if you think the Ryder Cup is about horse racing