LaToya Smith vividly remembers the night an intruder broke into her Fort Worth apartment. He kicked and pounded on the door while she desperately pleaded for him to stop. But he was relentless. Fearing for her life and the lives of her three small children, Smith grabbed a large kitchen knife and stood near the door.
"Please!" she yelled from behind the door. "I have kids in here!"
"I don't care about you or your kids!" the man screamed back. The door was shaking and rattling, ready to come unhinged at any second. Her children were asleep in their beds when all of the noise woke them up and they started crying.
"I was terrified," Smith later told me.
She guided her children into a hallway closet, hoping to hide them from harm.
"I just told them to stay down and don't come out if anything happens," Smith said.
She had already dialed 911. Officers were rushing to the scene.
"If he comes in here, I'm going to have to defend myself and my family," Smith said she told the police dispatcher.
Just before the door came crashing down, Smith slid her cell phone under the couch for the dispatcher to still hear everything. As the door broke loose, the man rushed toward her with a knife. Smith raised her own knife and started swinging at him. As she fought for her life and the lives of her children, she accidentally severed all of the fingers on her right hand.
"I didn't know I was using such excessive force," Smith said. "I cut my own fingers. My fingers were literally hanging off, and I didn't even know."
When police arrived, they found the burglar lying on the floor of her living room, bleeding and unresponsive. He later faced felony charges and was sentenced to 14 years in prison. That night, Smith packed everything and moved out. The attempted burglary was the second her family had endured after living just three weeks at an apartment complex on Rosedale Street. Their move into public housing was supposed to mark the end of struggles that saw Smith and her children living in hotels, staying with friends and relatives, and sleeping in her car. Instead, it ended right where it began, and they were back on the streets.
Her story might seem extreme, but Smith is part of the fastest-growing homeless population in Tarrant County: women and children. There are an estimated 7,433 homeless children under age 6, according to the Center for Transforming Lives, a local nonprofit dedicated to guiding women, children, and families out of poverty. Statewide, there were 113,063 homeless students during the 2014-15 school year, based on reports by the Texas Education of Homeless Children and Youth Program.
"We get tons of phone calls, emails, and walk-ins from particularly women with children but also teenagers looking for a safe place to be," said Carol Klocek, chief executive officer for the Center for Transforming Lives. "In the last two years, we have seen a big spike in calls for assistance. It's not unusual for us to get 300 calls in a month from people looking for safe housing. The greatest frustration for us is there is so little room for them, especially for women with children."
Exact figures on the number of homeless children in Fort Worth are difficult to tally. If anything, Klocek suspects the figure is grossly under-reported. Homelessness is a complex issue, she said, with many different causes A lack of affordable housing is often central to the problem. High occupancy rates, combined with a high demand for apartments, are causing the price of rent to skyrocket. North Texas is facing a "housing crisis," Klocek said.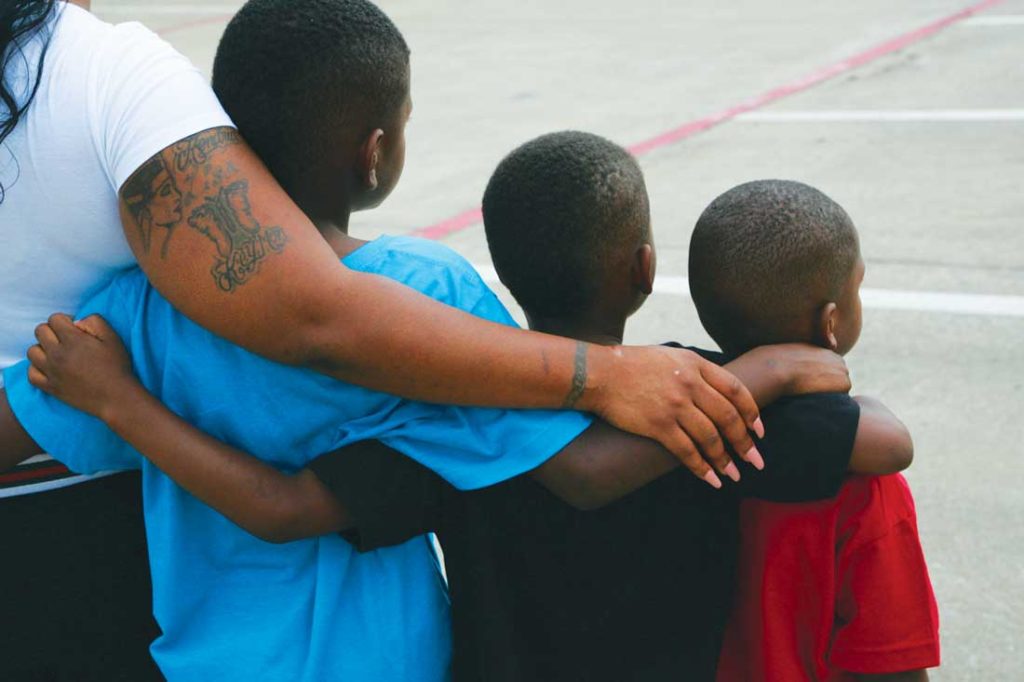 Finding safe, stable, affordable housing is becoming extremely difficult for some of the area's most vulnerable people, based on various reports and interviews with some of the major nonprofits involved. The average price of an apartment in North Texas is now just over $1,000 a month, according to data from MPF Research, an apartment market analysis company in Richardson. Within the past year, MPF says, apartment rents in Dallas-Fort Worth have increased by about 6 percent. MPF also indicates that 49,684 rental units are currently under construction, and about half of them should be finished by the end of 2017. Most of them, however, are geared toward higher-income renters. Upscale apartments in Fort Worth, for example, can run as high as $1,491 a month.
To comfortably afford a $1,000 a month payment, a renter would need to take home $3,000 a month after taxes.
Income is not the only consideration in such a competitive market. A single mark on someone's background or rental history can all but end his or her chance of living indoors. More than one mark makes it even more challenging. That's what Smith is facing.
As the cost of living in North Texas continues to rise, homeless advocates and educators are concerned that more families and their children will be unable to afford housing. People living on low or inconsistent wages face the greatest risk, educators and advocates said. The resources of schools and nonprofits that help the homeless and disadvantaged are already strained.
In many ways, Smith defies stereotypes about homeless people. She has reliable transportation, is well-groomed and well-spoken, exudes a positive personality, and works more than 40 hours a week as a general manager at McDonald's. But her salary is barely enough to squeak by with a total of seven children, ranging in age from 3 to 18. All of the school-age kids are in the Fort Worth school district. The youngest three live with Smith, and the other four live with other family members.
Her difficulties began four years ago when her husband went to prison. Smith not only lost his support, but she had to quit a second job that she worked to help pay the bills. When she had to move out of their house and into a new apartment, her choices were severely limited.
"With me having a bad background, I had to choose low-income apartments, even though I'm a general manager at McDonald's," she said. "I make good money, but my background is all jacked up."
Smith, now 33, made a mistake at age 17 that she regrets. She is honest about what happened, and she makes no excuses for it. While struggling to survive, Smith wrote herself a couple of bad checks that she later could not pay back. After she was arrested, the prosecutor waited two months for her to turn 18 and then tried her as an adult and sentenced her to nine months at Lucile Plane State Jail in Dayton, near Houston. While there, she earned her G.E.D. and after she got out, her mother hired her at McDonald's. Smith said she excelled as a crew leader and quickly worked her way into the management-training program. Despite her successes, her past creates a barrier to finding a decent apartment.
"I had to move into low-income housing," Smith said. "Those are some pretty, pretty bad apartments."
She moved into the Rosedale complex on Aug. 3, 2016, and stayed there only until that Aug. 21. The first burglar broke down the door to the apartment while the family was out getting ice cream.
"I got a call from the Fort Worth police saying they were standing in my living room," Smith said.
She convinced police to wait until she arrived to check out the losses and damages. Then came yet another setback. Smith had to pay to have the door replaced herself. Otherwise, the family would have been exposed to more crime. But even a new door was not enough to protect them. After coming face-to-face with the knife-wielding burglar, Smith had had enough. Her mom packed up the family's things while Smith was treated for her self-inflicted wounds at an emergency room.
"I had to get stiches and staples and got released the next day," Smith said.
As she looked for a new apartment, she found out she had a ding on her credit and a mark on her rental history for a broken lease.
"I had an intruder," she said. "I was the victim of a crime, and they still put a broken lease on my record."
Desperate to keep her family living indoors, Smith at one point lived in a hotel that cost $2,500 a month. She quickly burned whatever cash she had, and when the money ran out, she turned to her mother for help.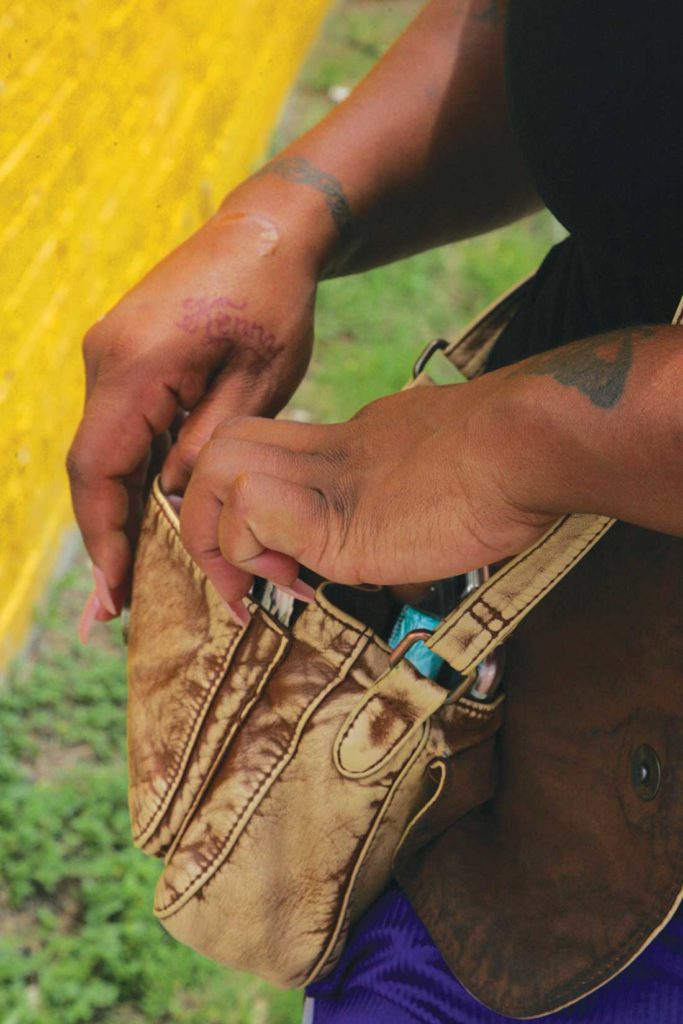 "We were there for a couple of weeks, and she said, 'You're going to have to leave,' " Smith said. "They're not bad kids. They're just boys."
For two nights, Smith and three of her children stayed in her car. Then a call came the next day from the Presbyterian Night Shelter. Smith had secured a spot for her and her children at the Morris Foundation Women and Children's Center. Opened last year, the center provides private rooms for about 40 women and 100 children, in addition to the Presbyterian Nigh Shelter's general area for women. The goal is to help the women become self-sufficient and quickly secure their own housing, said Betsy Beaman, a spokesperson for the Presbyterian Night Shelter.
Smith's struggles with finding safe and stable housing also placed a strain on her children's education. During the last school year, they each missed about 16 days. The kids also attended special tutoring provided at the shelter by staffers from the school district.
"It was pretty hard with school," Smith said. "Sometimes it was due to the weather. Sometimes it was due to the fact that we didn't have anywhere to go. We didn't have anywhere to shower."
Homeless students are found in varying levels across the Fort Worth school district. At least once, every campus in Fort Worth has had a homeless student, said June Davis, director of special programs for the district. During the 2016-17 school year, 1,588 students were identified as homeless.
"Those are the ones we know about," Davis said. "Do we have more than that? Yes."
For the district, a high student mobility rate –– students moving from school to school during the year –– is the first indication that a family is struggling and that homelessness might be on the horizon.
Tarrant County's less fortunate families sometimes live on the edge of homelessness, searching for the latest move-in specials and moving from apartment to apartment in the hopes of avoiding the devastation of coming home to find an eviction notice tacked on their door. Some manage to settle in a home for weeks or months at a time, but the smallest setback can spell disaster.
"A woman ended up here over a car battery," Beaman said. After paying $80 to replace it, she was short on her rent, and an eviction notice soon followed.
Not all homeless people are living in a shelter, though. The majority stay with family or friends, bouncing around from place to place until they wear out their welcome. Staying with others might seem like a good alternative, but it comes with its own set of problems.
"If they're doubled-up, and the family they moved in with also have kids, that's chaotic," Davis said. "It's not going to last long before they have to move again."
Some families manage to change their lives after living at a shelter, although that is not always the case, Davis said. Much of it relates to the parents' state of mind.
"If they're just frustrated, the kids will be frustrated, too," Davis said. "If the parents can believe it can be overcome, they're going to do better. We do have families living in the shelter. The shelter has rules and guidelines. And for those parents who move in and follow the guidelines, they end up moving out and doing very well. They're able to manage and sustain a household. Those who don't follow the rules stay as long as they can, and then they have to leave. And it's not long before they'll be back again."
Families struggling to maintain an address move around a lot, and that is usually how they first show up on a school's radar. As an urban school district, Fort Worth has a mobility rate of 21.1 percent, compared to the state average of 16.5 percent, based on School Report Card figures from the Texas Education Agency. At some Fort Worth schools, the mobility rate is even higher. O.D. Wyatt High School, for example, has a 24.8-percent mobility rate.
"We have had students at times attend as many as nine different schools in one year," Davis said. "Students oftentimes fall behind in their studies, and attendance is an issue because when they withdraw from one school, it can sometimes be several days before they re-enroll in another school. What we try to do with our program is identify those students, find out why they are moving as much as they are, and whether they qualify as homeless."
Under the federal McKinney-Vento Education of Homeless Children and Youth Assistance Act, support is provided to districts with homeless students. Students are considered homeless if their family does not have its own dwelling and is staying with other family members or friends. Other homeless students include those living in shelters or on the streets.
The competition is fierce, and the rules are hard and fast when it comes to apartment living in North Texas. Many complexes are bound by the terms of their corporate owners. If a family is short when the rent is due, out they go. Eviction proceedings can start as early the fourth of the month, and cases can be heard and decided in court in just a couple of weeks. The Fort Worth school district works to try to prevent that from happening. Three directors keep the lines of communication open with apartment complex managers, said Karen Molinar, chief of elementary schools for the Fort Worth school district.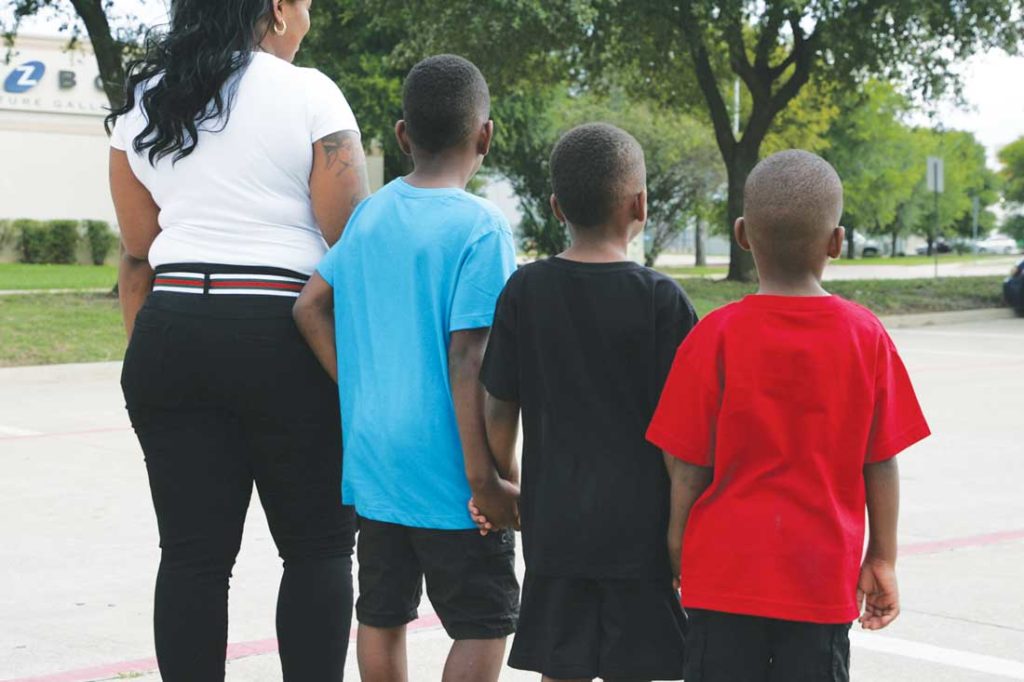 "They're talking to apartment managers as well as holding pre-K roundups out there," Molinar said. "They're holding informational meetings about the school, trying to make the apartment complex part of the school community. It's really just to create that empathy that our kids need to stay put and that we have a relationship with the school. We know financially sometimes they have to move, but we're trying to get the apartment complexes to feel that they're a part of our school community and that they feel like they want to keep the same families and keep them there."
Attending to the neediest families in the district is both rewarding and taxing, school leaders said.
"It's another responsibility that the school, the teachers, everyone takes on," said Cherie Washington, chief of secondary schools for Fort Worth. "It's not a part of the job description, but it really is, because they do whatever it is to take care of kids. It's unintended, but it happens because it's our job to take care of them."
Fort Worth is also looking for ways to help students who must switch schools in the middle of the school year. Starting this fall, Fort Worth plans to pilot a busing program at five campuses that is designed to keep students in the same school if their families move.
"We're trying to keep those students at their schools," Washington said. "That means that if we can provide transportation, there is a way they can stay there. It helps to keep them in a consistent environment."
The district is also working to make sure students are at the same place in the curriculum at the same time, she said.
"That mobility rate means we have to be sure that when kids move within the district that they have the same opportunities, the same resources," Washington said. "And we've done that. But we're going to be even more focused on it."
As administrators, Washington and Molinar have witnessed heartbreaking stories related to student mobility and homelessness.
"In one extreme case, we found that one of our high school seniors was taking care of two elementary siblings and had been doing so for pretty much a semester," Washington said. "But he did not want to tell anyone that his parents were just gone. They won't tell you those things in high school sometimes because they know the ramifications of reporting that, and they don't want to lose their siblings. It's a cycle. It's something where they were raised that way and they know how to manage it. And they're just managing. They're not thinking about how to change it. They're managing it daily sometimes."
Students in the most critical situations have parents who are struggling because they are experiencing long-term poverty or they have recently become unemployed and can't afford to pay the rent, Washington said.
"I've seen extreme cases where the parents are just gone and the kids are there by themselves until someone notices," Washington said. "Sometimes parents are incarcerated. Sometimes students are staying with grandparents or extended families and friends. Sometimes the kids don't readily tell you that things have changed because they're embarrassed. Or it's just a very sad situation, and they don't know their next step. Those are the extreme cases."
Student absences are also a warning sign.
"A lot of times they just don't show up for four or five days," Molinar said. "We try calling parents, and the parents aren't answering or the phone has been disconnected. We do home visits and find the family is no longer there. Sometimes you have a student who doesn't have any books or supplies, or any of the materials they need to enroll, because they had to move suddenly. A lot of times they are in a situation where they didn't have a plan. It could be a case where they've come home and found they have to move immediately. Maybe they've had a chance to take their stuff out of the apartment, and maybe they haven't."
People with a stable, well-paying career, a beautiful home, and an extensive support network can find it difficult to imagine how anyone could become homeless. Sometimes, the lack of a family or a support system carries the biggest risk for becoming homeless.
"Some of them are completely alone, and why it's that way is their story," Beaman said.
Homelessness and transient living has a profoundly negative impact on the mental and physical health of children, according to a 2015 study by the Institute for Children, Poverty, and Homelessness, a policy research group. Still, students living in these circumstances are expected to be in school and perform at the same levels as others.
"This kind of transiency, or moving in and out of a shelter and the impact it has on small children, is so significant," Klocek said. "It impairs neural development. People think that because [the children are] small, they won't remember. But the children's brains don't form in the same way. And the chromosome levels remain high, setting them up for a lessened ability to learn when they reach school age, a reduced capacity to react to stress, and reduced problem-solving abilities."
The stress is enough to cause trauma for even the most resilient of kids, Davis said.
"Research talks about trauma it causes from the uncertainty of it all, and most kids are very resilient and they just kind of go with it, but it can be traumatic," she said. "It can show itself in difficult behaviors at school. A lot of it also depends on how the parents handle the situation. If they're stressed out, the kids will be stressed out."
Since money is tight, disadvantaged children are more likely to experience a lack of food or poor nutrition. In turn, this can lead to physical and mental health problems, low academic performance, and developmental delays, according to the Institute.
Fort Worth began serving breakfast in the classrooms at some of its elementary schools to help ensure students are well-fed. One of them is Versia Williams Elementary, a campus less than two miles from the Presbyterian Night Shelter. During the school year, Williams sends a bus to the shelter every day to pick up some of the students who live there.
Down the hallways of the school recently, stacks of red thermal bags were lined outside the front of every classroom door. Many of the students lack the time or resources to have a hot breakfast every day, said principal Angela Wright. At Williams, breakfast is provided in the classrooms in case students are running late. The idea is to make absolutely sure the students have something to eat before starting their school day. Lights in the classrooms are dimmed, and a sense of calm is created.
"I don't have the discipline problems here that I've seen at other campuses," Wright said.
The staffers I talked to said they work together to provide a nurturing environment for students and their parents.
Just before 8 a.m., tears were already flowing in the principal's office. A single dad, Jose Luis Herrera, stopped by to talk to Wright about a problem he had finally resolved.
"I just found out I got custody of my son," Herrera said.
Herrera, who normally works as a mechanic, said he had a bout with unemployment before landing a job at a gas station several months ago. The custody saga dragged on not because of his work but because the court simply would not set a date for the hearing, Herrera said.
Wright walked over to a bookcase and pulled a tissue from a box and dabbed at her eyes. She pulled out another one and handed it to Hererra, whose eyes were also filled with tears.
"I know what he has been through with this," said Wright, who described Hererra as an involved parent who attends events at the school and takes a strong interest in his son's education.
"He's a great kid, very self-motivated." Hererra said.
Hererra and his son are still more fortunate than some of the other families attending the school. His son excels at school and maintains a high grade point average, Wright said.
"He sets goals for himself," she said.
The lively first-grader is known at the school for helping other students with their reading skills.
"Other parents tell me he does that, " Hererra said.
Suburban school districts that serve large numbers of economically disadvantaged students face issues similar to those found in urban districts. The Hurst-Euless-Bedford school district has its own stories of misfortune and heartbreak. New commercial developments nearby have led to the razing of some apartment buildings where students' families had lived.
"It has just been my experience that some of them are moving in and out of apartments," said Sarah Williams, principal of Midway Park Elementary, where 74.4 percent of the students are economically disadvantaged, according to a recent TEA School Report Card.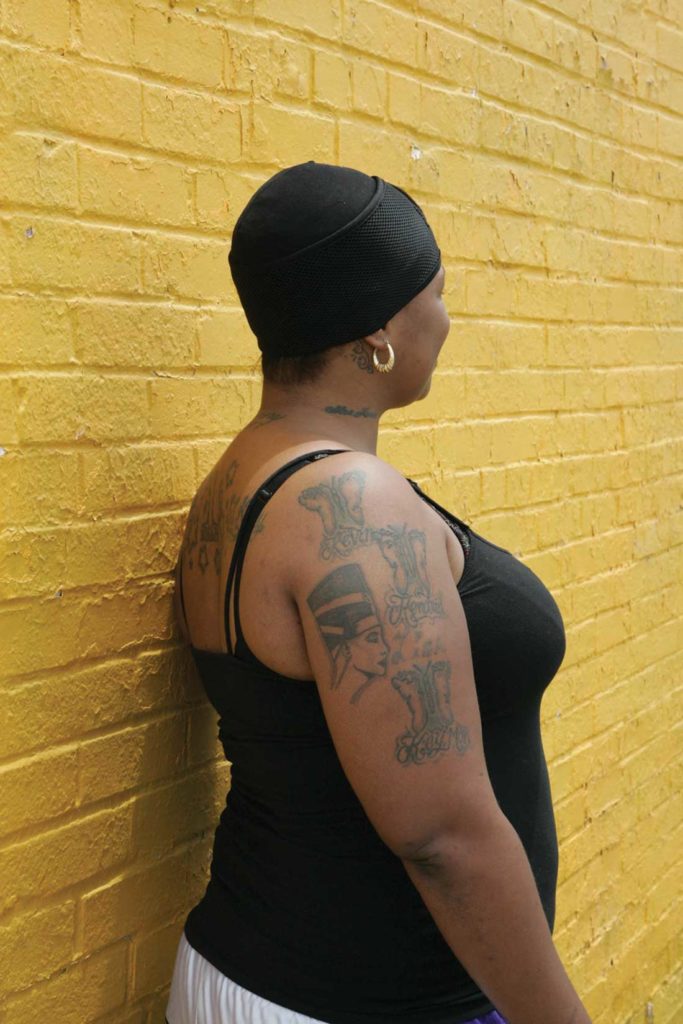 Some of the leveled apartments were substandard and deemed to be not even fit for human living, according to various news reports. Residents at the Shadow Creek Apartments in Euless were forced to move in about five weeks after the property was sold and permanently closed. In July 2015, CBS Channel 11 reported that the air-conditioning at the complex was turned off in the middle of summer. Some families from the district were displaced because they had nowhere else to go.
"Just through my experience, I see people who are moving in and out and looking for affordable housing," Williams said. "If another apartment complex is running a deal when their lease runs out, they leave. Other people bounce around a little bit. Some of them live in long-term hotels, or they stay with other people. It's not ideal."
A teacher in a school with a high mobility rate can see students coming in and out of his or her classroom throughout the school year. The H-E-B district makes sure every grade level is teaching the same thing at the same time, administrators said. That way, if a student moves, he or she can pick up right where he left off when he enrolls in another school.
"We just try to be very welcoming to them, even if we know they are not going to be there long," Williams said.
The school stocks extra clothing and new shoes, and a volunteer brings in backpacks filled with food so the kids have something to eat on the weekends. A social worker helps organize student field trips and visits to colleges and trade schools. The social worker also tends to families, and sometimes collections are taken up if a family has no electricity or is evicted.
"We can't help them forever, but we do what we can," Williams said. "We keep snacks in the office in case anyone is hungry."
From every angle, there is an urgency for families to quickly get back on their feet and land in stable housing. The longer a family stays homeless or in poverty, the less chance they have for getting out of it, Klocek said.
Smith is one of the lucky ones, who seems to have found a way out. Yet she still also worries about the rising cost of living: daycare, food, housing, a car payment –– all of it adds up.
"It's very expensive," she said.
Staying at the Presbyterian Night Shelter was a blessing itself, as were all of the other agencies she worked with during her transience, she said. The Community Enrichment Center in North Richland Hills is helping her find a permanent home. Because of Smith's background, the Center plans to place her at a property.
Smith admits the hardships she has faced are more difficult than what most people could bear.
"There is only so much I can take," she said.
Still, Smith said she maintains a positive attitude for her children.
"I don't let the kids see how it affects me," Smith said. l