As baseball's non-waiver trading deadline approaches, we find ourselves asking important questions. Are we buyers? Are we sellers? Are we standpatters?
Teams really try not to be standpatters, and not just because it's actually not a word. You either want to get better for this year so you can win the World Series now or improve for subsequent years so you can win the World Series then.
Should the Rangers be sellers this year, unloading veterans in return for young players who need seasoning but have high upsides? Or should they buy talent at the price of their own farm system depth? I'm a flip-flopper, because while the hometown team is not currently in playoff position, part of me thinks they could sneak into a wild card slot, and once in the postseason teams can get hot. Darvish and Hamels could pitch lights out and Beltre could rake and that new-bullpen-piece-we-acquired-because-we-decided-we-were-buyers could dominate.
Or the team might give up prospects for proven talent and tank anyway. Both scenarios have happened to clubs before. So if I can't predict the future, I decided I would look at the past.  Perhaps you'll remember some of these in-season exchanges.
On May 30, 1972, that first Texas team traded Norm McRae to the Tigers for Dalton Jones. McRae never threw another pitch in the big leagues and Jones hit .159 for the Rangers that year in what would turn out to be the final 166 plate appearances of his Major League career. Jones was the older player, so we can characterize the Rangers as buyers. However, they were 16-23 when they made the deal and would lose 100 games, so they should have been sellers. In fact, Rangers manager Ted Williams knew Jones from his time with the Red Sox and I'll surmise that had something to do with the club's first-ever "deadline deal."
In those days, the non-waiver deadline was earlier, June 15, and only two teams per league made the postseason. When the deadline moved to July 30 in 1986 and the playoffs expanded in 1994 and 2012, mid-season trade activity increased. The stakes have also risen as prospects have become an increasingly valued commodity. Deals get made after the deadline, too, although they are more difficult because other teams can block the trade by claiming a player off waivers (with the risk that they may have to take on his salary if his current club decides to unload it).
The guys in Arlington have made some solid deals as buyers. On July 9, 2010, they sent Matt Lawson, Blake Beavan, Josh Lueke, and Justin Smoak to the Mariners for Cliff Lee and Mark Lowe. Do they reach their first World Series without Lee? Probably not, so it's hard to say any deal had a bigger impact than that one. None of the other players in the deal really did a lot until Smoak's breakout season this year for Toronto.
On July 31, 2015, Jorge Alfaro, Alec Asher, Jerad Eickhoff, Matt Harrison, Jake Thompson and Nick Williams went to the Philadelphia Phillies for Jake Diekman and Cole Hamels. Hamels and Diekman have been key contributors to two playoff teams, so no matter how good the young players they gave up become, it'll be hard to count this as something other than a win.
Perhaps the best deal as a buyer actually worked out more like a seller's deal for Texas. On July 28, 2006 Julian Cordero, Francisco Cordero, Kevin Mench and Laynce Nix went to the Brewers in exchange for veteran Carlos Lee and stalled prospect Nelson Cruz. Coco became Milwaukee's closer and Lee hit ok for the Rangers in an ultimately fruitless '06 playoff pursuit. But the deal's "insurance," Cruz, became perhaps the most impactful postseason player in Rangers history.
As sellers, one deal that's still paying dividends is the July 31, 2007 one in which Ron Mahay and Mark Teixeira went to the Atlanta Braves. Texas received Beau Jones, Neftali Feliz, Matt Harrison, Jarrod Saltalamacchia, and their current starting shortstop, Elvis Andrus. They also picked up David Murphy from the Red Sox that day and he now contributes as a broadcaster after posting some good years on the field for winning Rangers teams.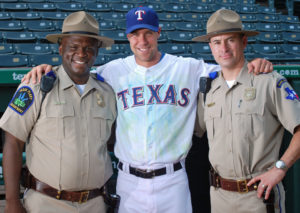 The July 19, 1985 trade of an aging Buddy Bell to the Reds for a player to be named later and Duane Walker turned out well for the Rangers when future closer Jeff Russell became the PTBNL four days hence.
They don't all work out as well. Robb Nen might been Russell's heir as closer had he not gone to the Marlins with Kurt Miller for Cris Carpenter (not to be confused with future Rangers nemesis Chris Carpenter) on July 17, 1993. Nen saved more than 300 games for the Marlins and Giants.
One deal that drives one crazy is the 2011 Chris Davis/Tommy Hunter for Koji Uehara trade with the Baltimore Orioles. Davis became a star, which would have been fine if the Rangers had gotten what they needed from the trade. While Texas did go to the World Series that year, Uehara inexplicably had the highest ERA of his career pitching three months for the Rangers and didn't make the World Series roster. Two years later he became ALCS MVP for the Red Sox and allowed no runs in five World Series appearances. Rangers fans may recall a need for a shutdown reliever in a certain Game 6.
Fans might feel a similar frustration about the August 19, 1983 trade that sent Rick Honeycutt to the Dodgers for Dave Stewart and Ricky Wright. Stewart's talent never emerged with Texas, but he became a star for the Athletics teams the Rangers chased in the late 1980s.
Another tough one came in 2001 as Ruben Mateo went to the Cincinnati Reds for young pitcher Rob Bell. Bell never realized his high upside, but the teenager the Reds convinced Texas to add to the deal became All-Star infielder/DH Edwin Encarnación.
On June 29, 1989, the Rangers traded Tack Wilson and Scott May to the Milwaukee Brewers for Todd Simmons and LaVel Freeman. None of those players ever played in the bigs for their new team. And had that been it for 1989, the year would not have been included in this roundup. Unfortunately, however, there was another trade that summer. Exactly a month later, Texas picked up a veteran bat they thought might propel them to their first postseason berth, plus a serviceable utility infielder. Harold Baines and Fred Manrique did not get the Rangers across the threshold. However, Wilson Alvarez, Scott Fletcher and Sammy Sosa went to the Chicago White Sox in the swap, making this likely the most notorious trade in Rangers history.
As sellers on July 11, 2003, Texas executed a superb exchange in sending Ugueth Urbina to the Florida Marlins for Adrian Gonzalez, Will Smith, and Ryan Snare. And it would have been a perfect example of the vet winning a ring and the young player developing into a potential Hall of Famer for his new team, except that Gonzalez had his superb career with the Padres, Red Sox, and Dodgers after later deals.
More than one player, including Saltalamacchia, has been both acquired and traded at separate deadlines. Ryan Dempster went to the Marlins on August 8, 1996 for veteran right-hander John Burkett, which helped Texas to its first division title. On July 31, 2012, Texas brought Dempster back at the cost of Christian Villanueva and Kyle Hendricks. Dempster posted a 5.09 ERA in 12 starts with Texas, but Hendricks helped push his new team, the Cubs, to a World Series win last fall.
The guy who went with Dempster to Florida came back to the Rangers on August 12, 1997 as the Rangers were sellers. Ed Vosberg went to the Marlins, who were on the way to their first championship. Rick Helling returned to the club that had drafted him and led the starting staff of two Rangers postseason teams.
In 1998, the club picked up another one of those twice-dealt guys, Esteban Loaiza, along with Todd Stottlemyre and Royce Clayton in deadline deals. Those players helped push Texas to a second A.L. West title.
Who's the best player ever acquired by Texas in an in-season deal? You could make the case for Cruz, Hamels, Lee, or for Michael Young, who came to Texas with Darwin Cubillan on July 19, 2000 for Loaiza. The Rangers also picked up future Hall of Fame curveballer Bert Blyleven in a 1976 deal. But this is, in fact, a trick question. The best player Texas ever acquired was . . . Ivan "Pudge" Rodriguez. By the time of his August 19, 2009 re-acquisition from the Astros, he was no longer the perennial Gold Glover and offensive force of his first swing through Arlington. But he's Pudge and I expect to get no argument from Rangers fans about this selection.
So now you have an overview of past Rangers deadline deals. If I left out your favorite Ruben Sierra or Ed Kirkpatrick trade, I apologize. Perhaps in a few years they'll be included when I write about how we just reacquired Justin Smoak or Nick Williams.