It's not an unusual sequence. When a Major League Baseball player records his 3000th hit, effusive praise follows. We get to see video of hit number one in his career and endless replays of his milestone.
Since the Rangers' Adrián Beltré doubled in his second at-bat Sunday, the kudos have rolled in. Teammates' quotes have lauded his accomplishments and pundits have extolled his Hall of Fame credentials.
I took especial notice of a blog post by Rangers reporter Emily Jones, probably because much of her experience with the great third baseman mirrored my own. I worked for the team when he arrived in 2011, and had the privilege of interacting with him for the purpose of shooting TV commercials and certain other video and audio projects, as well as the occasional live event.
Like Jones, I wasn't sure what to think of Beltré when he arrived. He takes his job seriously, and his facial expression often reflects that, even in the clubhouse where someone in my position, or Jones's, would need to solicit him to participate in some video. He also was an established star, and that status means you might approach him a little more slowly than, say, a rookie eager to do whatever anybody in the organization asks.
We figured out pretty quickly we didn't have anything to worry about. He might set that intimidating jaw to good effect in the batter's box, but he could break into an infectious grin on a moment's notice.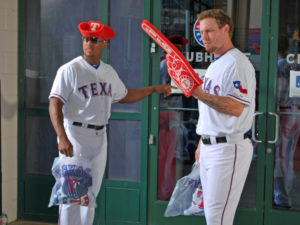 We saw it shooting a commercial that featured him and teammates Josh Hamilton and Darren O'Day. Not only did he not mind being there, the superstar asked if he could wear the goofy foam cowboy hat we had brought for a prop. We shot some takes with it, although it didn't make the final spot. He and Hamilton joked about whether Josh was allowed to touch his head while wearing the getup.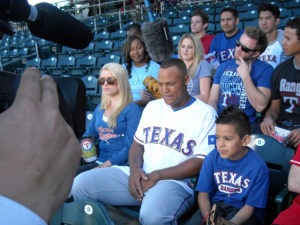 Jones mentioned how good he is with his teammates and his family. In fact, you'd often see him pitching to his son in the outfield during the afternoons before a game. But Beltré also embraced those he'd never met before. At another commercial shoot, the juvenile actor seated next to him had a runny nose. The guy best positioned to solve this problem was our $96 million infielder. The father of three did as I am sure he has many times and applied tissue to nostril, stanched the flow without complaint, and laughed about it afterward.
His first two seasons in Texas were my last two with the club. I was at every home game he played and considered it a great privilege to see him do something amazing pretty much every night. He was even good at choosing walkup music that got the whole ballpark control room singing along in Spanish. He performed remarkable physical feats on the field, and also showed off a deep appreciation for the game and a fierce competitive spirit.
I'm reminded of his performance at a Park Place Dealerships Triple Play charity game show night. The players competed in a version of the $40,000 Pyramid. Host Eric Nadel gave them a list of terms and they had to figure out what tied the words together. As Nadel read "Oh . . . Aaron . . . Mays . . . Sosa . . . Bonds . . . Thome," you could see the question marks pop up over the contestants' heads. But you could also observe Beltré deep in thought, and he finally rang in. "Players who have hit 600 home runs" was the answer and he had deduced it. His playing partner, Elvis Andrus, asked about "Oh," and Nadel explained it referred to Japanese slugger Sadaharu Oh, and noted that Yu Darvish probably could have explained it. I bet the student of the game Beltré could have, too.
And someday in the future when people are playing games and trying to name players who have achieved great things in the game, the correct answer will, on many occasions, be Adrián Beltré.