Ed Belfour's goaltending propelled the Dallas Stars to the franchise's only Stanley Cup win. He formed a unique bond with that team's coach, Ken Hitchcock. Now the club has rehired Hitchcock in hopes of returning to an elite level. In this video interview, Belfour offers his feelings about his former coach coming back and why Hitchcock might be even better this time around. The Eagle also talks about a team he has assembled and the work they have been doing to create a North Texas distillery to be called Belfour Spirits.
Videographer Dave French and I did this interview in Louisville, Kentucky where we were recording images of the exchange and refinement of ideas related to the development of the distillery. I observed elements analogous to the Belfours' sporting backgrounds (Ed's son Dayn, also a former goaltender, is his partner in the venture, as is his daughter Reaghan) . Firstly, they truly tried to assemble a team and let them play their positions. The Belfours didn't pretend to know everything (although they have certainly done their homework on the industry), but they did try to have a good representation of the diverse factors that go into creating a distillery from scratch. Those included building design and construction, event space planning, branding and marketing, production workflow, and finance.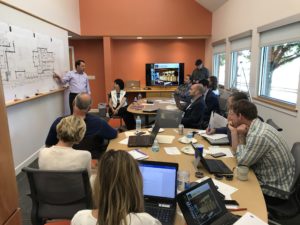 I also thought about how Ed Belfour approached the game of hockey. He had a reputation for paying close attention to details, wanting to keep on top of everything from the sharpness of his skates to new techniques other goaltenders had adopted around the league. He approached the distillery business the same way. Everyone we talked to at the meetings agreed that he was keen to make sure nothing fell through the cracks. Architect Wayne Estopinal, who describes himself as a "detail freak," viewed Ed's approach as a positive.
"I think that's helped a lot," he told me. "If we had a guy who just threw out a big idea and left it to everybody else to implement it, for them it's kind of a hollow feeling. You want somebody engaged and he certainly is."
They came out of their meetings knowing what they wanted and how much it might cost, and next steps will include figuring out financing it and what to do first. It's probably similar to building a hockey team, come to think of it. Stars fans will no doubt hope both Belfour and his former boss will experience success with their new, yet in many ways familiar, teams.