Ignore the "lumberjack chic" image that sometimes caricatures craft beer brewers. You won't find more unique individuals than Macy Moore, Ryan McWhorter, and Cody Martin. (By the way, if I got you Googling "lumberjack chic," try "lumbersexual.")
These brewmeisters do share one thing. I'm yet to meet a professional brewer who didn't cut his or her teeth homebrewing. No matter which careers they came from, they share an affinity for the alchemy of converting grain into frothy IPAs and stouts.
So, naturally, brewery staffers see homebrewers as kindred spirits, of sorts. The Martin House Brewing Company annual Riverside Shootout Homebrew Competition, held every May, is an example of this nod to the passionate, often garage-based beer brewer.

This Saturday's 2017 Riverside Shootout tour is the culminating event of that competition. Dozens of teams entered for the chance to have their recipe brewed at Martin House this fall. For us non-competitors, the Riverside Shootout tour will offer live music, food trucks, and endless beer samplings.
I'm looking forward to catching up with brewers and brewing teams I've profiled for the Weekly in the past. Here's the scoop on what to expect from Brutal Beerworks and The Fort Brewing Company this Saturday.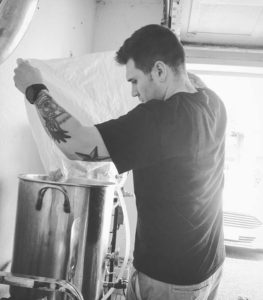 Eric Johnson with Brutal Beerworks said he will be pouring a raspberry milkshake IPA, pineapple milkshake IPA, and the beer that he brewed in the competition — a peach Ryewine.

"I think the best part about being able to be a part of this is seeing how excited people get when they try your beers," Johnson said. "Somebody is going to go with a friend to Martin House on Saturday, and it will be their first time at a brewery. I guarantee that a brew there will change the way they perceive beer. Maybe, just maybe, it could be one I brewed."
Johnson said he's well aware that many of the brewers from Martin House, Armadillo Ale Works, and The Collective Brewing Project started as homebrewers. This Saturday, Johnson is looking forward to sharing a pint, seeing smiles, and getting his mind off a hectic work week.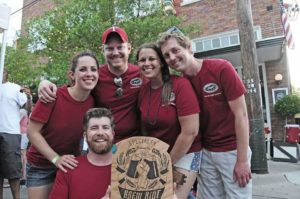 The Fort Brewing Company (Samantha Glenn, Jenni Hanley, John Koch, and Collin Zreet) won the 2015 Riverside Shootout with Holidazed and Confused. Hanley gave me the scoop on what her team will be slinging this Sunday.

"We're always thrilled to participate in Martin House events, because their involvement with the local community (including homebrewers) sets a great example for Fort Worth," she said. "They love to have fun, give back, and make great beer — who can't get behind that? We're bringing some of our favorite summer beers to beat the heat on Saturday. First is our 'Old Fashioned' Wit, the cocktail-inspired, bourbon-barrel-aged witbier we brewed for the Riverside Shootout this year. Along with that, we'll have a brand-new blueberry DIPA, plus an oldie-but-goodie called Border Disorder — a saison-tripel hybrid with prickly pears, pink peppercorn, and agave nectar. Texas in a glass!"
Kudos to the Martin House Brewing crew for supporting the area's homebrewers. Look for a full review article, and winner announcements, next week in the Weekly's print edition.
2017 Riverside Shootout tour
1pm Sat at Martin House Brewing Company, 220 South Sylvania Ave, FW. $15. 817-222-0177.
Don't forget to follow On Tap in Fort Worth's Facebook page.
On Tap this Week:
The Collective Brewing Project's Ice Cream Festival
From Collective: Join us for a celebration of frozen treats benefiting children across Tarrant County through the Back to School Roundup on Saturday, August 26 from 2 to 6pm. We'll have scoops and pops from a few of DFW's best frozen confection shops: Alchemy Pops, Alma's Paleteria, Gypsy Scoops, Lake Highlands Creamery, Melt Ice Creams, Pokey O's. Visit the event page here.