It's been 139 years since Parker County was home to a professional beer brewery. That dry spell will end early next year when Parker County Brewing Company opens its doors in Willow Park. The brewery was bustling with workers when I stopped by last week. A long metal rail partitioning the space hinted at what the final bar will look like. Parker County Brewing owners Ryan Stewart and Joshua Tarbay said their business will offer a rotating selection of craft suds as well as Neapolitan pizza and other handcrafted noshes.
In 2015, the state legislature lightened restrictions on craft beer breweries, making Parker County Brewing a viable business possibility, Tarbay said.
"Ryan and I are homebrewers," he said. "In January [2016], we decided to go commercial and started looking around town for a location."
After attending a brewery immersion course at Colorado Boy Pub and Brewery, the duo settled on a new development, The Shops at Willow Park. The sprawling shopping center has a walkable town square feel similar to the Shops at Clearfork and Southlake's Town Square. The brewery sits next to a fenced-in green space that Stewart and Tarbay said will be used to host events.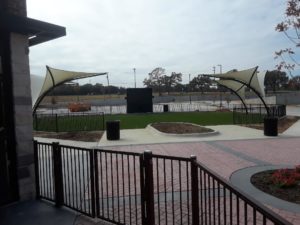 The shopping center is "unique to the area," Stewart said. "We're used to stand-alone businesses [in Parker County]. I don't think there's anything like it west of Fort Worth."
Stewart will be overseeing brewing operations. The Parker County Brewing lineup will have a few year-round beers (American-style wheat ale and Belgian Wit, among others) that will be complemented by a rotating selection of seasonals like Scotch ales, stouts, and pale ales. Stewart has a Parker County peach-based blonde ale that he said has proven popular.
The brewery will offer three of its beers through a cask. The centuries-old technique uses a hand pump to siphon beer from a keg or container. The results leave the ale with creamy mouth feel.
"It adds one more layer of depth and complexity," Tarbay said. "We're about authenticity. We're the first brewery in Parker County since right after the Civil War. That's how they would have had their beer."
Don't forget to follow On Tap in Fort Worth's Facebook page.
On Tap this Week:
HopFusion Ale Works' Marine Corps Birthday
From Hopfusion: Join us in the taproom on November 10th for the Marine Corps Birthday. We will be raffling off this one-of-a-kind bourbon barrel. All proceeds will be donated to the Semper Fi fund. This Witherspoon Distillery Bourbon Barrel was used to age our DD—214 (Bourbon Barrel-aged Belgian Tripel), which was a collaboration between Rabbit Hole Brewing, Witherspoon Distillery, and us. The beer from this barrel will be launched on November 10th.
Panther Island Brewing Company Plant Night. November 13.
From Panther Island: We're making our premier at Panther Island Brewery, and we couldn't be more excited! It's time to get dirty and enjoy some of the best brews that Fort Worth has to offer, including our favorite, Allergeez! Come out and get dirty with us, create your own Beer Garden, and have some fun! Use promo code JENNZPLANTS and get 35 percent off your tickets today!
Visit the event page here.