The system that produced the Belk Bowl, the TaxSlayer Bowl, and the Cheribundi Tart Cherry Boca Raton Bowl is genius. It always has been.
College football's postseason system dates to roughly 1902, when Michigan crushed Stanford in the first "Tournament East–West football game" in Pasadena, California (it was yet not known as the "Rose Bowl Game presented by Northwestern Mutual"). It grew from that single contest to a collection more than forty games that annually add hundreds of millions of dollars to the coffers of participating schools.
Short-term revenue isn't what makes this system brilliant, though. Where it has truly proven itself is in the long term. The sport has gone from being four years away from Theodore Roosevelt supposedly considering banning it to arguably the most popular sport in the country (duly noting the power of the NFL). It attracts tens of thousands of people into stadia every week during the fall and reliably delivers TV ratings when few properties do anymore.
Here's how I think the bowl system helped make college football successful: However many bowl games are staged, that many teams end their season with a postseason win. No playoff or tournament system can provide that veneer of a successful season.
Only one team wins the NCAA Basketball Tournament. A few schools get to say they're "Final Four" or "Elite Eight" teams, but not 40-plus squads like in football. Even the ones who lose got a trip somewhere and still get to call themselves "bowl teams." Players are happy, and so are fans and staff.
The more people who can end a season happy, the more it builds long-term success. Season tickets get renewed and the programs' brands get a boost. Because the bar is relatively low (win 6 games, basically), even non-traditional programs can get lucky every few years and provide the alums some sustainably good memories (example: "Remember that year we made it to the R+L Carriers New Orleans Bowl? Me neither – must have been really fun!").
I've always thought European professional leagues had some advantages on their U.S. counterparts in this area. If you're an English soccer team, for instance, your team can leave you feeling good at the end of the season in several ways:
Win the league regular season
Win the Champions League
Win the Europa League
Win the FA Cup
Win the League Cup
Qualify for next season's Champions League or Europe League
Win promotion from a lower league to a higher league
Because they stage knockout tournaments concurrent with their own regular seasons, it creates more chances for success for more clubs. Those teams enjoy some remarkably resilient supporter loyalty – loyalty that reminds me, frankly, of that of college football fans. Only one team gets to be happy if the mentality is "Super Bowl or Bust."
Multiple competitions don't work with the sport of American football because of its physical nature. But bowl games? They work and have for decades. Two things could threaten this success.
The College Football Playoff: For the moment, this has been a huge financial positive for the college football landscape. Short-term, everybody, including smaller schools, gets more TV money. The concern comes if, in the long term, the focus shifts so much to this group of four big schools that it results in less overall enthusiasm for the sport at its lower levels. That affects the audience for the entire slate of bowl games, including . . .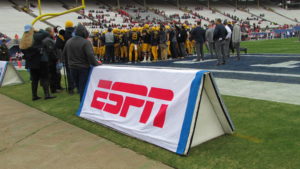 Television: A major part of the reason so many bowl games exist is that ESPN can operate them and use them as programming for its networks. Will they retain their value as the TV marketplace grows more fragmented? There's a chance they will, because live sports seems to have some immunity to the viewership declines of other forms of programming, but trying to predict the future in this industry is at best a daunting challenge. ESPN has been rapidly redefining its business model, so you can be sure they'll evaluate bowl games, too.
Whenever the powers that be do chart the future of postseason college football, one would think they'd do well to clue in to everything the likes of the IBM OS/2 Fiesta Bowl, uDrove Humanitarian Bowl, and Bacardi Bowl have done for them.