Those of us involved in central city advocacy have been talking about Race Street, specifically the section running between North Sylvania Avenue and East Belknap Street, for years now. I recall talking about the street and efforts to bring new life and development to it on the old Fort Worthology blog 10 years ago. It takes time for a street to gather enough momentum to start seeing significant new projects, and this seems to be Race Street's time at last.
Going vertical now on the south side of Race, on a site located between Blandin and Retta streets, is the River East development. River East is the latest project by Criterion Property Co. east of downtown, following up the nearby apartment development, The Scenic. While that project looks out from the trees along the Trinity River, River East is a decidedly more urban sort of project. It's adding 181 apartments to Race Street, along with 13,500 square feet of live/work space for artists and small businesses, 4,400 square feet of shared-office co-working space, and 3,000 square feet of ground-floor retail space.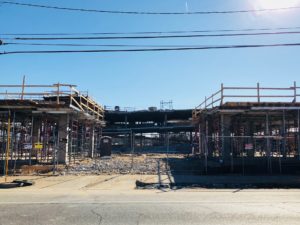 The River East buildings rise four stories, an appropriate scale for a smaller street like Race that's beginning its redevelopment. The style of the development's architecture is, on some level, much like the other contemporary infill apartments going up around urban Fort Worth, but from the renderings I feel like River East will be one of the more successful, pleasing executions of this style. It's not overly busy and jumbled like these developments tend to be, which makes sense given that Criterion's other nearby project, The Scenic, is similarly restrained and nicely executed.
Race Street's public infrastructure has slowly but surely been improving, as the city finally re-striped the street to reduce traffic lanes and add on-street bike lanes. Given the sidewalk design shown in the renderings, I expect that River East will be adding a substantially improved pedestrian experience to its section of the street as well. This showcases the kind of development that results from redesigning streets around a multitude of transportation forms – not just cars, but bikes and pedestrians too.
I can see a future when Race Street starts coming together into a very popular, engaging public place. The street's similar in dimension to Magnolia Avenue, but the height of the incoming development is greater than what one sees on that signature Near Southside street. With more new construction similar to River East, Race Street will gain a comfortable sense of enclosure, which will subconsciously entice people to spend more time around it. Urban streets benefit from feeling like a kind of outdoor living room, and keeping vehicular space minimized while putting up new, taller buildings with engaging street interaction helps create that feel.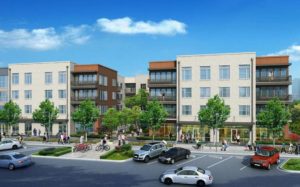 We should see the River East project come together over the course of the year. It's expected that residents will be moving in by October. As the residential density of Race Street increases, I'd expect to start seeing more in the way of new businesses moving in as well, and the long-discussed Race Street revitalization will really start to take hold.