Overall, the women had it better than the men this year when it came to lead roles. That happens sometimes. As I've said before, the men always get the better supporting parts, which is one of a few zillion things that could be fixed about Hollywood. In other news, the non-English performances didn't make that good a showing this year, though you'll find a few of those at the honorable mention list at the bottom of this article.
Chadwick Boseman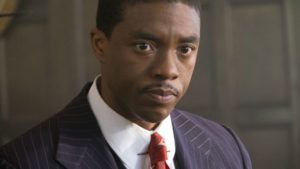 I'm not sure why his performance in Marshall isn't getting more awards buzz. His portrayal of Thurgood Marshall shows all the man's different sides: the relentless crusader for justice, the canny tactician who knows how to pick his fights, the polished but swaggering presence for white juries and press, the intellectual on a first-name basis with eminent writers. It all feels like a full portrait of this civil rights crusader heading for bigger things.
Timothée Chalamet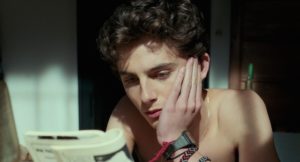 The last shot of Call Me by Your Name is simply an extended close-up of his face as he sits by the fire and tries to sort out all his feelings while the closing credits roll. Simply holding the camera for so long is quite a feat in itself, but Chalamet (who was also in Lady Bird and Hostiles this past year) makes this gay teenager's intellectual curiosity and sexual awakening into something palpable.
John Cho & Haley Lu Richardson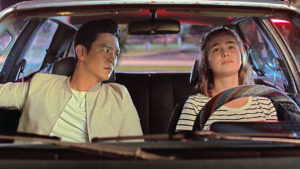 Columbus' platonic bond between an older man and a younger woman who are in each other's lives briefly earned it some well-deserved comparisons to Lost in Translation. It doesn't work without these two actors, with Cho shedding all trace of Harold Lee to play this serious man haunted by his high-achieving, emotionally absent father and Richardson (from Split and The Edge of Seventeen) portraying a girl whose inner light hasn't yet gone out under the weight of hardship.
Ansel Elgort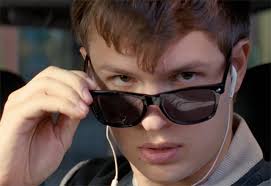 So here's the trouble with the acting in all these car-chase movies: Everybody's trying to be Steve McQueen and project that icy sangfroid. Elgort goes a different way in Baby Driver and produces a daringly goofy and graceful character with joyous dance moves, while still convincing you that he could pull all the movie's insane car stunts. We don't give leading men enough credit for being lighter than air, but a performance like this is argument that we should.
James Franco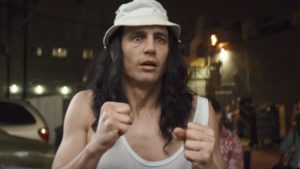 My fellow Weekly writer and The Room fan Susie Geissler thinks that James Franco secretly is Tommy Wiseau. I like that theory! It would explain how Franco gets so completely under the skin of the crackpot filmmaker in The Disaster Artist. His Wiseau is all at the same time peremptory, rudderless, unstoppable, terribly funny, and bewildered at the workings of a world that fails to conform to his mind or recognize his creative genius.
Anne Hathaway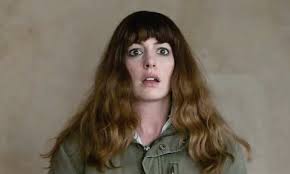 What this actress does in Colossal will make your hatred of her look petty and small. Portraying the type of writer who would probably pen a "7 Reasons Why Anne Hathaway Is So Hateable" listicle for the internet, she vividly and hilariously creates a barely functioning alcoholic who realizes she's caught in several destructive cycles and needs to break them if she's going to save herself and the city of Seoul.
Brooklynn Prince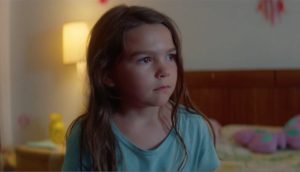 Meet Moonee. She's 7, and she lives in a cheap motel near Disney World in Orlando. She likes torturing the manager by eating ice cream in his office so it drips onto the linoleum when it melts. She also likes setting things on fire. She's portrayed by this little actress with so much verve and joy that you can't look away, and she makes The Florida Project into the beautiful crusher that it is.
Florence Pugh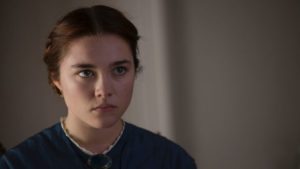 The deadly chill of Lady Macbeth radiates directly from this English newcomer, playing a rich man's 19th-century trophy wife with an unlikely mixture of fierce sexuality and cold murderousness as she kills people to cover up her affair or save herself from the consequences. Oppressed as a woman and privileged as a white person, she nevertheless comes across not as a symbol but as a breathing, killing, frustrated human being.
Margot Robbie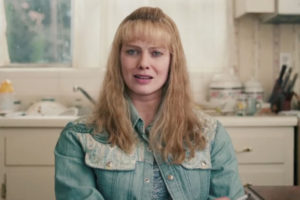 If you seek evidence that this Australian native can do more than just look hot, find your way to the nearest screening of I, Tonya. Yes, she does much physical work to convince you that she could be an Olympic figure skater (and later professional boxer), but you also see a woman who's trying to reckon with the damage of lifelong abuse and finds a way out only by embracing the public's hate.

Saoirse Ronan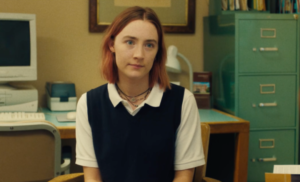 As Saturday Night Live recently demonstrated, you can stick this Oscar nominee on an episode of Floribama Shore and she won't look out of place. If you want proof of her range, look at Lady Bird next to 2015's Brooklyn and marvel at the vastly different characters that she's portraying. That scene after Lady Bird's first kiss, when she runs down the street and screams in joy, is a moment of pure delirium.
Kristen Stewart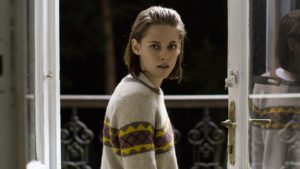 It's very possible that Personal Shopper doesn't work with any other actress in the lead role. As I said in my review of the film, her ambiguity (sexual and otherwise) keys this story that is built on you not being able to trust what's real and what isn't. While her character is trying to commune with the afterlife, she seems to be using the trappings of her job — all those designer dresses and bags and shoes — to stay grounded. The way she negotiates this tricky material is nothing less than astonishing.
Honorable mention: Richard Gere's wandering, hustling Jew in Norman: The Moderate Rise and Tragic Fall of a New York Fixer … Jake Gyllenhaal's immature guy turned unwilling symbol of Boston in Stronger … Sally Hawkins' mute who finds weird, glorious love in The Shape of Water … Hugh Jackman's burned-out superhero in decline in Logan … Kim Ok-vin's action-movie badass in The Villainess … Diane Kruger's vengeful German mother in In the Fade … Menashe Lustig's doughty Hasidic dad in Menashe … Garance Marillier's vegan-turned-cannibal in Raw … James McAvoy's demented multiple-personality case in Split … Frances McDormand's vengeful American mother in Three Billboards Outside Ebbing, Missouri … Emma Stone's tennis champion struggling with her game and sexuality in Battle of the Sexes.