As much as he is a visual artist, Arnoldo Hurtado is also a traveler –– across both place and time, and from tradition to broader contemporary practice. For Hurtado, art is not a precious curio to be appreciated on the vacant walls of an exhibit. Rather, it can and does operate as a morally relevant footprint in the world, a vibrant dynamic expression, justifying a marginalized community within a broader, and perhaps blinder, one.
In that vein, he is clear as to what the task of the working artist is today.
"I think fine art has been taken hostage by elite institutions and systems," he said. "Art is culture and when you control culture, you control most everything."
According to Hurtado, there are several barriers separating minorities from mainstream cultural expression, not least of which is a geographic fact: The majority of fine art museums, galleries, and other cultural institutions tend to exist for and within affluent neighborhoods. Other factors, such as high admission fees, also present difficulties for would-be, often working-class audiences.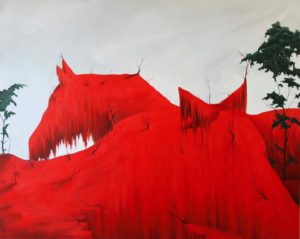 To alleviate some of these effects, he constructed the Artscream Truck, a refurbished ice cream truck converted into a mobile gallery space that displays his own work –– bright futurist surrealist landscapes and playful geometric paintings. The project expands upon his experience collaborating with Make Maek, a gallery in Battambang City, Cambodia. Noting that most residents were reluctant to enter into contemporary art spaces, despite the fact that Battambang City was home to one of the more vibrant communities in the region, Hurtado developed engagement projects that increase art's visibility by moving it into the streets.
"We are all familiar with running up to the ice cream truck," he said. "I'd like to see the same thing happen with art."
His newest venture, Comunidad 27, is a more sophisticated, collaborative response to accessibility concerns. What began as neighborhood group discussing crime prevention has evolved into an effort to create joint ownership of the predominantly black and Latinx community through get-togethers and beautification projects. When these residents of Fort Worth's NW 27th Street voiced concerns over gentrification, the group decided to embark on cultural activities to prevent displacement after Hurtado shared observations from his time spent living in East Austin.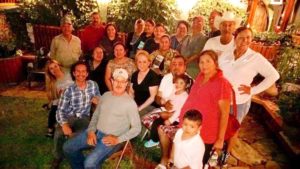 Last December, Comunidad 27 organized a posada. This year, under Hurtado's leadership, they have initiated a mural project entitled "Convivio: Murals of Community and Inclusion" by partnering with dwindling local, family owned businesses, such as Franko's Market. With the exception of Hurtado, none of the group members identifies as an artist. But for this Northside community, art is an essential vehicle to express and celebrate their heritage, and to some extent defend it.
"I think more than the prominence of the Latinx muralist tradition for the sake of tradition, it is the political message behind a lot of these murals," he said.
Ever sociologically aware, Hurtado points out that through gerrymandering and gentrification, minorities and immigrants have become estranged from more visible avenues of cultural expression and production. His solution is to tighten our focus, not only on who determines the discourse, but where.
"We can create our own free museums in our very streets," he said.
Of course, streets are not only fixed locations, but are a means from one location (or community) to another. One might think of Comunidad 27's murals as road signs to a brighter, more equal, cultural future.