Music fans at this weekend's Fortress Festival won't have to trek across University Drive between main stages like they did last year, an annoying process that involved passing through security checks again and again. It seemed to become more difficult every time, probably because you also had to chug your beer to the bottom before you could exit each stage's perimeter.
This year, there will be none of that, except perhaps for the chugging of beer. Fortress Festival boasts a shiny new layout for 2018 that features both main stages on the grass lawn directly in front of Will Rogers Memorial Center. Even better, there will be non-overlapping sets –– and none of the angst from having to choose between two headliners. Fans will be able to catch every beat, every howling guitar riff, every body-shuddering wave of bass. The Modern Art Museum of Fort Worth will still host three performances (for free) in its auditorium early in the day on Saturday, but after that, all of the action will go down at the two big outdoor stages.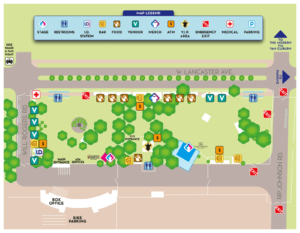 "The stages will face away from each other, one to the northeast and one to the northwest," explains festival co-founder Alec Jhangiani. "The layout this year is in response to the feedback we received about the circuitous route between stages last year. As much as we loved the Modern reflecting pond stage, we realized people were missing performances because they had to walk so far between the two. We're really excited that everyone will be in one space at the same time, it should create a lot of energy."
Fortress Festival's lineup this year boasts a stout collection of artists that you might not know but should, including '90s hip hop legends, white-hot singer/songwriters, and fun funk and soul bands. You'll also encounter eleven acts from North Texas and a woke-sized contingent of female-fronted groups. Catch live performances by Chromeo, Father John Misty, De La Soul, Courtney Barnett, RZA feat. Stone Mecca, Chicago Batman, Shabazz Palaces, and many more.
Now in its second year, Fortress Festival takes place April 28-29 in the Cultural District. Single-day tickets cost $59 (plus taxes and fees), two-day passes are $99 (plus taxes and fees), and VIP packages are also available.