Not every summer meal has to involve dead mammals scorched over an open flame. Sometimes it's nice to dine on something light and cool, like pop-up queen Hao Tran's fresh shrimp spring rolls with peanut dipping sauce. So when you're hungry this summer –– but the last thing you want to do is stand near a box of fire –– try out the recipe below.
If you've never treated yourself to one of Tran's outstanding events, be sure to check out her pop-up schedule at the bottom of this story and follow her page, Lost in the Sauce, on Facebook.
Peanut Dipping Sauce
1/2 cup hoisin sauce, Lee Kum Kee
1/4 cup peanut butter, smooth
1/4 cup water
1 tsp rice vinegar, Marukan Seasoned Gourmet
1 tsp peanuts, chopped
Combine all sauce ingredients in a medium-sized bowl, whisking until smooth. Add more water if you would like the consistency thinner. Transfer to a serving bowl and sprinkle with chopped peanuts.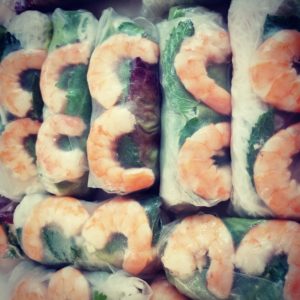 Fresh Shrimp Spring Rolls
10 jumbo shrimp, cut lengthwise in half, 16-20 count
10 round rice paper wrappers, Three Ladies Brand
10 butter bib lettuce leaves, or red leaf, thick stem ends removed, cut in half
6 oz thin rice noodles, Thai Kitchen Thin
1 cup carrots, shredded
1 cup red cabbage, thinly shredded
1 cup bean sprouts, fresh
20 mint leaves, fresh
1/2 cup cilantro
You can modify this recipe with seasonable vegetables and herbs, like mango, jicama, pineapple or mints, or add different protein like smoked salmon or grilled pork.
In a medium saucepan, boil water. Once the water comes to a boil, add shrimp and cook for 1 to 1 ½ minutes until shrimp is pink and opaque.
Immediately remove the shrimp from the water, drain and cool in the refrigerator.
Once cool, remove the shell and cut the shrimp lengthwise in half to give two pieces. Set aside.
Boil the dried rice noodles until tender but not mushy –– about 6 minutes or according to package directions. Drain and cool with cold water, refrigerate until ready to use.
Fill a pie dish or large bowl with water, large enough to hold a piece of rice paper.
Set a damp dishtowel on a cutting board. Immerse one rice paper sheet into the water for 15 to 20 seconds.
Remove, shake off excess water, and lay flat on the dampened cloth. The paper may still seem stiff, however, it will become pliable as you build each roll.
Lay one piece of lettuce over the bottom third of the rice paper. On the lettuce, place 2 to 3 tablespoon of noodles, 1 tablespoon of carrots, 1 tablespoon of cabbage, and a few bean sprouts.
Roll up the paper halfway into a cylinder. Fold the sides in an envelope pattern.
Lay 2 shrimp halves, cut side down, along the crease. Place a few cilantro and mint leaves next to the shrimp. Keep rolling the paper into a tight cylinder to seal.
Repeat with remaining wrappers. Store with seam side down. Serve immediately with the peanut dipping sauce.
Tran's Summer Pop-up Schedule
June 2: Brisket Pho Pop-Up with Panther City BBQ at 2pm
June 17: A Tribute to Our Pop's Pop-up with Joshua Harmon at 6:30pm *
June 30-July 1: Lakeside Farm to Table and Meat Roast with Food, Pleasure and Health*
July 7: A Celebration of 007 James Bond Goldfinger-style with Andrew Dilda at Rosen House Inn, 7pm
*Locations will be sent on confirmation of reservation. (The venues will be super cool!)