Art Exhibit of the Last 12 Months
Readers' choice: Takashi Murakami: The Octopus Eats Its Own Leg, the Modern Art Museum of Fort Worth, 3200 Darnell St, 817-738-9215
Critic's Top 5: Up now through thru Oct 6 at Artspace 111, Familiar Strangers is a wonderful masterclass in the powers of photorealism for good. Devon Nowlin can paint with the best of them. That she chooses to also say something –– mostly off-kilter, impressionist poetry –– is transcendent. From the Lands of Asia: The Sam and Myrna Meyers Collection brought more than 400 objects to the Kimbell Art Museum. Representing important eras in the history of art in China, Japan, Tibet, and Korea, the exhibit was a potpourri of styles, from porcelain and ivory to textiles and costumes, precious stones and rock crystals. Another Artspace 111 show was noteworthy this year. A collection of new mixed-media works, Gold Rush was Jim Malone at his best. And, well, brightest. Interlaced among his intricate nature drawings were flakes of gold leaf, used, as the gallery said, "to weigh the value of his subjects versus the universal symbol of wealth, gold." At Fort Works Art, Kate Stipp and Megan Van Groll tackled the female experience in My Eyes Are Up Here, a symphony of powerful figurative painting that was often as traditionally beautiful as slightly discomfiting. Of course the blockbuster of the year is Takashi Murakami: The Octopus Eats Its Own Leg. Installed at the Modern Art Museum of Fort Worth, this Japanese artist's retrospective overwhelmed the viewer with its sheer vibrancy and playfulness. 
Art Gallery
Critic's choice: BLACKHOUSE, 1105 Peach St, 817-584-8180
Literally a black-painted house, the Rock Island-neighborhood gallery is a locus for creatives of all stripes and colors to rep their art, make their statements, and fly their freak flags. Though it doubles as an event space, its regular art happenings and parties are where it's at, showcasing many of Fort Worth's young and unsung artists who might otherwise never catch the public's eye.
Visual Artist
Readers' choice: Jay Wilkinson
Critic's choice: Devon Nowlin
This TCU MFA is still young but has produced a massive oeuvre, her latest, Familiar Strangers, hanging now through October 6 at Artspace 111. Though a photorealist by trade, Nowlin knows that merely recreating photographs has its limitations, especially in the politically charged environment in which we now live. Her particular brand of surrealism conjures an odd species of nostalgia while also commenting on, in a sideways way, the era that we have inherited from the Greatest Generation. With bold brushstrokes and great attention to detail, Nowlin is able to speak softly and carry a big paintbrush.
Art Collective
Critic's choice: Mañanaland
Though not a collective in the traditional sense, Mañanaland has created a space dedicated to fostering the talents of new and nontraditional artists. The mission of cofounders Michelle Kirk and Dee Lara is centered around social-practice art, the kind of socially progressive, community-driven approach to creation and display that isn't taught at most art schools. Theirs is a welcome addition to an ever-growing number of young, talented artists who are just as concerned with the message of a piece as they are its form.
Public Art
Critic's choice: "Large Avocado with Seed," "Large Avocado without Seed," The Shops at Clearfork, 5188 Monahans Av
J.C. Pace lll's bronze sculptures are food for thought. Set in the green space at The Shops at Clearfork, they are a bold invitation to take a moment, slow down a bit, and remember that life is more fun when it's a little lighter.
Performing Arts Organization
Readers' choice: Casa Mañana
Critic's choice: Fort Worth Opera
We were waiting to see what would happen with longtime artistic director Darren Woods' sudden departure, but this troupe has stayed the course and in some respects improved. Operagoers from Woods' era can still readily recognize the festival's mix of repertory classics with new material, and now the company has started outreach in earnest to our Latino community, staging a ravishing production of María de Buenos Aires and engaging the legendary Plácido Domingo to help find more Spanish-language works to perform. The free outdoor TV screenings are a nice bonus, too. Opera fans in some larger cities don't have it this good.
Mural
Critic's choice: The Law Office of Sean M. Lynch, 956 W Rosedale St, 817-668-5879
Local artist DeMario Davis' mural on the side of attorney Sean Lynch's Rosedale Street office is a colorful depiction of a vintage greeting card that includes snippets of scenes from around the city, the Fort Worth Vaqueros' logo, and a short, welcoming message listing Near Southside factoids. It's a really pleasant sight –– well, it would be, if you could see it. Lynch's new neighbors, Tarrant County Infectious Disease Associates, announced their arrival to their neighborhood by building an 8-foot fence in front of the piece. If you're willing to slow your roll or get out of your car and look behind the art-blocking wall, you'll be treated to a pretty picture. Otherwise, nah.
Photographer
Readers' choice: Dustin Schneider
Critic's choice: Brian Hutson
Brian Hutson puts in a lot of overtime photographing food for high-end restaurants, homes for interior designers, and making individual and family portraits for the communications agency Hutson Creative. When he's not on the clock, Hutson documents historic buildings and landmarks that catch his eye. Last Fall Gallery Night, Hutson was featured along several noteworthy photographers for This Is America (a collaboration among Art Tooth, Tanglewood Moms, and Regan Hall Art). The handful of his Americana-tinged images showed Hutson to be equally at ease in the fine arts and commercial photography worlds.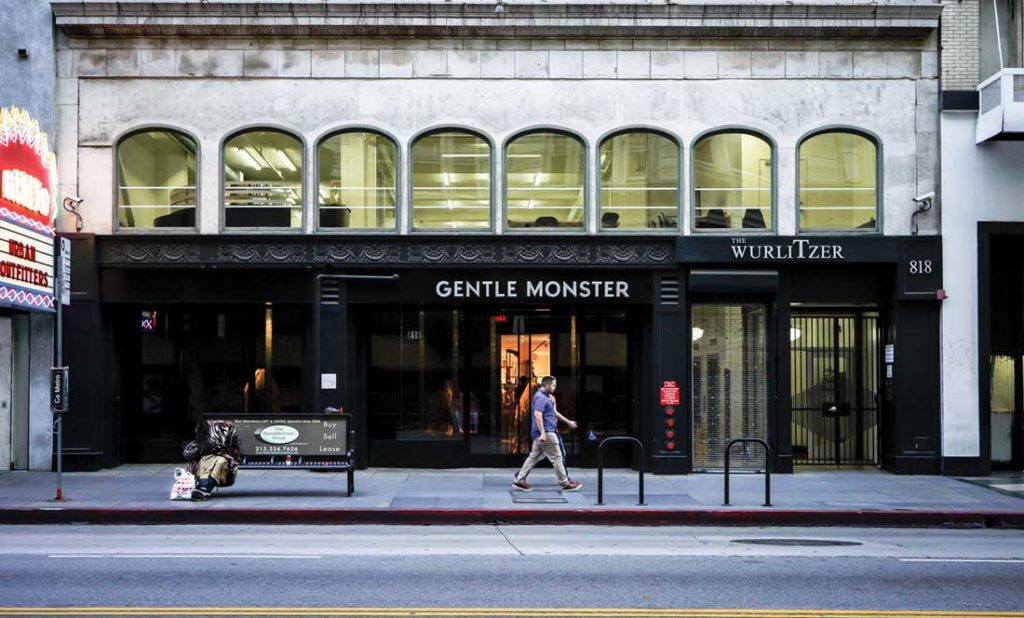 Female Actor Performance
Critic's choice: Kelsey Milbourn, Twelfth Night, or What You Will 
This year's best female actor goes to a lady playing a lad. Kansas City transplant Kelsey Milbourn has taken root in the North Texas theater scene, making regular appearances on regional stages. In her performance of Viola/Cesario for Trinity Shakespeare Festival, she delighted audiences with great consistency of character as the play's innocent ingenue. Disguised as Cesario, she showed masterful movement in a swordfight gone awry –– all while radiating humor, intentionally moving in ways to portray and betray her gender. Milbourn has also taken a strong, vocal lead in speaking out against The Dallas Morning News' biased coverage of Lee Trull's sexual misconduct allegations, adding her name to a long list of powerful female thespians hoping to create a safer climate for young women pursuing the theatrical arts in North Texas. 
Male Actor Performance
Critic's choice: Brandon Murphy, The Bible: The Complete Word of God (abridged)
It's not easy getting god-fearing folks guffawing at the expense of Christ, but Brandon Murphy can do just that. At Amphibian Stage Productions, Murphy played a god-narrator, one particularly skilled in running interference between his two storytelling companions. Owing in large part to the tone of dry stoicism in his humor, Murphy carried two other strong but hyper characters. His well-timed wisecracks made every line effortless. Testament to his quality of acting is the fact that Murphy had previously partaken in this production for Amphibian in 2013, leading many to speculate as to whether or not his return to this company would live up to the holiest of expectations. Murphy did and does continue to razzle-dazzle audiences in North Texas with a subtly slapstick approach.
Theater Troupe
Readers' choice: Texas Star Dinner Theater, 816 S Main St, Grapevine, 817-310-5588
Critic's choice: Stage West Theater, 821 W Vickery Blvd, 817-784-9378
When it comes to pushing the artistic envelope, the people of Stage West have torn through challenging scripts that question cultural norms. The 2017-2018 season handed us another remarkably well-cast Chekhovian adaptation (Life Sucks), the story of a tortured social outcast (Like a Billion Likes), and, our personal favorite, a fishy-and-foul-mouthed delight of a tale about cancer (A Funny Thing Happened on the Way to the Gynecologic Oncology Unit at Memorial Sloan-Kettering Cancer Center of New York City). There was also a celebration of gender-neutral identities (Hir), a play to press the buttons of monogamists (Don't Dress for Dinner), followed by a dramatic period satire piece about the secrets surrounding a Southern plantation (An Octoroon). With a never-ending zest for experimenting with challenging subject matter, we can always count on Stage West to deliver a compelling production that electrifies conversations about race, gender, and cultural identity. 
Production Staged by a Local Theater
Critic's choice: This Random World, Circle Theatre, 30 W 4th St, 817-877-3040
There was nothing haphazard about Circle Theatre's production of This Random World. In February, the company brought in Libby Villari — better known for her role in Boyhood — and up-and-coming star Crystal Williams to portray a complex client-caregiver relationship knotted by the hurt and confusion professed by new sources of young talent in the area (Jovane Caamaño, Catherine D. Dubord, Desirée Fultz, Kyle Igneczi). Another new face, one who endowed the production with comedic grace, was Camille Monae in her role as a funeral home staffer. Monae and several of the others travel near and abroad to reconnect with relationships lost, all while trekking around with and on genius set design pieces. What could have been a sappy take on wanderlust delivered a show that Fort Worth won't soon forget. 
Show at Bass Hall in Last 12 Months
Critic's choice: White Christmas
A most spectacular snowfall came in November when the long-awaited debut of Irving Berlin's White Christmas tuned and crooned to a familiar orchestral tune for thousands of nostalgic Fort Worthians. Audiences sang along to "I Love Piano" and "Snow." The littlest thespians in attendance reached up high with surprise as fluffy imitation flakes fell from above. Impeccable direction and choreography on the part of Randy Skinner left us all wondering how he managed to do so much, so well, and with so much more sparkle than expected. Purists were pleased, but even the most avant-garde of viewers could appreciate the meticulous detail that went into every costume, set piece, and line delivered by the quality actors on stage. 
Festival
Readers' choice: Mayfest
Critic's choice: Open Streets
When it comes to the great events the tiny-but-mighty neighborhood association Near Southside Inc. puts on each year, Arts Goggle probably deserves a lifetime achievement award. But the slightly smaller Open Streets festival has proven to be consistently something worth circling far in advance on the calendar. Each spring, a portion of West Magnolia Avenue is closed to automobile traffic for one afternoon. Local businesses, sporting groups, pet rescues, vendors, artists, and performers set up shop along the route, providing ample activities that delight the attendees in a family-friendly environment. Open Streets represents a time to reconnect with our Fort Worth community in a very authentic way, instead of behind the wheel or on the other side of a screen.
Burlesque
Readers' choice: Crème de la Crème
Critic's choice: Crème de la Crème 
These ladies aren't only easy on the eyes. They're fun and sassy, too. As one of the earliest purveyors of this lost art in North Texas, Crème de la Crème can boast a fan base deep in the heart of Fort Worth and beyond. Acrobatics in g-strings and clear heels are fine, but for the discerning gentleman, Crème de la Crème can't be beat.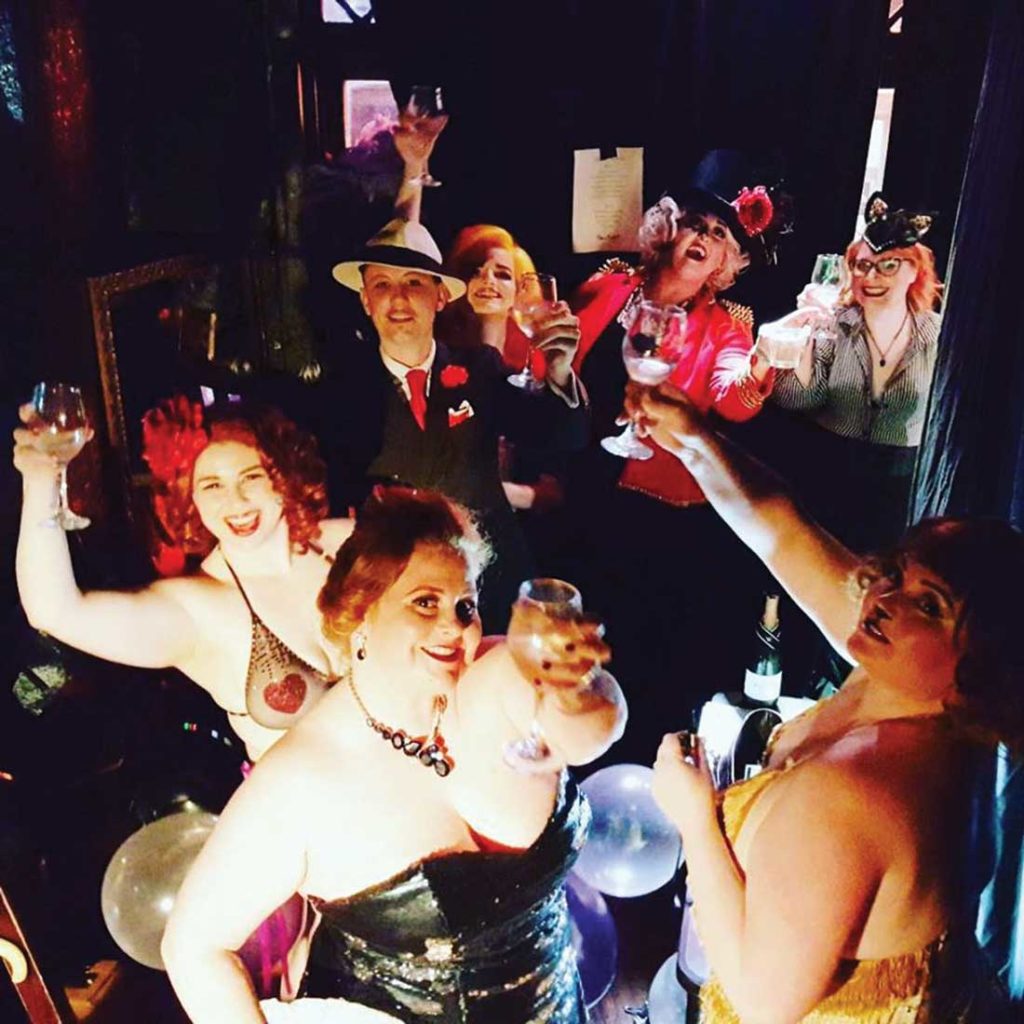 Drag Performer
Readers' choice: Frida Monet
Critic's choice: Rhinestone Cowboy Sunday Nights, Hooky Bar, 2800 Bledsoe St, 817-945-2839
Down in the heart of the West 7th Street corridor, the queens are ruling over Sunday nights. Hosted by Kennedy Davenport, the Rhinestone Cowboy drag show serves up a smattering of talented performers who turn this normally pedestrian country-bar into a party that would make even the most fabulous diva's crown sparkle a little brighter. Rhinestone Cowboy nights are open to all people in the LGBTQ community and their supporters. Aside from the show that fires up even the most blasé Sunday evening, there is a dance floor, a shot wheel, and drink specials to complement this night of loud and proud revelry. 
Locally Made/Shot Film 
Critic's choice: Never Goin' Back
Garland native Augustine Frizzell shot her first feature film at various locations in North Texas, including Fort Worth's Intermodal Transportation Center and the city jail. Her comedy about two teenage friends spending a weekend making sex jokes and smoking tons and tons of weed won rave reviews for the chemistry between lead actors Maia Mitchell and Camilla Morrone and its vibe of hazy glee.
Classical Music Performance
Critic's choice: Maria de Buenos Aires, Fort Worth Opera
Now under the leadership of Tuomas Hiltunen, the Fort Worth Opera soldiers on with its commitment to perform operatic works by Central and South American composers. While Astor Piazzolla spent much of his life outside his native Argentina, his tangos ignited a worldwide fervor for the seductive dance-based music genre. Piazzolla's Maria de Buenos Aires was the centerpiece of the company's 2018 festival. While the plot was hard to follow at times, soprano Solange Merdinian kept the audience enraptured with her agile singing and captivating onstage presence.
Book by Texas Author Published in Last 12 Months
Critic's choice: Fifty Shades of Black & White by Mike Farris and Jennifer Pedroza
Talk about having the last word. In 2011, Arlington resident Jenny Pedroza helped publish the mega-successful erotic romance Fifty Shades of Grey but was screwed out of her share of the money by a business partner. Two years later, Pedroza shared her story with the Fort Worth Weekly. The resulting cover story prompted Pedroza's former business partner to send a threatening cease-and-desist letter. Instead of shutting up, Pedroza sued her former partner. And, by chance, the lawyer she chose –– Mike Farris –– just happened to be a published author. Pedroza won a large settlement in court. Then, she and Farris co-wrote a book explaining every nasty trick the former partner pulled.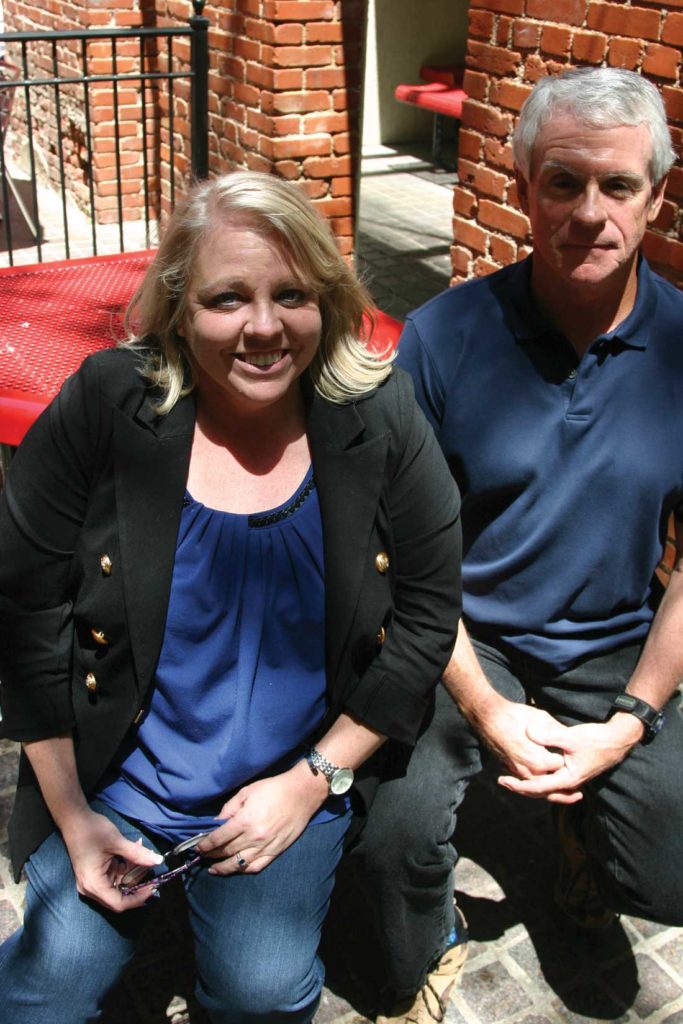 Outsider Artist
Critic's choice: Sarah Ayala
Sarah Ayala's fascination with mandala patterns informs much of her work, but she also has an eye for bringing psychedelia and Latinx street culture to life in a variety of forms, from pinstriping and tattoos designs to paintings on everything from canvas to skateboard decks and bones. 
Arcade/Bowling Alley
Critic's choice: Free Play Arlington, 400 E South St, Arl, 682-302-1178
For a mere $10, Free Play's customers can access a final boss' treasure trove of arcade classics spanning the industry's golden age in the late '70s and early '80s to the latest iterations of modern titles like Street Fighter. Kids of all ages can vie for the high score, while the ones who are 21 and up can enjoy a nice selection of craft beers. And if you're hungrier than Pac-Man, there's a munchie menu that's tougher to beat than Dragon's Lair.
Day Trip
Critic's choice: Lavender Ridge Farms, 2391 County Rd 178, Gainesville, 940-665-6983
Gainesville doesn't top the getaway destination charts, but farm-to-table fans should venture north to Lavender Ridge. In the summer, the farm invites guests to come cut fresh lavender sprigs straight from the fields. Sometimes, lavender lemonade and other goodie bags for kids are offered on a first-come, first-served basis. Many families and friends choose to stay for a relaxing lunch at the cafe, where you can choose from an array of bistro favorites or drool-worthy desserts, including lavender cheesecake, lavender lemon gooey butter cake, or a pretty purple lavender ice cream you must try to believe. If you're in the area in winter, swing in for some lavender-scented soaps, candles, teas, and other goods. Springtime visitors may be able to pick irises if they time their trip right. Call ahead to confirm crop size and viability.
Green Space
Critic's choice: Tandy Hills Natural Area, 3400 View St
The Tandy Hills Natural Area is a 160-acre remnant of prairie land that will set your soul free each time you visit. Forget the mortgage, the overdue credit card bills, and the new ding in the car that you still owe money on and walk in prairie that used to be covered in buffalo. Depending on the time of year, this Lone Star Legacy Park sparkles with wildflowers. Don and Debora Young, cofounders of Friends of Tandy Hills Natural Area, have worked tirelessly for years to protect the park from development, and we are very glad they did.
Outdoor Workout Space or Running Trail
Critic's choice: Trailhead at Clearfork
Drop by the Trailhead at Clearfork on any given morning, and you'll likely see mom meet-ups, outdoor yoga sessions, hardcore cyclists, and runners. The space includes an outdoor restroom area, water station, benches, and access to 80 miles of paved trails. Point your bike north, and you're on your way to downtown, while a southerly trot will take you to Lake Benbrook. Gravel and concrete paths offer ample space for runners and bikers alike. The scenic Trinity River follows the main trail as well-groomed woods to the south provide a bucolic backdrop to your punishing grind.
Golf Course
Readers' choice: Rockwood Golf Course, 1851 Jacksboro Hwy, 817-624-1771
Critic's choice: Sky Creek Ranch Golf Club, 600 Promontory Dr, Keller, 817-498-1414
Built atop one of the highest spots in Tarrant County, this course has a gorgeous Hill Country feel to it that takes the stress out of you even when you keep slicing your tee shots into the trees. These 18 holes are challenging even to accomplished swingers, but you don't have to be a long-ball hitter to score well here. The layouts can be tricky, and the more you play the course, the better you get at learning where to place your ball to stay out of trouble. The golf club offers a well-stocked pro shop and excellent grill for post-game munchies. 
Driving Range
Readers' choice: Topgolf, 2201 E 4th St, 817-349-4002
Critic's choice: Topgolf
Nothing else compares. You can whack at the little white ball while wonderful servers cater to your every beer/food need –– without you ever breaking a sweat or, essentially, taking a step. Belly up for a load of balls for a few rounds of Top Scramble, Quick 9, Top Score, or any other of Topgolf's computer-scored games. The nearby computer tells you where to hit the ball onto the massive range, and you comply. Or don't. It's OK if you just practice your long game. That's the most fun, anyway, especially with a few Bud Lights in ya.
Urban Digs
Critic's choice: Dickson-Jenkins Lofts & Plaza, 120 St. Louis St, 817-808-0179
Located just a couple blocks from the Near Southside's about-to-blow-up SoMa neighborhood, the spaces in the Dickson-Jenkins building are so hot right now, they might already be snapped up by the time this issue goes to press. But even when the handsome, historic lofts are all spoken for, the bottom part of the building combines eclectic retail (like the newly relocated Record Town) with an attractive greenspace and other residential amenities, making it a destination even if you don't hang your hat inside.
Example of New Architecture
Critic's choice: Fort Worth Camera, Critic's choice: Fort Worth Camera, 1600 Montgomery St, 817-335-3456
Earlier this year, Fort Worth Camera left behind their diminutive location for a new building – but this wasn't your regular retail space. Designed by local architect Bart Shaw, the new home for Fort Worth Camera would represent both a store and a mecca for photographers. Apart from the sales floor, there are two large classrooms, a film and print processing facility, a gallery space, and even a lounge for guests. The exterior was planned as the perfect backdrop for visitors shooting some class homework or testing out a potential purchase. Instead of letting the function fit into the form as an afterthought, this building was designed from the onset to be a place of connection in all facets of life around the lens for professional and amateur photographers.
Rebirth/Relocation/Re-opening
Critic's choice: South Main Village
Can the slew of new restaurants, shops, and bars along South Main Street reach West Magnolia Avenue-levels of popularity? One thing is for sure, the new developments build on the Near Southside's time-tested formula: pedestrian-friendly streets, locally owned businesses, few if any corporate franchises, and a balance between food, entertainment, and booze. In the coming months, South Main Village will welcome The Bearded Lady, Black Cat Pizza, CRUDE Craft Coffee Bar, Funky Picnic Brewery & Cafe, Locust Cider, and Tinie's Mexican Restaurant, among many, many others.
Place to Take Your Kids
Readers' choice: Fort Worth Zoo, 1989 Colonial Pkwy, 817-759-7555
Critic's choice: Fort Worth Museum of Science and History, 1600 Gendy St, 817-255-9300
As anyone with toddlers can surely attest, the holy grail of parenting is finding an alternative to the daily grind of your Goldfish- and applesauce-fueled munchkins turning your living room into a plush and plastic warzone of scattered toys and random discarded clothing. (Why are they always naked?) Even better if that alternative is a sleek and modern air-conditioned building filled with curiosity- and wonder- enriching sights and activities that will help offset some of the routine brain-softening marathons of Doc McStuffins. Put a crick in your neck staring up at the towering skeletons or have the littles animate their own hand-colored thunder-lizards in the Dino-Labs. Learn, create, and build in the stimulating Innovation Studios. Or get queasy in the Grossology exhibit, a grimace-inducing dedication to bodily functions. Perhaps best of all is the Children's Museum, a peaceful parental mecca for unbothered social media scrolling while your ankle-biters play at hospital or grocery store with pint-sized lab coats and plastic replicas of fruit and veg to toss into miniature shopping carts. A few trips will justify the cost of a museum membership, but you can't put a price on the respite from incessant repetitions of "Mommy!" or "Daddy!"