Chef Melissa McCrea was putting the finishing touches on three birthday cakes when a small group of excited black girls arrived. The apartment where she was working, located at the southeast corner of Las Vegas Trail and Chapin Road, faces a stretch of road known by locals as the Four Corners of Hell due the high rate of violent crime in the area. The apartment is the temporary headquarters of Build a Better Hood, a four-year-old nonprofit that works to stem the tide of poverty and violence along Las Vegas Trail, Como, and other underdeveloped Fort Worth neighborhoods.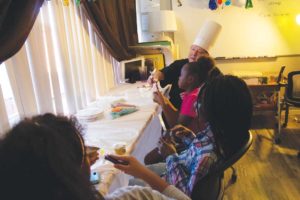 "Last month, one boy said this was the best birthday he'd ever had," McCrea said, referring to the monthly birthday parties organized by Build a Better Hood. 
The low-income apartment reflects the depressed economic conditions around Las Vegas Trail. Here, lines of drying clothes and rusted-out grills fill many back porches. Crime in the area is rising. Fort Worth police records show an increase in the number of murders along Las Vegas Trail, known to the Fort Worth police department as the West Division, from two in 2016 to 13 in 2017. 
As the girls decorated their cakes under the guidance of McCrea, I spoke to a young black man named Trenton Tennison, who was holding his youngest son, Trenton Jr. After a short stint in prison, Tennison, like many of the folks helped by Build a Better Hood, was unable to find work to support his son and wife. He would be living on the streets, he told me, if the nonprofit's founder and director, Abdul Chappell, hadn't given him a room in the headquarters. Chappell, sitting nearby, told me that he had found Tennison a well-paying job in construction. Tennison said that, if the job works out, he plans to move out on his own with his family "as soon as possible."
"I went to jail for a little something," he said. "I couldn't move forward, but I had to take care of my family. Abdul, he does things like this all the time, giving back to the community. He's a good guy. He came through for me." 
Chappell appeared to be in good spirits. Just a few weeks earlier, he was facing prolonged incarceration in Johnson County Jail. Chappell, still awaiting trial for drug- and weapons-related charges tied to an arrest last February, missed a court appearance recently, resulting in his arrest on September 18. During his most recent incarceration — Chappell has been in and out of prison for 25 years — I attended his hearing in Johnson County's 18th District Court, overseen by Judge John Neill. His bail at that time was $200,000, and Chappell and his lawyer, Lon Woods, were asking that it be lowered to $20,000. Chappell's visibly shaken wife, Kimberly Gheen, watched from the back of the courtroom.
"This isn't right," she said at the time. "Why would you penalize him and raise his bond? It feels like [the legal system] wants him in jail. He's such a good person. You're not only taking away from a family. You're taking away from an entire community."
Several members of Build a Better Hood watched on as the judge deliberated the request. Chappell said that he was never told of the missed court date that led to his parole violation. 
"I'm going to take it under advisement and will decide later this afternoon," Neil told Chappell and his lawyer. 
Outside the courtroom, Chappell's supporters commiserated and weighed their legal options. Later that week, Neil lowered Chappell's bond to $120,000.
Chappell maintains that his arrest last February was the result of his being drugged with GHB (a depressant commonly referred to as the "date rape" drug) by a young lady he volunteered to drive home. When he awoke from what he said was a GHB-induced sleep, still in his parked car, he was questioned by Johnson County police, who found illegal drugs in his car, drugs that Chappell said were not his.
While that case and an ongoing charge in Fort Worth for possession of a small amount of marijuana work their way through the courts, Chappell and his team of volunteers are in the final stages of launching a conflict resolution team to mediate disagreements between residents along Las Vegas Trail before they escalate to violence. 
"We know the people in this community," he said. "We will take [the two disputing parties], separate ways, and have them talk to us. They know what we've been through because we're from the streets. They listen to us. It's dangerous sometimes. Emotions are high. I believe we can bring crime [in the area] down 60 percent." 
*****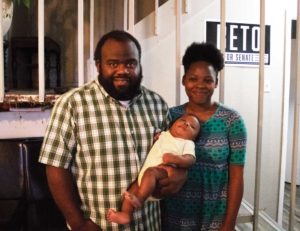 Gheen said her husband has been a driven and natural leader since she met him in high school. Four years ago, Chappell reentered Gheen's life through a comment on a mutual friend's Facebook post. Gheen reached out to her high school crush. The two met the following week and married shortly after. They first met at Southwest High School, where they shared a health class, in the early 1990s.
Chappell, Gheen said, was "very charismatic and wrote poetry in class. I called him the Pied Piper. People always wanted to be around him."
Looking back, Gheen said she was in love with him then, though she was too shy to tell him. Gheen said her husband is a very curious and spiritual person. When the topics leave religion, they coalesce around Build a Better Hood. Even during his recent and brief incarceration, Chappell's phone chats with his wife focused on the nonprofit.
Chappell's early life is colorfully, and often violently, recounted in his autobiography, Abdul Chappell: Chronicles and Memoirs of an Original Gangsta, published under his LLC, Chappell Publishing, in 2012. His first home in the late 1970s was Stop Six, an area that he fondly remembered for its close-knit community.
"Everyone left their doors open with only their screens shut," he wrote. 
His family moved to several Fort Worth neighborhoods throughout the 1980s. While living near Las Vegas Trail in 1984, then a mixed neighborhood, Chappell said he was the target of racism on several occasions. 
"Elementary school was an even bigger cultural shock to me," he wrote. "For some reason, 'African' and anything related to it was the lowest and most hideous insult to ever exist."
Around the age of 11, Chappell had his first run-in with racially motivated violence. While passing a 7-Eleven, he was accosted by four white men.
"Hey, nigger," one man yelled before pushing Chappell down and kicking him repeatedly. "What are you doing on my sidewalk!"
A few years later, under the influence of pop culture, Chappell bought into the materialistic, misogynistic lifestyle espoused by most rappers and hip-hop culture. Several life-changing events throughout his early adult years would begin to sway him from that crime-worshiping lifestyle but not before a brush with death that is recounted in his memoir. 
"Pop! Then another shot rang through the air," Chappell writes.
He felt a burning sensation on his leg. It was 1991, and 18-year-old Chappell had just stepped away from a payphone in the Como neighborhood. The shooter, an off-duty sheriff, according to Chappell, had seen him flash his gun. When the officer fled due to return gunfire from Chappell's nearby friends, the wounded teenager was pulled into a nearby building. Nearly an hour later, Chappell was still lying in a pool of blood and waiting for an ambulance.
"Man, he's gonna bleed to death," Chappell recalled hearing an officer who had arrived on the scene later say.
After the ambulance failed to arrive, several friends drove Chappell to All Saints Medical Center, where he received life-saving surgery. This brush with death didn't convince Chappell to drop the gang-banging lifestyle. It was around that time that he founded the Fort Worth chapter of the nationwide Crips, a primarily black street gang that fought for territory against rival gangs, including, most notoriously, the Bloods. Violence in Fort Worth, like much of the United States, swelled to record levels in the early- to mid-1990s, fueled by street gang activity. In 1993, while an active member of the Crips, Chappell was incarcerated in Tarrant County jail under numerous charges that included aggravated robbery. While serving a four-and-a-half-year sentence, he heard about the inadvertent murder of a 4-year-old girl during a shootout between Crips and Bloods. In what was remembered as the "bloody" summer of 1993, the body count from gang violence reached 60 in Fort Worth.
"My child was 2" at the time, he said. "That was it for me. The [victim's father] was a friend I knew I would have to see. I was a part of that, whether directly or indirectly."
As he still does, Chappell turned to writing to sort through his mental afflictions. His essays touched on the senselessness of the bloodshed in Fort Worth's predominantly black neighborhoods.
"Some of the bailiffs were making copies and passing them around the jail," Chappell recalled. "I started getting letters too. People were thinking like me."
What happened next received national media coverage. Dozens of incarcerated Crips and Bloods were moved into a common living area. If the two sides really wanted a citywide truce, the thought went, they would have to prove they could live together in jail first. 
The truce held, but Chappell would have to wait another year and a half before he was released from jail. His advocacy for ending gang-related violence slowly evolved to community organizing. Reading the Bible and the Koran, along with listening to rapper Tupac Shakur, began influencing how Chappell viewed violence. 
The community organizer described the allure of gang life and drug culture last September while helping Build a Better Hood volunteers register voters near the Leadership Academy at Como Elementary School.
"These kids who are selling drugs aren't selling drugs because they want to be bad guys," he said. "When you come from impoverished conditions, it's a totally different body of laws. Where [some] see a criminal, they see survival. There aren't a lot of job opportunities. The whole concept of being a product of your environment is 100 percent true here. Build a Better Hood, our thing is to bring the neighborhood concept back into the community, so we can create neighborhoods and get away from this 'hood mentality." 
Chappell draws a line from his childhood experience to the plight of black teenagers today.
"Our role models were drug dealers, hustlers, and pimps," he recalled. "Our ancestors in Africa had rites of passage traditions. They would take 14-year-olds out [into the wild] for six months. When they came home, the families didn't look at them as kids. Now, our rites of passage include getting shot. You get more respect, and that reinforces the behavior. You got this nice car. People start treating you with respect. That reinforces you wanting to go out and get more money." 
*****
Build a Better Hood isn't the only group working to reduce violence and poverty on the West Side. The goal of the Las Vegas Trail Revitalization Project (LVT Rise) — a collaboration among the United Way of Tarrant County, private businesses, the city, and human services groups — is to economically uplift long-neglected neighborhoods in the area.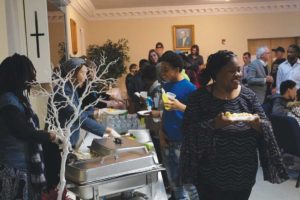 The effort started late last year, and its most visible project is a mobile community center. The large bus provides financial coaching, career development classes, and food pantry services. Chappell recently stepped down from an advisory role within LVT Rise after growing frustrated with several members. 
"There are good people on the LBT Rise team," he said. "But many are so far removed from the conditions of the people. If you've never starved, you can't tell what life is like here. I don't think they were expecting me to discuss socioeconomics." 
As we chatted at his headquarters, Chappell handed me a seven-page packet titled "A Disease Called Violence." The phrase refers to research published by the National Center for Biotechnology Information, a branch of the National Institutes of Health, that finds similarities between violence and infectious diseases. Building off that knowledge, Chappell is drafting a comprehensive plan to put teams of conflict resolution specialists on Las Vegas Trail's streets.
According to the program description, the team of mediators "will be trained in the area of dispute management. Every incident will be approached with the goal in mind of reaching a peaceful resolution, whenever possible."
Chappell said that the program focuses on preventing violence.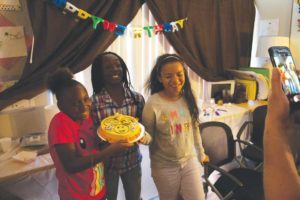 "We want to keep reaching out to the kids. What I've been trying to tell the city is that we need to talk to the high-risk community — the ones who are on the corners prostituting and selling dope. If you expect us to do what the police can't do, which is to lower crime, why not use us and this program."
Chappell said data from Child Protective Services, MHMR of Tarrant County, and other social services groups could provide names of high-risk individuals.
"We're going to do three home visits," he said. "One is a visit to our headquarters, then a needs assessment at their house. If they are having problems with bills, we can help them. We can take away that disease, that dis-ease, that's making them uncomfortable. We remove that element, and now they're more receptive to me saying, 'Man, you need to go get a job.' " 
While Chappell spearheads efforts to combat crime and poverty in the area, other volunteers are running clothing drives and free art classes. Cindy Mantha, Build a Better Hood associate director who met Chappell in the mid-1990s, began volunteering for the nonprofit in 2014.
"I jumped right in and helped him work on the programs he already had in place," she said. "We started out with art classes. It became much bigger than we expected."
Local businesses have a huge role to play in revitalizing the West Side, she added.
"Abdul, he's our foundation," she said. "He's the motivation and inspiration for what we do. He's a natural giver and advocate for the community. He's been doing this for as far back as I can remember, so I know it's in his blood."
The former gang-banger knows that, outwardly, he seems like an unlikely community leader. If he's concerned about the pending criminal charges in Tarrant and Johnson counties, it doesn't show. His single-minded focus remains on serving the neighborhoods in which he grew up.  
"I thank God for being stabbed in prison and being shot," he said. "Had I not experienced those things, I would not be able to reach these kids today and relate to the things they are going through today."