Making a career out of music is at least as much a matter of luck as it is talent, but even the best luck goes only so far if you don't hustle. Luke Wade hustles like a hyperactive point guard determined to force a turnover and cruise to a highlight reel-worthy dunk. He's always been like that, though, going all the way back to Hurt Street, the band he fronted in college and his mid-20s when he moved to Fort Worth from Dublin. Between that band and his solo gigs, Wade kept himself busy as a working musician, but his calendar became a lot heavier in 2014. 
That year, Wade's winning grin and self-effacing charm helped propel the sunny, blue-eyed soul in his voice into a spot on the seventh season of NBC's The Voice, ending up with Pharrell Williams as his coach. While country singer Craig Wayne Boyd won that season, Wade managed to parlay his stint on the singing competition show into an ongoing gig with the casting company, and that, in turn, has allowed him to make music at a steady clip. In other words, though he didn't win, he still managed to turn his experience on the show into part of his career.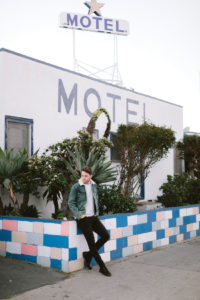 When you compete on The Voice, you vie for a record contract with Universal Music Group and a $100,000 prize. The singers who don't win but make it through the season receive continued publicity by doing meet-and-greets and signings. Wade made his way through that phase, but what really interested him was helping competitors make their way through the audition process, sort of like a guidance counselor for the show's casting department, except for people who need advice about which Elvis song to cover, rather than whether to join the Army or go to junior college. Last year, he and the casting team developed a series of open-mic nights, in which aspiring pop stars could perform either by getting featured as a performer with The Voice's house band or by signing up to perform at the open-mic. The open-mics started in Los Angeles (which Wade hosted), and The Voice has held them in New York City and Nashville since then. Wade, who curates their lineups, describes them as an outreach to artists who may have misconceptions about The Voice's casting process. "The thing that people don't realize, you're not just submitting your audition into the void," he said. "Everything gets listened to."
Wade's role with the show's casting company isn't typical of former contestants. "I just became friends with the casting team, basically," he said. 
You'd think that in a cutthroat business like mainstream pop music, having an affable, genuinely likeable demeanor might not be useful, but Wade points out that having a career in the industry has at least as much to do with networking as it does with an ear for melody. For Wade, being unfailingly nice and positive has made the who-you-know portion of success a breeze.
Of course, Wade is also gifted with a great ear for melody, and he is a highly prolific songwriter. Since his time as a Voice contestant, Wade has put out two albums – 2014's The River and Only Ghosts in 2017 – and a couple of singles, with a new one due out Friday, called "Plastic Ghosts." Unlike his previous output released under his own name, "Plastic Ghosts" is off the debut EP of a band he's formed called LAWS. "My albums have all been a little different," he said. "And I think it gets confusing when you deviate from what your fans are accustomed to you sounding like." 
He wanted to release what he calls a "straight-ahead alt-rock" album but felt it didn't mesh with the "Luke Wade, songwriter" brand. Thus, LAWS was born, its self-titled recording available on November 17. 
And then there's Louis Highwater, a project Wade describes as leaning toward "throwback soul." Wade said he partnered with a coyly unnamed producer in New York to work on new music, and they came up with two albums' worth of material, which he'll be releasing as a series of EPs. "Different music inspires me differently," Wade said. "And I like writing all kinds of songs. I just don't want to confuse people with what 'Luke Wade' is trying to do."
Whatever songwriting vehicles he chooses, Luke Wade's work ethic is what keeps them all running. That, along with an eye and an ear for talent and what makes a good song, is how he's made his own luck. 
Luke Wade single release show

At 6pm on Fri w/LAWS and Luke Jokobsson at Sundance Square, 420 Main St, FW. Free.