You've probably noticed that Texas has exploded with craft breweries. According to the Brewers Association, the number statewide has soared from 59 in 2011 to 283 in 2018. To my teachers who pleaded with me to learn math, promising I would use it in the real world, this one's for you — that's a 380 percent increase in less than a decade. 
Thirteen of those craft breweries are right here in Tarrant County. Most have been around long enough, or done well enough, that they're beginning to expand — not only into additional locations but into new ventures like restauranteering and beer to-go sales. The latter is due to some recent amendments to state legislation.
I'll admit I know little about, nor do I pay much attention to, state law or local politics, even when it comes to alcohol. Still, it seems the local community has been, a'hem, abuzz about two bills in the headlines as of late: Senate Bill 312 and House Bill 672.  
Previously, Texas was the only state in the United States with legislation prohibiting manufacturing breweries from selling their malt products onsite. By keeping each piece of the supply chain distinct, these TABC regulations were in place to promote competition and prevent monopolies. Those same rules don't apply to wineries, distilleries, and brewpubs, which are all classified differently under the law. 
Since the Senate and House bills passed a short while ago, these craft establishments finally joined their peers in being able to sell six-packs, cases, and to-go containers like refillable growlers and crowlers (32-ounce cans) onsite. Next time you host a rager, though, don't expect to pick up a keg from your favorite microbrewery. TABC limits consumers to purchasing up to 288 ounces, or one case, per day.
One of those 13 local beer-makers, Wild Acre Brewing Co. (1734 E El Paso St, Ste190, 817-882-9453), is opening up a second location, this one a restaurant on Camp Bowie Boulevard, sometime in 2020. Soon to have its own brewing system and a full menu, the restaurant will occupy space within a long-abandoned building that was, in a former life, a Kroger. 
For a taste of what the restaurant's vibe might be like, I journeyed to Wild Acre on an idyllic autumn afternoon. With temperatures in the 60s and the sun shining bright, people wrapped in cozy sweaters and flannel shirts swarmed the outdoor patio. A young guitarist casually strummed on stage while groups on the lawns abutting a covered patio tossed corn hole beanbags and disc golf frisbees. Let's just say, when the new restaurant opens, the line forms behind me.
I chuckled when I saw that each bathroom stall door touted flyers announcing "Treat yo self to beer-to-go" in all caps, along with a friendly reminder about the daily limit.
For some, the changes in legislation didn't affect much. Neither Deep Ellum Brewing Co. in Dallas nor its Fort Worth location, Funkytown Fermatorium (611 University Dr, 817-873-3322), qualify to sell their products to-go — a fact I discovered when a couple friends and I were dining at the Fermatorium and wanted to buy a crowler of their Soul Crusher IPA.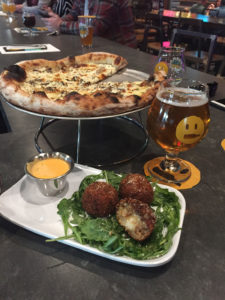 Our bartendress sighed and explained that, because Deep Ellum joined CANarchy, a collective of seven craft breweries — technically based in Colorado — and the consortium produces and distributes more than a certain number of barrels per year, the new rules do not apply to any of Deep Ellum's locations. Though disappointed, my friends and I nonetheless enjoyed our special Fort Worth-series brews and the delicious fare in-house. 
With a community devoted to quality food and craft beer, these recent changes in legislation and continued expansions by brewers into restauranteering can only mean good things. Clear eyes, full stomachs, can't lose.