This year's task of paring down the last 365 days of sonics in the 817 to a list of 20 was damn-near impossible. There were too many great tunes for any story like this to actually be credible, but, after starting with a "short" list of about 50 excellent songs, we were able to present the following as our faves. 
As is the case every year, we do this to honor those musicians whose work we admire, not to tear down those who we grudgingly omitted –– amid teeth-gnashing and name-calling. I'm certain there are a few head-smackingly obvious ditties we overlooked, and we're sorry for that. We are but a ragtag group of music enthusiasts, each with our own shortcomings and biases. Still, this is a great list, and our hope is that you'll give these jams a proper listen. As always, thanks for supporting local music. – Eric Griffey 
20. "The Weeping Spine," Mountain of Smoke
Once a two-piece, Mountain of Smoke has recently expanded, adding Alex Johnson's banshee effects-layered pedal steel and Kyle Schutt's brutal guitarwork. The foursome's first effort in this iteration, "The Weeping Spine," pushes their sludge-metal stylings to colossal heights. The cacophonous thrashing absolutely pummels your spine into weeping for joy. P.H.
19. "Blind Division," O. Deletron 
"Blind Division" injects O. Deletron's slacker-rock signifiers with some up-tempo anxiety and minor-key foreboding, as sci-fi synths rise and fall and rise again, threatening to overwhelm you like a tide bloated with melted polar ice. O. Deletron are masters of mood, and "Blind Division" turns their generally wintry, self-reflective vibe into a beautifully bad feeling, like there's a Rubicon up ahead waiting for you to cross. S.S.
18. "Algorithm," EJC the Rapper
Never has there been such an ominous take on the evils of data-mining presented with such an infectious old-school bop. EJC, the bio-mechanical cyborg from a distant planet, has come to drop knowledge about the inevitable marriage of life with technology, all delivered with a head-bumping beat and commanding erudite flow. P.H.
17. "Suit in the Back," Quaker City Nighthawks 
This song is basically a reminder to keep your tags current and don't speed if you plan on driving around with contraband in your pocket, a message scored by singer-guitarist Sam Anderson's gritty, soulful tenor and the chintzy, rhinestone bling of subtle disco-era synths shimmering beneath a guitar lick that's spattered with globs of Rio Grande Mud. S.S.
16. "Tesla," Yokyo
Despite changing her name from Devi, the Sanskrit word for "goddess," electro-pop diva Yokyo continues to prove she is one. Her sensual siren call over Samuel Culp's immersive production puts you square in the driver's seat of the title's namesake cruising through a licentious fantasy. The teeth-rattling rumble of the sub-bass synthesizer is worth every bit of the damage it's likely to do to your speakers. P.H.
15. "Willie Nelson's Wall," Vincent Neil Emerson
Is there a funnier, more vivid line than "I'm drunk as an uncle in a Walmart parking lot / Blaring 'Margaritaville' and taking up 10 spots"? Vincent Neil Emerson's loose-limbed, Western-swingin' paean to endearingly sloppy partying practically ups your BAC just by listening to it –– the aural equivalent of belly-flopping in a punchbowl full of sangria after you've slammed some tequila shots in the garage. S.S.
14. "Lovers' Game," Abraham Alexander
Stirring R&B/gospel crooner Abraham Alexander's follow-up to 2017's profoundly moving "America," proves he's no one-hit wonder. "Lovers' Game" is a sensual marriage of passionate soul and slow-burning chillwave electronic music. The top-notch production and Alexander's peerlessly emotive delivery again prove he's a criminally underrated talent. P.H.
13. "Pray," Lou CharLe$ 
The OG MC of Fort Worth's contemporary rap scene starts this song with frank honesty: "It sucks I ain't where I could be / Gotta rejoice: I ain't where I should be." And from there Charle$ tosses down an artist statement: He's not in it for the money. He's rapping because of what it does for his soul. The beat is mellow, and the production is spare but weighty, putting Charle$' impeccable phrasing and flow in the spotlight. S.S. 
12. "Las Colinas, Pt. 1," Steve Gnash
Steve Gnash is unfailingly interesting with his curious modal songwriting style, and "Las Colinas, Pt. 1" is no exception. The track channels a moodier Ray Davies with its chiming minor-chord structure coupled with warm electric piano, Mellotron, and horns as he ponders the vapidity of fame and pretense with his scholarly electric-Kool-Aid lyrical reflections. P.H.
11. "Long Way from Home," Eric Osbourne 
The intimate, DIY sonics of this song wrap Eric Osbourne's lonely baritone and the wistful elegance of his finger-picking in honest vulnerability, filling you with a kind of wintry sadness. S.S. 
10."AK48," Polydogs
This first single from guitar mercenary Matt Tedder's newly formed supergroup sounds like the progeny of a torrid one-night stand between Dick Dale and Queens of the Stone Age. Blue-streak surfy guitar lines are the gateway drug to "AK48"'s infectious psyche-rock fervor. The head-spinning musical virtuosity of the players pushes the decibel meter up on a tune that's at least one louder than an AK-47. P.H.
9."Frenzy," 88 Killa 
Over funky, throwback bass thuds and a silky R&B hook, 88 Killa spits his gravel-throated boasts across this slyly West Coast-vibing slab. If his anti-Autotune approach weren't made obvious by his words, the retro lean of the track would deliver the message loud and clear. S.S. 
8. "A Good Way to Say Goodbye," Cameron Smith
The title track from Cameron Smith's first proper solo album is a visceral, heart-wrenching ballad about loss –– of innocence and life. For a song with themes of the true costs of excess, it contains none of it. Finger-picked acoustic guitar, fluttering organ, and grief-stricken harmonica are his only accompaniment as Smith bids farewell to lost souls and yearns for something akin to peace. P.H.
7. "Myopia," Vogue Machine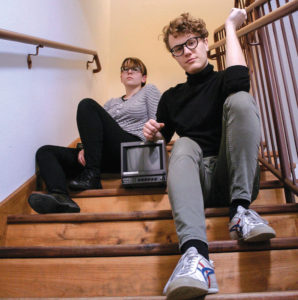 Over the summer, Vogue Machine gained national attention with "Kardio," when that track's dystopian pulse appeared in a teaser for Rick and Morty Season 4, but it's "Myopia" that really grabbed our ears. The song crystalizes the electronic duo's more unconventional sonic experimentalism into high-energy electro-pop that's easy to leave on repeat. S.S. 
6. "Dial Tone," Pinkish Black
Like a Bladerunner funeral march, "Dial Tone" showcases Pinkish Black's unique warlock brew of doom metal and haunted circus music. Drummer Jon Teague's understated pounding drives Daron Beck's mistral synth lines and swirling Peter Murphy-esque vocals before exploding into thick, sub-heavy, distorted crescendos. It's like the soundtrack to a nightmare you don't want to wake up from. P.H. 
5. "Don't Remember," Summerjob 
Released as a single this summer, Mac "Summerjob" Probst's thumping, woozy synth-hop jam wobbles and sweats beneath verses that unpack anxiety over shit like the consequences of fucking up and getting stuck in a rut. "I don't remember / And I don't wanna think about" he sings, musing over a drum loop about fucking up his credit card and crashing his car and the near-impossibility of transcending hometown comfortability. S.S. 
4. "Eat, Shit, Die," Duell
Duell might be the answer to the age-old question "What if Motörhead were a shoegaze band?" Their signature blistering wall of guitar chains Belvedere Lee's spectral chorus-drenched vocal to the prow of a post-apocalyptic hell cruiser and pushes the accelerator through the floor. This neck-cracking anthem of angst and apathy strips life down to its most essential needs: Eat, shit, die, and listen to Duell. P.H. 
3. "Gum Love," Phantomelo 
Phantomelo's giddy burst of jangle-pop skips and hops like kids chasing the candy storm that flies out of a piñata –– in the case of "Gum Love," the bat that breaks the fun wide open is frontman Will Rakkar's soaring chorus. "When I get out … I'm coming for you," he sings, masking the menace lurking in that promise beneath a sunny hook and sugary production. S.S. 
2. "Hostage," Son of Stan
All 31 pastel pink and turquoise flavors that define Jordan Richardson's incomparable brainchild are fully on display on this endlessly playable bi-mooded track. Cocksure and humorous electric slide-inspiring verses are flipped into the synth-heavy heartbreaking pleas that make up the choruses before spinning into a mandatory sing-along bridge with requisite ripping guitar solo. It's the Kenny Loggins' Greatest Hits of Son of Stan tunes. P.H. 
1. "Rainbow Decider," Gollay
The ethereal majesty in Gollay's breathy delivery propels this synth-heavy dance-pop gem into the sparkling reaches of the cosmos, cutting through space in a pocket of subsonic warmth and crystalline percussion. S.S.