The campaign to make Mother's Day a national holiday first began in 1907, when Anna Jarvis memorialized her mother, Ann Reeves Garvis — a peace activist who worked tirelessly to help the wounded soldiers on both sides of the Civil War. In 1908 the US Congress rejected her proposal, but by 1911 all the individual states observed Mother's Day as a holiday. (Or, so says Wikipedia.) By 1920, Hallmark Cards had created a line of Mothers Day greeting cards and the rest? Well, here we are.
Here in the 2020s, we can still get those Hallmark Cards at the grocery store and at a few locally owned Hallmark Gold Stores such as Gene Allen Gifts (255 SW Plaza, Arlington, 817-478-4788), Norman's Hallmark Shop (4620 Bryan Irvin Rd, Ste 540, Fort Worth, 817-294-8808), or Trudy's Hallmark (1110 W Arbrook Blvd, Ste 104, Arlington, 817-467-6562).
But we've also evolved.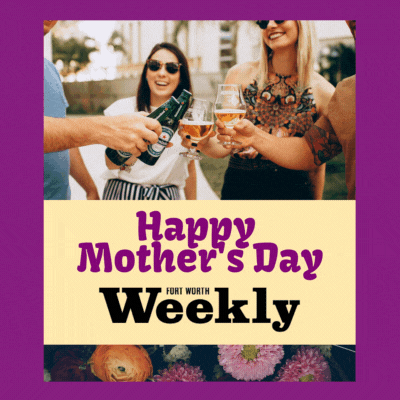 Here is a list of Mother's Day ideas, including food, gifts, and events to elevate the day beyond a greeting card.
Blue Mesa Grill (612 Carroll St, Fort Worth, 817-332-6372) offers dine-in and at-home options for Mother's Day Brunch. For $28 per person, those dining in will enjoy a mega brunch featuring made-to-order stations, breakfast classics, a carving station, red chile salmon, street tacos, adobe pie, and the other Mexican fare for which Blue Mesa is famous.
The price includes champagne, mimosas, OJ, coffee, and tea. Seating times are available from 8am to 4:30pm. Brunch to go is $70 and feeds four people. For a list of to-go menu items, visit BlueMesaGrill.com. Reservations are recommended.
Calyan Wax Co (7901 Valcasi Dr, Ste 300, Arlington, 817-455-0895) sells candles for a cause. Proceeds from every purchase (5%) help fund anti-trafficking efforts in America by supporting local non-profits that fight human trafficking. Thru Sun, Calyan is offering an in-store special for Mother's Day. Buy two candles and get the third one for free.
Chicken Salad Chicks — with several area locations — is celebrating Mother's Day in a big way. On Fri and Sat, get double the love with the buy-one-get-one-free special on large Quick Chicks while supplies last. (No substitutions. Cannot combine with other offers.)
Exquisite Body Clinic (1156 Country Club Ln, Fort Worth, 682-301-1115) offers a Dear Mom Special for $100 that includes a facial and a one-hour therapeutic massage. You can add on lashes for Mom for $15 or eye tabbing for $30. Exquisite is open Mon thru Sat. Call for an appointment.
Giovanni's Italian Kitchen (5733 Crowley Rd, Fort Worth, 817-551-3713) will help you "make Mamma's Day one to remember." Mother's dine for free on Sun, plus there will be complimentary roses for all.
Lili's Bistro (310 W Magnolia Av, Fort Worth, 817-877-0700) hosts a Mother's Day Piano Brunch with a special menu from 10:30am to 2:30pm on Sun.
Oak Highlands Brewing (10484 Brockwood Rd, Dallas, 469-802-9455) wants to recognize all the great Moms this Mother's Day by offering her a cold beer and a grilled cheese sandwich from Dallas Grilled Cheese Company food truck from 1pm to 5pm on Sun. Mom's first beer is on the house.
Russo's Sweet Shop (3000 Crockett St, Fort Worth, 817-885-7331) is one of the latest offerings at Crockett Food Hall. Swing by soon and pick up Mom the gift of candy. Then, take her there this Sun for food and drinks at the various purveyors at the hall. See all the culinary options at CrockettHall.com.
Shaw's Patio Bar & Grill (1051 W Magnolia Av, Fort Worth, 817-926-2116) will have a Mother's Day Brunch on Sun from 10:30am, including cocktail specials on the pet-friendly patio. Frozen or on-the-rocks margaritas are $5, and you can upgrade the flavor to mango, peach, strawberry, sangria swirl, or watermelon for $2 more.
West Main Arts Fest at Create Arlington (200 & 300 Block of West Main St, Arlington, 682-248-8424) would be the perfect outing for Mom. From 12pm to 8pm, this Sat stroll through a three-block scene that will include 78 art booths, 30 bands on three stages, eight food and beverage (including beer and wine) vendors, and two large sidewalk chalk murals for kids and adults to create.  Bring your lawn chairs to relax and listen to the music at this pet/family-friendly event.
Wicked Butcher at The Sinclair Hotel (512 Main St, Fort Worth, 682-231-8214) offers an a la carte menu for Mother's Day Brunch on Sun from 11am to 3pm. The main course options of shrimp Louie, breakfast tacos, Nutella stuffed French toast, shrimp & grits, chicken & waffles, steak & eggs, bone-in filet, dry-aged ribeye, and tomahawk chop. The desserts offered include olive oil cake, wicked sundaes, chocolate tarts, and black cherry cheesecake. RSVP at WickedButcher.com.
Yucatan Taco Stand & Tequila Bar (909 W Magnolia Av, Fort Worth, 682-385-9395) offers a complimentary dessert for all Moms.
For questions, reservation info, and pricing, please contact the businesses above. Happy Mother's Day from The Weekly!