Joe Guzman has worked with his own band Flow State and other groups around town booking shows in the past, but this is his first time tackling a three-day festival.
You could say he's … psyched.
From Friday through Sunday at MASS, Psychedelic Panther will bring together more than 25 psychedelic or psych-oriented bands from all across North Texas to share two stages (indoor and out), and the event will also feature lots of fantastic imagery and food from Four Sisters — A Taste of Vietnam and Planta Potosi.
The whole point is for artists and "free thinkers" to confab over groovy local tunes.
Seeing so many new sounds from the Fort and beyond inspired Guzman to put them all in one place. Psych rock, he said, isn't too popular, but it's worth more attention than what it's currently getting.
"The vision I had was to try and get something going that would not only incorporate all of Fort Worth's psych-rock artists but also bands from other cities to work together across scenes to come together as a community," he said. "The goal of psych-rock is to detach the listener from reality or 'represent' an altered state of consciousness."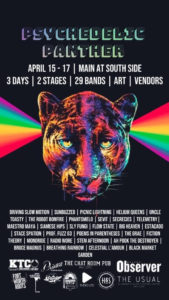 Driving Slow Motion, Sunbuzzed, Picnic Lightning, Helium Queens, The Robot Bonfire, Uncle Toasty, and Phantomelo are among the headliners.
"I tried to reach out to bands that were either psychedelic in nature or psych leaning," Guzman said. "It's a big umbrella, including subgenres."
Guzman began work on the festival with MASS owner Ryan Higgs and event coordinator Alan Brown late in 2021.
"We didn't hesitate to say yes," Higgs said. "It's an underrepresented genre in Fort Worth, but we've got it down to where it will be a normal day at MASS. In this instance, I think some of the bands are here for the genre camaraderie and exposure."
Artist James Benjamin Maker will project psychedelic images onto a large panther-shaped art instillation. "It will be a visual experience as well as auditory experience with projections on the inside stage," Guzman said. "It's going to be a great time."
KTCU/88.7-FM and Radio UTD are two student media outlets promoting the fest. The Chat Room Pub and the Dallas Observer are just two of the 14 total sponsors helping with the production.
Guzman said every band jumped at the chance to play, with some saying Psychedelic Panther sounded like it could become a regular thing and maybe an annual destination festival. The music will keep playing throughout the festival, Guzman said, with bands alternating sets inside and outside.
"I'm very excited to be there and see everybody perform," Guzman said. "All the bands are really unique and bring a lot to the table."
Psychedelic Panther
Fri-Sun at MASS, 1002 S Main St, FW.
$15. 682-707-7774.