Summer in 2022. Got a little ka-ching but not enough to jet to Turks and Caicos. Or even Burleson. Good thing we live in a super-cool town. For you WFH folks, we know that simply getting out of the house for a night is nirvana. The wealth of boutique hotels that have gone up seemingly overnight means there's demand for Fort Worth goodness, and with all of the lifestyle and entertainment options on the Near Southside, in downtown, in the Cultural District, and elsewhere, we're left wondering if maybe all these out-of-towners know something we don't.
Downtown
Downtown lost a lot of restos and retailers to the pandemic but still kicks ass. One of the most stylish stays in town, the Sinclair Hotel (512 Main St, 682-231-8214) has two chief selling points for the average staycationer: the 17th Floor Rooftop Bar (that view) and The Wicked Butcher, one of the best spots for steak and seafood in all of North Texas. All 164 Sinclair rooms feature Kohler Digital Showers, Savvy Electric Mirrors, LG OLED TVs, and LG wallpaper TVs. Not quite sure what an electric mirror is, but I like it!
A few blocks to the south, the Omni Fort Worth Hotel (1300 Houston St, 817-535-6664) is just as upscale but at 618 rooms a lot more Texas-y. This non-smoking luxury address has a deal going on right now through Sep 29. Splash of Summer includes a $100 food and beverage credit plus a custom beach towel. The Omni's heated pool also has a bar. *wink, wink, nudge, nudge, say no more*
One spot that's like its own little getaway within a getaway, Refinery 714 in the 24th-floor penthouse of the Kimpton Harper Hotel downtown (714 Main St, 817-332-7200) offers one of the best views of the city with a world-class selection of libations, too. It's a perfect place to retire after dinner on the ground floor at the award-winning il Modo Italian restaurant. After that, you're on your way to a room with handcrafted furniture and curated local art.
Cultural District
A few miles away, the Cultural District proves it's not just the place for world-class art. It's also a destination for staycationers the world over. (That made way more sense in my head.) One prime address is Hotel Dryce (3621 Byers Av, 817-330-9886). Staying at this independent, locally owned retreat can be like crashing at a really cool celebrity's pad. The Lobby Bar will be full of chillaxing action throughout the summer, with DJ Sober 9pm-midnight Fri, DJ Asa Ace 8pm-midnight Sat, Texas Sun Day with food by Calisience 11am-3pm, and Vinyl Monday with Jonathan Morris 6pm-8pm.
Not too far away, at 1145 University Dr, Home2 Suites by Hilton is big on luxury but not on price. Two great selling points: pet friendly and free breakfast. Call 682-707-9475.
For a truly novel staycation, Hotel Otto (4400 White Settlement Rd, 833-468-8639) is a micro-resort consisting of eight 160-square-foot bungalows crafted from shipping containers, a full-service "plunge" pool, and a daily complimentary cocktail hour, plus self- or private-guided activities in and around the nearby Trinity Trails, including kayaking, horseback riding, Pedego Ebikes, and more. The brainchild of Tim Love, Otto takes its inspiration from Italy, much like Gemelle, the celebrity chef's adjacent restaurant. With an Aperol Spritz in one hand and a slice of Gemelle's sweet, delightfully chewy, Sicilian-style pizza in the other, the Trinity River will transform into the Amalfi Coast in no time.
Near Southside
Easily the hottest part of town, the Near Southside now has its own boutique retreat. Hotel Revel (1165 8th Av, 817-928-3688) is definitely a product of its neighborhood. There is no staff on-site. Everything is done via your mobile device. Though there's no way any guest would be too tired or bereft of imagination to hit all the fabulous restaurants, retailers, and bars that the Near Southside is known for, Hotel Revel offers Sugarman's, a "modern take on the classic speakeasy, giving revelers a sense of history with a contemporary spin."
For a less techy though no less pleasant stay, Three Danes Inn (712 May St, 817-720-6365) is the best B&B in North Texas for quite a few reasons, not least of which the comfy, cozy rooms, the fantastic on-site bakery that provides the second "B" and more, and the old mansion's secluded feel. The married ownership team of Darlene and Jim are also two of the nicest, most progressive business owners in town. For my wife and me, a favorite walkable watering hole/nosh spot is Pouring Glory, though we're not above hopping in our Kia Sportage and hightailing it to Magnolia Ave. Them there cocktails at the Lazy Moose with the slices of bacon in 'em aren't going to drink themselves.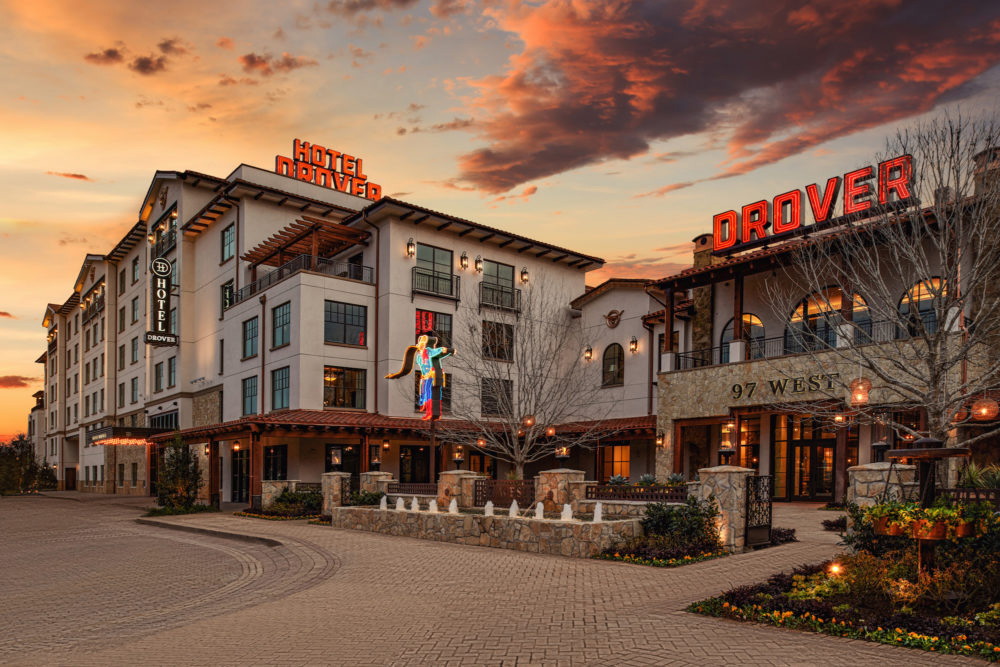 Stockyards
I know what you're thinking: The Stockyards ain't for me. And while it's true that you'll see an inordinate amount of American flags on American bodies in and around Exchange Ave most days, there's also Mule Alley. This brand-new stretch of certifiably hip, decidedly luxurious retreats includes Hotel Drover (200 Mule Alley, 817-755-5557). Yes, it's all cowboy'd out, but the 200 "rustic-luxe" rooms at this Marriott Autograph Collection escape manifest the best of the Western aesthetic. One special happening now is the Mid-Week Retreat: complimentary premium WiFi, guaranteed late checkout (1pm), and complimentary valet for one vehicle per night with in-and-out privileges Sun-Wed. During your stay, take advantage of 97 West. The restaurant that plays on traditional Texas cuisine and is named after Fort Worth's position on the 97° west meridian is a standout regardless of ZIP code.
Read about getaway adventures in Cleburne and Comanche in our second Feature Article, From C to Shining C., in #SummerEdition2022.