With the back-to-school season upon us, we're highlighting stuff to do this month for the young and young at heart. Let the games begin!
Friday AM, August 12, 2022
Big Brothers Big Sisters of Tarrant County (@BBBSTarrant), a volunteer-run nonprofit that matches caring adults with children for one-to-one mentoring, relies on donor support to carry on with its mission. To that end, from 7am to 11:30am, Alpine Shooting Range (5482 Shelby Rd, 817-478-6613) hosts its annual Big Brothers Big Sisters Fort Worth Clay Shoot. Proceeds will benefit BBBS' Bigs' Outdoors Mentoring Program, in which "Bigs" and "Littles" meet one another through firearm safety classes, nature days, fishing events, and hunts. Corporate sponsorship opportunities range from $1,500 to $7,500. The general public can participate individually for $150 per person, $250 for a four-person junior team (under 18), or $500 for a four-person adult team (18 and over). Register at FortWorthClayShoot.com.
From 9am to noon, Arlington Charities (811 Secretary Dr, Arlington) (@ArlingtonCharities) hosts its Back 2 School Mobile Food Market. With Arlington schools starting back on Monday, Arlington families can ensure their pantries are full of goodies for packing those lunches. The first 400 families in line — no appointments — will receive free supplemental groceries. Simply pop open your trunk, and the volunteers will load up your vehicle with food. Speaking of volunteers, they need some! If you're interested in helping out at this or future events, email Wendy@ArlingtonCharities.org.
Friday PM, August 12, 2022
In celebration of anime, the Modern Art Museum of Fort Worth (200 Darnell St, 817-738-9215) hosts Anime at the Modern 2022 with screenings in the auditorium. This festival features five movies, including Fortune Favors Lady Nikuto (5pm) and Belle (7:30pm) tonight, Pompo the Cinephile (2pm) and Inu-Oh (5pm) on Saturday, and then Belle (noon) and The Deer King (3pm) on Sunday. The museum's gift shop will feature Japanese-inspired merchandise and snacks. Tickets for individual films are $10 each at TheModern.org, but discounted, full-festival passes are also available by calling or visiting the museum's admission desk.

Sunday August 14, 2022
Red Rocks Park & Amphitheater  — the world-renowned venue in Colorado — is on my bucket list. In a world where I have unlimited funds, I would have flown myself to the recent two-day concert with Primus and Ween in celebration of South Park's 25th anniversary. Les Claypool wrote/performs the theme song, and both Ween and Primus have been featured on the show. Since the concert was taped for a special broadcast, I'll be streaming it at home Saturday on Comedy Central or Sunday on Paramount+ like the rest of you. (Spoiler alert: I think they may have killed Kenny.)
Wednesday August 17, 2022
No need to keep it quiet. The Fort Worth Public Library (@FortWorthLibrary) is bringing the noise! As part of the new Amplify 817 series, the library presents 817 Day 6pm-9:30pm at the Will Rogers Memorial Center (3401 W Lancaster Av, 817-392-7469). Enjoy a live concert by Fort Worth musicians Cut Throat Finches with Averi Burk, BenC Jones, and GRANT and see installations by local artists presented by Art Tooth. Printed Threads will be on-site silk-screening exclusive 817 Day T-shirts that will be available for purchase, benefiting the Fort Worth Public Library Foundation. (While the city funds essential library services, the foundation raises money to provide programs and resources beyond the basics.) Admission is free, but parking will be $15 on-site. (Or take an Amplify817/DASH bus from Sundance Square or West 7th for $3.)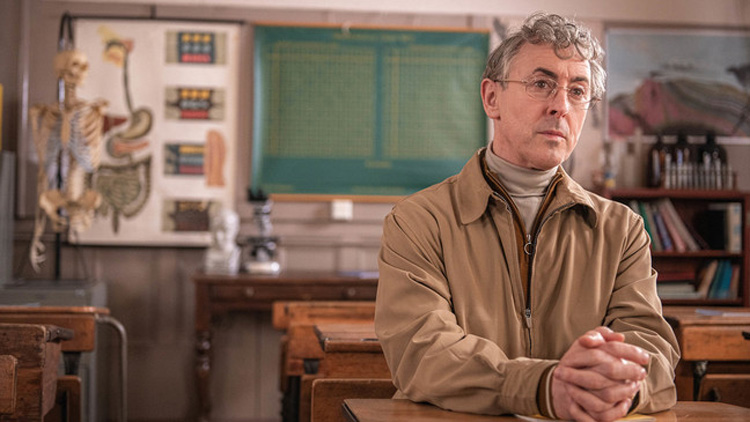 Friday August 26, 2022
Sure, go back to school, but not as an imposter. That's exactly the stunt that then 30-year-old Brian MacKinnon pulled in 1993 when he enrolled as a fifth-year student at Bearsden Academy in Scotland as 17-year-old Brandon Lee. When he was found out in 1995, it made global news. Former classmate Jono McLeod's new documentary My Old School tells the crazy story through present-day interviews, archival footage, and cartoons. As the real McKinnon would not go on camera, actor Alan Cumming was hired to portray him on film, lip-syncing to the audio interviews. Magnolia at the Modern is screening My Old School in the auditorium of the Modern Art Museum of Fort Worth (3200 Darnell St, 817-738-9215) today thru Sun, Aug 28. Showtimes are 4pm and 8pm today, 5pm Sat, and noon, 2pm, and 4pm Sun. Tickets are $10 except on Sundays, when they're always half-price.
Thursday September 1, 2022
For many families, back to school means back to homeschooling. For students needing to participate in an activity, sport, or physical education class this school year, horseriding lessons at Benbrook Stables (10001 Benbrook Blvd, 817-249-1001) might be the answer. The Riding School is in session 9am-11am every Thursday (ages 6-9) and Friday (ages 8-11) from Thu, Sep 1, thru Fri, May 26. The cost is $250 for a block of four two-hour classes, and the class sizes are limited.