1.) Your. Dallas. Stars! Yes, they are headed to the Western Conference Finals to puck around with the Vegas Golden Knights at 7:30pm Friday. Having watched the homeboys' victory over the Seattle Kraken at Boston's Restaurant & Sports Bar (2501 E Lamar Blvd, Arlington, 817-633-7773), I can tell you that it's the perfect place for a rabid sports fan or casual observer such as myself to catch all the excitement. There are several TV screens in every direction inside the bar with the volume set at a reasonable level so it's not too obnoxious. As for the food, I'm obsessed with the Pizza Burger, which is exactly what you think it is. The gloriously messy delight is also available at the Fort Worth and Irving locations. Do it!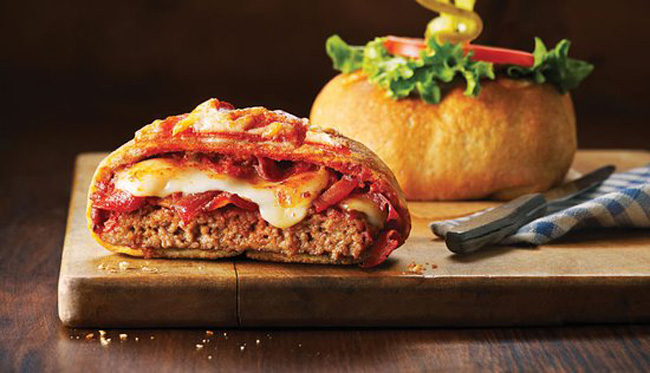 2.) One of North Texas' most celebrated spots for Lebanese food, Byblo's Mediterranean Restaurant (1406 N Main St, Fort Worth, 817-625-9667) has cocktails and hookah Mon-Sat, belly dancing shows 8pm Fri-Sat, and half-price bottles of wine every Wednesday. Plus, on weekdays, the lunch buffet is back.
3.) Are you considering attending Fort Worth Symphony's Concerts in the Garden Fri-Sat, May 26 thru Jun 11? You can pre-order picnic baskets from Central Market (4651 W Fwy, Fort Worth, 817-989-4700) that will be delivered to you fresh on the night of your concert. CM just needs 48 hours' advance notice. To order, call 817-377-9307. See the full menu at CentralMarket.com/Catering.
4.) Stop by Division Brewing (506 E Main St, Arlington, 682-276-1276) 11am-7pm Sun, May 26, for craft beer and an authentic taste of Maine lobster from the Cousins Maine Lobster food truck. Delicacies include lobster rolls, tacos, tots, and quesadillas. You had me at lobstah!
5.) At 6:30pm on Thu, Jun 1, Ellerbe Fine Foods (1501 Magnolia Av, Fort Worth, 817-926-3663) is hosting its latest Ellerbe Wine Dinner, featuring Oregon wines from Martin Woods Winery. For reservations, call or visit EllerbeFineFoods.com.
6.) There are about two weeks left to try and win free pizza for a year from iFratelli Pizza. How? Tag @ifratellipizza in your "original, public, pizza-lover video content on TikTok, Instagram, or Facebook" and use #ifratellipizzavideo. The best creator will receive one pizza a week for a year via a $1,000 gift card. Your post must appear on social media by 11:59pm Wed, May 31, to be entered. For the full contest rules, visit iFratelliPizza.com/2023/03/Win-Free-Pizza-for-a-Year.
7.) Don't forget that Hearth Wisdom Store (2899 W Pioneer Pkwy, Arlington, 682-323-5085) samples a different flavor of coffee from the shop's patron java vendor, Woke Witch Coffee, on Woke Witch Wednesdays from 11am to 2pm. While you're there, ask the ladies about Turkish coffee readings or learn about it at WokeWitchCoffee.com/Blogs.
8.) Every Sunday thru the end of October, Texas Republic Bar & Kitchen (945 Foch St, 817-887-9797) hosts Sunday Service: Rooftop Buffet & Party from noon to 4pm. Enjoy DJ music, a mimosa, and the brunch buffet with 30 items for $20 per person (gratuity not included). Add a Bloody Mary or michelada for $5 more or bottomless mimosas for $12.
Speaking of the Stars, North Texas' biggest fan — the late Vinnie Paul — knew how to throw a great watch party. Do you? We're on the hunt for upcoming watch parties. Bar owners, you know what to do. Oh, you don't? Please email your event details to Marketing@FWWeekly.com for our consideration.