In the beginning, there was only darkness.
Then everybody's favorite therapeutic apparition said, Let there be light.
"Well," He continued under His breath, "besides all the gazillion other lights clearly visible from the infinite tapestry of the universe."
So there was light.
New light.
Then millions — if not thousands — of years later, depending on how the origin story behind your therapeutic apparition is interpreted (or retrofitted) to fit the archaic narrative, darkness reappeared to challenge the light.
Right here in Fort Worth.
*****
Big, scary ideas are wonderful in theory but difficult in application. I think Mary Shelley said that.
This one emerged at the April 2016 North Texas Book Festival in Denton. I was there to promote my first two or three books, and indie horror film director Bret McCormick was in attendance to promote his own. We were tabling right next to or across from each other. It was devilishly fortuitous.
At some point during the event, probably over a conversation about his or my books, we lapsed into an extended exchange on horror in Texas — authors Joe R. Lansdale and Robert E. Howard and films like Texas Chainsaw Massacre (1974), Race with the Devil (1975), The Town that Dreaded Sundown (1976, based on the fact-based account of the Moonlight Murders in Texarkana), Piranha (1978, filmed by John Sayles in San Marcos), The Swarm (1978, based on the threat of Killer Bees, which eventually wind up being dispatched in the Astrodome), the vampire cult classic Near Dark (1987 starring Fort Worth's own Bill Paxton), Frailty (2001, directed by Paxton), Lansdale's Bubba Ho-Tep (2002), and more. We even discussed the 1972 docudrama cryptid classic The Legend of Boggy Creek (because, of course, there's a Boggy Creek in Texas) and Manos: The Hands of Fate (1966), which is singularly disturbing primarily because it's frequently cited as the worst film ever made.
After our fanboy horror nostalgia was exorcised, light bulbs simultaneously went off — I mean "on" — in our heads.
Was there a collection of Texas horror stories by Texas authors?
When the festival concluded, we agreed to look into the question and bid each other stolid farewells. Then we postulated but procrastinated.
By July 2016, we knew there was no Lone Star horror fiction collection and that that was a serious affront to Texas literature, so we decided to do it ourselves. But what would we call it? And shouldn't we get it out before Halloween?! That was three months away, and we didn't have Chapter 1. Suddenly we went from spit-balling to taping our shoes to the bike pedals. Who would publish it, who could we get to be in it, and why should anyone read it?
My first two books were with The History Press, but we'd briefly parted ways over the title of my third. I published it with the old Eakin Press, which was now based in Fort Worth.
I had a great relationship with the owner/publisher, Billy Huckaby, and even though Eakin didn't or hadn't published fiction — especially horror fiction — Billy agreed to produce the new project, so Bret and I had a Texas publisher of note, and, well, we had a publisher of note.
I think several ideas for a title were bandied about, but I can't remember them. Eventually we decided on a double entendre: Road Kill: Texas Horror by Texas Writers — "Road Kill" as in the putrefying morsels that dot the highways and byways of our massive state and also something you could do to kill (pardon the pun) time as you drove across our massive state.
Publisher? Check.
Title? Check.
Stories? Shrug, long sigh.
A house of cards with no cards. But we knew some people. And we knew some people who knew some people. Plus, we had the internet machine. And we had an ace we didn't know we had access to.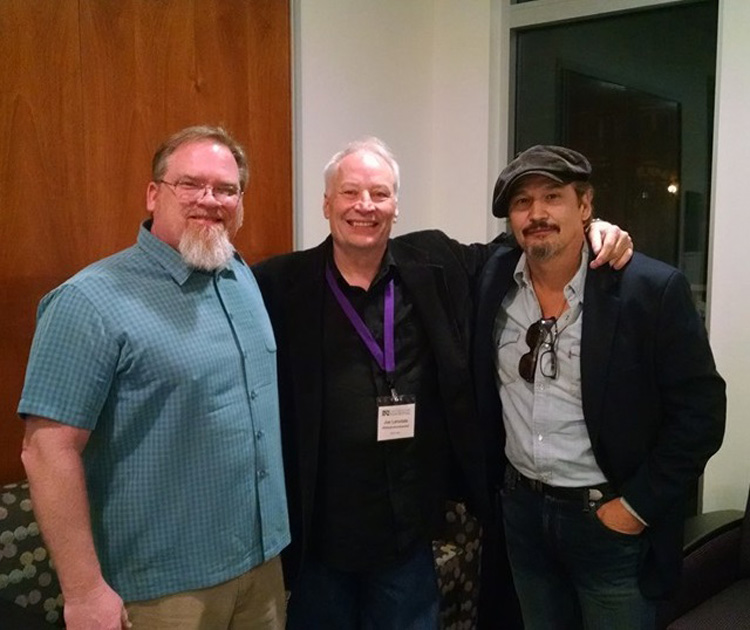 My second book, The 1910 Slocum Massacre: An Act of Genocide in East Texas, had generated national press and contributed to a growing discussion of race in Texas. Some time after publication, an East Texas book club approached me about discussing my work at one of their monthly meetings.
Two representatives from the Fredonia House Book Club, Jonna and Durren Anderson, contacted me about the particulars. Later, the bookish couple from near Longview put me up in a hotel, and, the next day, we had an insightful discussion about nonfiction horror, and then I visited their home, which had an impressive, jaw-dropping library, which I immediately explored. Fast-forward a year or so, and I've co-written a screenplay about the Slocum Massacre with a descendant of some of its victims, Constance Hollie-Jawaid, and we're looking for advice on what to do with it. On the phone or internet machine with Jonna, I mention our quandary. She says, "Why don't you get in touch with Joe?"
Joe?
"Joe Lansdale."
"You know him?" I blurt.
"Of course," Jonna says. "He appeared and discussed one of his books at one of our meetings. I've got his phone number and email."
Joe R. Lansdale.
You can't tell a King Kong story without an ape. You can't make Jaws (or Sharknado or Cocaine Shark) without a shark. And you can't put an anthology of Texas horror together without Texas Champion Mojo Storyteller Joe R. Lansdale. A native of Gladewater who still lurks behind the pine curtain, he's our Stephen King, H.P. Lovecraft, and Dean Koontz all wrapped into one.
I emailed him for advice, and he informed me that the Nacogdoches Film Festival was just a few weeks away and that I should come.
So I did.
I went and looked forward to being a fly on the wall, maybe receiving a wave from Lansdale as he walked by on his way to a panel or presentation — and I was shocked. The current and arguably reigning King Kong of Texas letters spotted me, veered away from his handlers, and shook my hand.
"I was really impressed with your book on the Slocum Massacre," he said. And I was glad he was shaking my hand, so I didn't float away. "I'd heard about it all my life," he continued, "but nobody knew the details until your book."
Lansdale was as Texan as they get. He walked right up, looked me in the eyes, and shook my hand. For the rest of the weekend, I forgot I was a mere mortal. I hung out with Joe, his wonderful wife Karen, his talented son Keith, and Lansdale's buddy, actor/screenwriter Nick Damici, who was already famous for cult horror films like Mulberry Street (2006), Stake Land (2010), and We Are What We Are (2013). And he had just made Cold in July (2014), starring Michael C. Hall (Dexter), Sam Shepard, and Don Johnson!
So in mid-2016, I rang up Joe. I explained what Bret and I were trying to do and popped the obvious question: "Can we print one of your stories in our collection?"
Lansdale answered in the affirmative. He sent me a couple of his anthologies and said take your pick.
"Just pay me like you do the other writers," he added.
The old adage proved true. It's not what you know. It's who you know. And I knew Jonna and Durren Anderson. And they knew a Texas literary legend.
With a Lansdale story in tow, Bret went to work.
He had grown up in east Fort Worth and attended Eastern Hills High School with Bob Camp, one of the forces behind The Ren and Stimpy Show, a harbinger of the adult animation avalanche to come. They had made dozens of horror home movies in school, and Bret would go on to attend the Brooks Institute of Photography in Ventura, California, and create, direct, or produce a currently reemerging collection of 1990s horror films, including The Abomination (1986, filmed west of Fort Worth in Poolville), Repligator (1996), Time Tracers (1997, featuring Reanimator star Jeffrey Combs), Ozone! Attack of the Redneck Mutants (1986), Highway to Hell (1990), and more. At one point, legendary drive-in film critic Joe Bob Briggs called McCormick a "one-man Fort Worth film industry."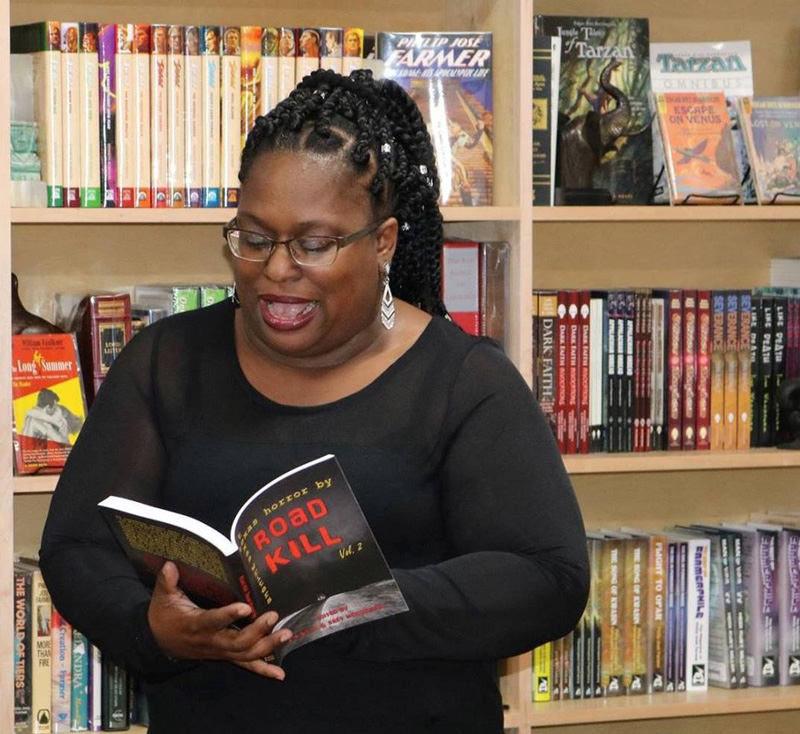 I reached out to some friends, and Bret reached out to others. He even landed a story from schlock horror director Glen Coburn, creator of the 1984 indie comedy-horror cult classic Bloodsuckers from Outer Space (filmed in the Dallas area). Then our internet machine call for submissions yielded cryptic tales. We got a story from emerging Latinx writer David Bowles and a reprint permission from Bram Stoker Award winner Joe McKinney (San Antonio). And we wrapped things up with Russell C. Connor, Stephen Patrick, Anna Davis, Michael Baldwin, David Robledo, Carmen Gray, and former Star-Telegram film critic and Hip Pocket Theatre stalwart Michael H. Price, among others.
An elderly couple visits with death, a creepy "crepuscular" remodel job goes awry, there's an after-hours visit to a "Body Farm" — these are just a sampling of the gory goodness inside Road Kill.
Eakin Press published the book in early October 2016, and we hosted our official launch at The Last Word bookstore on the Near Southside. The volume was popular and was covered by the Texas Standard public radio show. Then Bret and I were asked, "Will there be a Volume 2?"
We hadn't thought that far ahead.
*****
Bret was writing his own horror, and I was still freelancing nonfiction articles and books. But Road Kill had been a labor of love and created an exciting new venue for Texas horror writers and readers, so we answered in the affirmative.
Eakin published Road Kill: Texas Horror by Texas Writers, Vol. 2 in October 2017, and we held the official launch party at Fleur Fine Books in Port Neches.
A "Tree Servant" executes a horrifying, leafy retaliation for a lynching, a mother's love is tested by the walking, crawling, and thumb-sucking dead in "Mama's Babies," a bizarre, amphibious menace awaits a couple in "The Pond Behind the Trailer," and so much more make up the second edition of work by 17 writers, including Jacklyn Baker, Andrew Kozma, acclaimed Dallas horror master Ralph Robert Moore, horror novelist Jeremy Hepler, R.J. Joseph, James H. Longmore (remember his name), Mario E. Martinez, the Panhandle's Summer Baker, Dennis Pitts, Lubbock wordsmith Keith West, S. Kay Nash, Bryce Wilson, rising horror author Bonnie Jo Stufflebeam, Stephen Patrick, Crystal Brinkerhoff, and young East Texas horrorsmith Hayden Gilbert.
Road Kill 2 also received good reviews, but Eakin decided to stick with nonfiction and Bret had other work to pursue. I edited Road Kill 3 for HellBound Books Publishing (Austin-based) in 2018, and Bret edited Road Kill 4 with HellBound again in 2019. Road Kill 3 won the Best Short Story Collection at the 2019 North Texas Book Festival, and Road Kill 4 garnered major kudos from Texas Books in Review: "Nostalgic, campy, and often unexpectedly poignant, Road Kill: Texas Horror by Texas Writers, Vol. 4 is the latest installment of a nightmarish road trip through Texas' terrifying literary geography, and it is a hell of a ride. … One will be hard-pressed to find another volume which presents such an original take on horror. It's truly a slice of Texas life: perhaps an actual slice of pecan pie and sweet tea, with a side of gut-wrenching, gag-inducing, page-turning terror. Boo, y'all."
In 2020, I helmed Road Kill 5, which includes throwback stories from Robert E. Howard (Peaster native and creator of Conan the Barbarian but also cited as the father of the sword and sorcery genre), O. Henry, and Lansdale. It also features work by Texas State professor William Jensen (also the editor of the Southwestern American Literature journal), Zach Friday, Madison Estes (again), and Bret. The Weekly called it "an immersive, haunting collection of short stories that are as thought-provoking as they are frightening. The world building will pull readers in, holding their attention until the last word. Every piece carries a strong sense of place, many of them masterfully steeped in Lone Star detail, grounding the reader in hometown familiarity before unleashing inevitable Texas-sized chaos."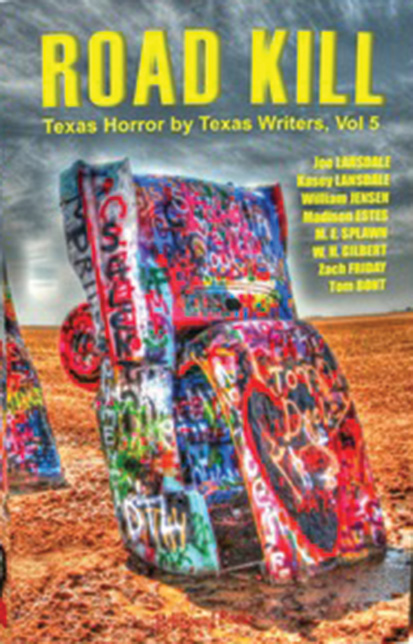 *****
From the beginning, Bret and I had striven to encourage diversity — of perspective, voice, and dark art. By the time Road Kill 6 was on the drawing board, we had both decided we needed fresh blood (figuratively, of course). Young, repeat Road Kill offender Madison Estes had published at least two of the most imaginative pieces of horror in the Road Kill anthology at that time, so we approached her for a fresh set of eyes. It was something of a gamble, but Estes never missed a beat. She brought in creepy new talent like Bev Vincent, author of The Road to the Dark Tower: Exploring Stephen King's Magnum Opus (2004) and The Stephen King Illustrated Companion (2013). And we received a submission from indigenous horror rockstar Stephen Graham Jones, nominated for both the Shirley Jackson and Bram Stoker awards and a Best Of 2016 selection of Tor.com and Book Riot. Jones was also the author of the bestselling werewolf classic Mongrels (2016) and the New York Times bestseller The Only Good Indians (2021). From there, we tapped Road Kill 5 contributor William Jensen to edit Vol. 7 and purchased the rights to publish Katherine Anne Porter, a five-time nominee for the Nobel Prize for Literature. The result is best summed up by Kirkus Reviews: "Monsters, ghosts, and relentless dread inhabit this anthology of Texas-based horror short stories. The beautiful Lone Star State, as these tales prove, sees more than its share of frights. … In this seventh installment of the series, Jensen compiles a memorable batch of eerie stories that readers can polish off in an afternoon. These Texas authors weave relatable themes, such as love and family, into unsettling narratives … gleefully unnerving and often profound scary tales."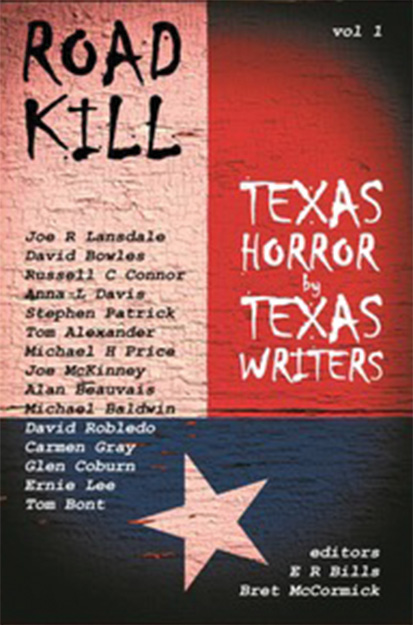 *****
What started as an ambitious, half-baked lark is now a soaring albatross, not unlike the one featured in Coleridge's Rime of the Ancient Mariner, and its Speedwell (the ship) is Texas. Road Kill chronicles the bird's eye view as we forge ahead, ever eerie but dutifully watchful.
"The Road Kill series has a special place in my heart," Estes said. "Vol. 3 published one of my first horror stories, 'A Real Haunting.' That was an exciting and surreal experience. … Editing an anthology was something I had always wanted to do, and I learned a lot from that experience."
Jensen said working on Road Kill 7 was "a high honor. Not only was I responsible for representing the horror genre and the horror community, I had the opportunity to explore multiple themes, histories, and voices of the Lone Star State. … Putting the anthology together was intimidating but exhilarating. Ultimately, working with so many wonderful, talented writers was the literary experience of a lifetime. I'm proud of that anthology, and I loved finding stories that were simultaneously scary and enlightening. The Road Kill series is a major contribution to Texas fiction. And I think it has raised the bar for regional horror."
And Road Kill 8, edited by established horror writer and Texas A&M-Commerce administrator Patrick C. Harrison III, will be hitting shelves soon.
"I was overwhelmed by how many great submissions I received," Harrison said. "I had to make some very tough decisions, cutting stories I really wanted to keep. There are so many talented Texas authors. I knew several of the writers prior to receiving their submissions. I was familiar with Jae Mazer, Chris Miller, Jonathan Duckworth, and others, and I knew they would bring good stuff. But what I really enjoy is finding someone I'm not familiar with and being blown away by their story. This happened again and again with RK8. Works by Emma Murray, Jacob Austin, and Lawerence Buentello caught me off guard with how great they were. And that's just for starters."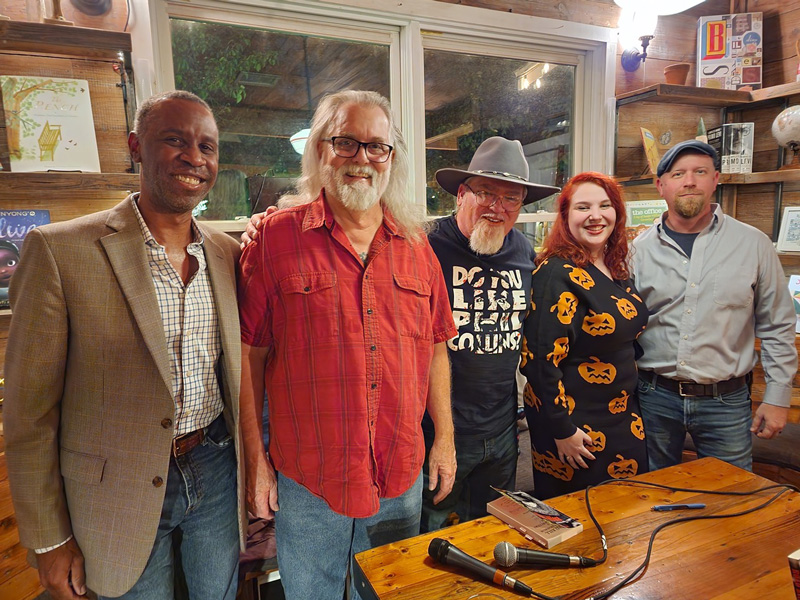 Bret echoed Harrison's sentiments in a Dallas Observer interview a few years back.
"We really are eager to find new talent," he said. "We want to promote the Texas literary community, and we'd like to hear from anyone out there who thinks they can write a scary story."
James H. Longmore, who was a contributor for Vol. 2, is now involved on the business side as the publisher. "When I saw the submission call for the second volume of Road Kill: Texas Horror by Texas Writers way back in 2017, I had no idea I'd not only be a regular contributor to the series or that HellBound Books Publishing (still in its infancy back then) would become Road Kill's press of choice, too. It has been an honor to be nestled within the beautifully crafted covers among some of the true Texas horror greats, both on the rise and established, and an even bigger one to be entrusted with publishing such a talented bunch of Lone Star authors!"
Longmore believes Road Kill, Vol. 8 is "the best Road Kill yet. It's filled with some of the most phenomenal tales of terror I've ever read, and the beautifully evocative cover features the actual theater made famous by the movie The Last Picture Show. Which is apropos, because Lansdale's 'Night They Missed the Horror Show' may be the signature achievement of Texas horror by any measure in any medium."
Road Kill's snaking, rawhide tendrils now stretch across the state in every direction. Bret is now making low-budget horror films again (Christmas Craft Fair Massacre and the upcoming Gross Encounters of the Fourth Kind — he also wrote the screenplay for Cocaine Shark), and some have even featured Road Kill contributors (Russell C. Connor, Glen Coburn, and Tytus Berry) as actors! Many contributors have gone on to write novels, and others are tackling filmmaking.
Road Kill: Texas Horror by Texas Writers is underground zero for literary scares in Texas. The undisputed, premier annual anthology of Lone Star horror fiction, it's here to stay and sets the standard around these parts. It's a respected writer's venue and a major player in Texas literature.
And it all started with two of Fort Worth's native sons.