A New Romeo and Juliet
Posted September 11, 2013 by BIG TICKET in
Calendar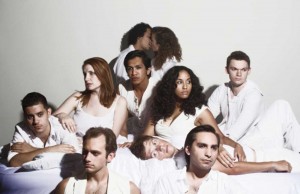 The cast of Artes de la Rosa's Romeo and Juliet prepares to tackle The Bard.
As one of Western culture's greatest artistic creations — ever — Shakespeare's Romeo and Juliet has undergone numerous adaptations over the centuries. But one new incarnation stands to be one of the most novel (or sacrilegious, depending).
In a new adaption by Artes de la Rosa director Adam Adolfo at Rose Marine Theater this month, the text will alternate between original Bard and lyrics and music from jazz, pop, and art songs. The settings also are getting a reworking. Gone is the Verona of old; in its place, pre-revolutionary Havana, Cuba.
Michael Alonzo, who recently appeared at Rose Marine in In the Heights, will play "the emcee," delivering several songs in various languages. Jul Duac makes her Rose Marine premiere as Lady Capulet.
Despite a limited budget, plenty of local competition, and a discerning Northside audience, Artes has a history of taking artistic risks and eschewing clichéd approaches. We should expect nothing less than Adolfo's adaptation. –– Edward Brown
Romeo and Juliet runs Sep 13 thru Oct 6 at Rose Marine Theater, 1440 N Main St, FW. Tickets are $14-18. Call 817-624-8333.