In Memoriam
Posted June 25, 2014 by BIG TICKET in
Calendar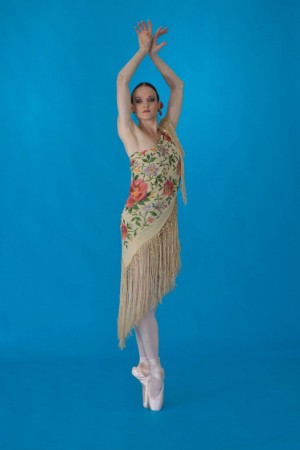 Michelle Gifford dances in Ballet Concerto's tribute concert, Thu-Sun.
Christine Marie Hay passed away last November at the age of 53. The choreographer for Ballet Concerto had created more than 10 ballets for the troupe in the last 15 years. In her memory, Ballet Concerto will perform several of her works at its 32nd annual Summer Dance Concert. These include excerpts from the bounding and joyful Let the Good Times Roll; Woodstock, which is set to music from the famous 1969 rock festival; and the bubbly Gershwin Gold, which incorporates a yo-yo into its choreography.
In addition, the troupe will perform Luis Montero's Bolero and Leonid Massine's Gaîte Parisienne. The latter was created back in 1938, so it'll qualify as an old warhorse next to everything else on the program. There's inclement weather in the forecast this weekend, which could interfere with this outdoor performance, but we hope that Mother Nature will hold off long enough to allow Ballet Concerto to pay tribute to an artist who was taken from us too soon.
The Summer Dance Concert runs Thu-Sun at Trinity Park Pavilion, 2300 W 7th St, FW. Lawn seating is free, tables are $30. Call 817-989-7168.