The best thing about the relatively new trio The Blonde Girls is that they're noisy but in a good, Sonic Youth-y, Pavementian, Moby Grapesque way.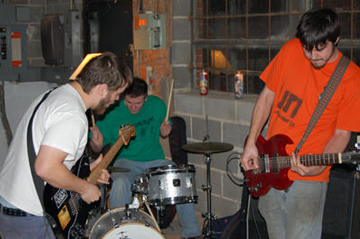 Even the stringy guitar that gets thrashed, throttled, and pushed around could have come straight from the hands of "Skip" Spence. The easiest way to sum up the sonic handiwork of Sebastien Lupus, Bob the Phantom Shopper, and Nicholas Greenback is to say that, while it's out of tune and sloppy as hell, it's often in sync. The drums and guitars crash, crash, crash-crash together, then go their separate ways for a bit, and then slam back together — bang!
The non-instrumental, more accessible songs are abrasive, loud, and alternate between mercurial and stumbling. "Cropstork" comes on all triple snare rolls and heavy-ish eighth-note strumming with shouted lyrics; "paraballanauseam" is a crooked, tinny, and tiny collection of seemingly random beats going off in the background as a chiming guitar is softly strummed in the fore.
In March, the band released its inaugural recording, a 7-inch called Husky Deluxe.
See www.myspace.com/theblondegirls for more.
Sat w/Games and Theory, Draw Me a Sheep, In the Arms of War, and Choke on the Color Olive at 1919 Hemphill St, FW. 817-920-9665.