Texas Ballet Theater takes a giant leap into the classics with four performances of Tchaikovsky's colossal Sleeping Beauty this weekend in Bass Performance Hall. Heavy-duty dancing and costly scenic demands create a more lavish show than either Nutcracker or Swan Lake, the composer's other memorable dance works. TBT has never presented a full-length Sleeping Beauty before, and brisk advance ticket sales show more than routine interest in the event.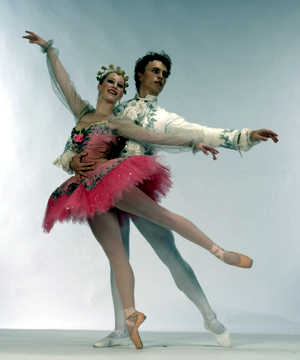 Noted designer Desmond Heeley created the sets and costumes for the Houston Ballet, which then-director Ben Stevenson choreographed in the grand Russian tradition as seen through the lens of England's Royal Ballet, to which he traces his roots. Now artistic director of TBT, Stevenson deemed his new company ready to take on Sleeping Beauty this season.
The company is fielding three principal casts for the run, all alumni of either the Houston Ballet or its Ben Stevenson Dance Academy. The dancers followed him here when he took over TBT. Only ballerina Julie Gumbinner has previously danced Aurora, the title role, in Houston's last go with the ballet, in 2002. She will be partnered here by real-life husband Lucas Priolo, making his debut as the prince Friday evening and Sunday afternoon.
Carolyn Judson will dance Aurora Saturday afternoon, with Peter Zweifel as her prince, and Jayme Autry Griffith will be partnered by Andre Silva Saturday night.
TBT music director Jack Buckhannan leads the Fort Worth Symphony through the sumptuous score.
The shows are at 8pm Fri-Sat and 2pm Sat-Sun. Tickets are $18-74. Call 877-212 4280.