In the urban pizza wars, will there ever be a resolution? New York vs. Chicago-style, thick vs. thin, the Huts vs. the Inns — the skirmishes are many, the field is stained with marinara sauce, and we all refuse to budge on what we believe is the definitive version of a 400-year-old Italian delicacy that seems to have infinite variations.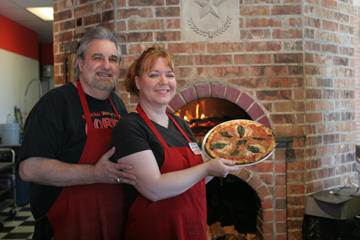 So here comes Corky's Old World Italian Wood-Fired Brick Oven Pizzeria, a joint with a cumbersome name but a surprisingly deft way with sauce and dough. Corky's is a family-owned business that relocated several years ago from, of all places, Hartford, Conn., to the crowded South Arlington retail center, Lincoln Court Plaza. The owners are so fiercely proud of their decades-old recipes and their Neapolitan influences (as in the port city of Naples, Italy) that the menu reads like a list of campaign-season promises: Corky's won't use canned mushrooms, Corky's will pre-cook sausage and beef to decrease excess greasiness, Corky's will serve sauce made in-house using only Italian plum tomatoes, and so on.
Of course, we're living in a world of artisanal cheeses and $150 bottles of olive oil, so lots of pizzeria owners want to claim gourmet authenticity. But the pizza at Corky's comes pretty close to the ideal, with pure, intense flavor. You're not served the effete, goat-cheese-and-arugula designer pies that some urbanites favor, yet the Neapolitan tradition championed here seems exotic in its own way.