In the urban pizza wars, will there ever be a resolution? New York vs. Chicago-style, thick vs. thin, the Huts vs. the Inns — the skirmishes are many, the field is stained with marinara sauce, and we all refuse to budge on what we believe is the definitive version of a 400-year-old Italian delicacy that seems to have infinite variations.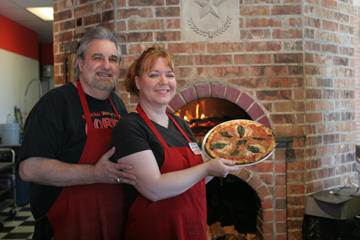 So here comes Corky's Old World Italian Wood-Fired Brick Oven Pizzeria, a joint with a cumbersome name but a surprisingly deft way with sauce and dough. Corky's is a family-owned business that relocated several years ago from, of all places, Hartford, Conn., to the crowded South Arlington retail center, Lincoln Court Plaza. The owners are so fiercely proud of their decades-old recipes and their Neapolitan influences (as in the port city of Naples, Italy) that the menu reads like a list of campaign-season promises: Corky's won't use canned mushrooms, Corky's will pre-cook sausage and beef to decrease excess greasiness, Corky's will serve sauce made in-house using only Italian plum tomatoes, and so on.
Of course, we're living in a world of artisanal cheeses and $150 bottles of olive oil, so lots of pizzeria owners want to claim gourmet authenticity. But the pizza at Corky's comes pretty close to the ideal, with pure, intense flavor. You're not served the effete, goat-cheese-and-arugula designer pies that some urbanites favor, yet the Neapolitan tradition championed here seems exotic in its own way.
But be prepared: While prime-time tv is fit to burst with sexy commercial images of meats and cheeses landsliding off the surface of chain pizza, a Corky's pie looks pretty plain-Jane: flat and thin, with toppings rather modestly distributed across the surface. These are not the kind of slices that'll satisfy a person who's looking to keep his mouth in perpetual motion while watching a Cowboys game. But a hot, chewy Corky's pie can be a thing of beauty.
Take the cinque formaggio (five cheese) pizza. It's one of Corky's white pies, the foundation made of cold-pressed olive oil and fresh garlic rather than tomato sauce. The cheddar, provolone, mozzarella, and romano were blended so seamlessly that, at a glance, they had the color and texture of a single cheese, beneath dollops of ricotta on top. But their exquisite harmony came through loud and clear.
The Mamma-Jamma is for proud carnivores only. It's also the closest Corky's comes to one of those bulky, boastful commercial pizzas. A plush bed of pepperoni, Canadian bacon, Italian sausage, and bacon was dressed with a silky layer of mozzarella. Again, because the meats are baked and drained of grease before being placed on top of the dough, there wasn't any sogginess. And since olive oil takes a primary role in many of the pies here, there's little danger of dryness.
At Corky's, the meat pastry known as stromboli comes stuffed with your choice of three different pizza toppings. The surprise in the stromboli of spinach, provolone, and green olives was how dominant the kitchen-made sauce was, delicately seasoned with Old World herbs, most notably some wonderfully prickly basil. The sauce was so bright red it was almost orange.
Corky's ain't flashy, and pizza lovers who just want to gobble a gooey mess (not always a bad thing) might be disappointed. But for pie connoisseurs, this establishment offers something almost radical: substance over style.
 Corky's Old World Italian Wood-Fired Brick
Oven Pizzeria
Cinque Formaggio $10.49
Mamma Jamma $10.99
Spinach, provolone,
green olives stromboli $6.95