This week, Metropolitan Classical Ballet switches from Russian to American dance. From exploring the Bolshoi tradition in Creation of the World last time around, the company now tries on the choreography of George Balanchine and co-artistic director Paul Mejia.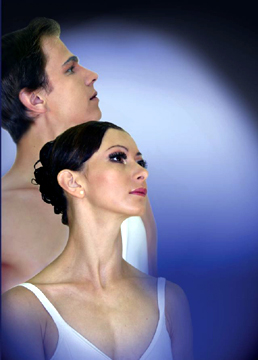 Balanchine's Square Dance and Apollo will bookend Mejia's Webern Pieces, which he created in 1986 while co-artistic director of the Chicago Ballet.
Square Dance is rarely seen. Set to dance movements by 18th-century Italian contemporaries Vivaldi and Corelli, the 1957 ballet was first presented by the New York City Ballet in western rig, with a caller directing traffic. In later revivals, Balanchine dropped the caller and the special gear to let the choreography stand on its own. The lead couple here will be danced by Mariya Kudyakova and Andrei Prikhodko.
Apollo, one of Balanchine's earliest works, goes back to 1927 and his Paris days with Diaghilev's Ballets Russes. It marked his first collaboration with composer Igor Stravinsky and raised a few eyebrows with its quirky movements, some of which poke gentle fun at the classical tradition. Prikhodko will dance the title role, with Marina Goshko, his real-life wife just back from maternity leave, as the muse of mime. Terpsichore will be Olga Pavlova, and Kudyokova will perform the muse of Poetry. MCB last presented the work in 2000.
Pavlova returns in Mejia's five Webern Pieces, dancing with her husband, Yevgeni Anfinogenov. The music will be performed onstage by the trio of pianist Lowell Liebermann, violinist Eric Grossman, and cellist Eugene Osadchy. Liebermann, whose own music has been choreographed by Mejia in the past, conducts the company orchestra in the other ballets. Balanchine also used the Webern music in his 1959 ballet Episodes, which he devised in sections with modern choreographer Martha Graham. Graham's contribution did not survive.
Tue, Nov 14, at 8pm in Bass Performance Hall, 555 Commerce St, FW. Tickets are $10-30. Call 817-212-4280.