If you want to check out a dandy example of the difference between film and stage acting, watch the 1957 romantic comedy The Prince and the Showgirl. It features Laurence Olivier, commonly cited as a titan of 20th-century theater.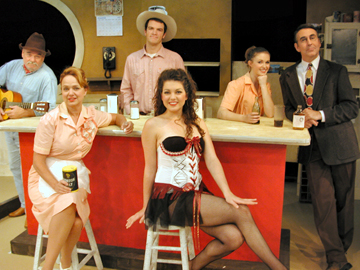 His co-star is a shy, fragile ex-pin-up model named Marilyn Monroe. Olivier is widely considered to have delivered the definitive interpretations of Hamlet and Richard III. Monroe sat, quiet and intimidated, in the back row of classes at New York's Actor's Studio. But when the cameras rolled on The Prince and the Showgirl, the resumés went out the window. Monroe transformed herself into the mythic creature about which so much ink has been spilled. Olivier was indistinguishable from the soundstage furniture. As a result, The Prince and the Showgirl is remembered as "a Marilyn Monroe movie that co-starred … wait, who played the prince again?"
At first, the movie goddess' ghost can't help but haunt Circle Theatre's decidedly earthbound revival of Bus Stop, whose film version is regarded as the first in which Monroe showed some range. Luckily, Jessica Lynn Broadaway, the performer now assuming the role of been-around-the-block nightclub singer Cherie, eschews Monroe's shimmering sensuality and plays the character as a cheerful pragmatist endlessly searching for her next lucky break — be it in the form of a gig or a man.
But there is another, much grimmer spirit that hovers over the show: playwright William Inge, who committed suicide in 1973. Inge had penned such naturalistic staples of 1950's American theater as Picnic and Come Back, Little Sheba, and he won both a Pulitzer Prize and an Academy Award. But the honorifics couldn't dispel the black depressions, the drinking bouts, or the author's lifelong inability to get a handle on his homosexuality.
Inge clearly knew a lot about loneliness and disappointment: His scripts are saturated with it. That said, Bus Stop contains only small hints of the despair that make Sheba and Picnic so uncomfortably raw despite their datedness. Circle Theatre and director Harry Parker deliberately punch up the sweetness and generous empathy for lost souls in this story about a small-town Kansas diner that plays host to a motley gang of waitresses, scholars, and cowboys trapped there during a night-time blizzard. The results are mixed. It's an easy-to-like, velvety distraction of a staging, but one that feels a little pointless.
Bus Stop is about as pure an example of an ensemble piece as you'll find, although the focus is trained on the rowdy relationship between Cherie, resident chanteuse at The Blue Dragon, and callow rodeo cowboy Bo Decker (Andrew Milbourn). After the pair became "familiar," as Bo puts it, after one of her performances, he allegedly kidnapped her and forced her on a bus en route to the Montana ranch he'd just inherited. It immediately becomes clear, though, that the coercion part is debatable. Presiding over the diner is Grace (Lana K. Hoover), your archetypal world-weary truck stop waitress. Her husband has left her, so she insists she has to have the occasional tryst or else she'd go crazy. Other waylaid travelers include Virgil (Gary Moody, effortless as a grizzled character actor from a '50s flick), Bo Decker's guitar-picking companion and adviser, and the alcoholic English professor Dr. Gerald Lyman (Bill Jenkins), who is besotted with innocent young females like comely waitress Elma (Laura Campbell).
If you feel you've met these people — many times in other stories — it's because so many writers have piggybacked on the endearing down-on-their-luck types with which Inge established great success. Unfortunately, Bus Stop is a victim of its many imitators. It just feels irrelevant. The trickiest role, from a contemporary viewpoint, is that of the lovesick Bo, who struts, pulls at his belt buckle, and shouts "Yee-haw!" when he's happy. On opening night, Milbourn made his entrance with super-sized but somewhat clumsy enthusiasm. Then again, how would you play this guy subtly? Actually, as the show progressed, and you realized that Bo isn't the cocksure Romeo he pretends to be, Milbourn managed to find clever bits of comic business, as when he handed Cherie her purse during his first stabs at being a gentleman. He ended the show much more impressively than he began it.
One intriguing feature of Bus Stop is the playwright's refusal to punish his female characters for having sexual appetites, something that his great contemporary Tennessee Williams didn't always avoid. Both Cherie and Grace enjoy their occasional indulgences of horizontal refreshment, and they're not ashamed to say so. You wonder if Inge wanted to spare these women the kind of stigma that his sexuality earned him. It's a symptom of the generally wan comedy and drama available in Bus Stop for Circle Theatre's 2006 audiences that this kind of psychological spelunking is more engaging than most of what transpires onstage.