Metropolitan Classical Ballet's Russian version of The Nutcracker is the second major production of the holiday classic to come our way. The other is Texas Ballet Theater's, a Royal Ballet-inspired affair at Bass Performance Hall. MCB will present four performances this weekend in Texas Theater on the UT-Arlington campus.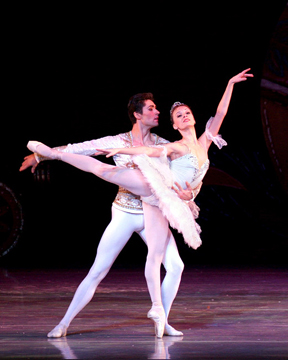 The Arlington-based MCB celebrates 10 years of remarkable dance this season, and its annual Nutcracker is the company's signature piece. Staged by co-artistic director Alexander Vetrov, until recently a principal dancer with Moscow's Bolshoi Ballet, the production features an impressive array of Russian dancers.
Heading the list is the incomparable Olga Pavlova, who performs the Doll Fairy, more commonly known as the Sugar Plum Fairy, Friday night and Sunday afternoon. She will be partnered by husband Yevgeni Afinogenov, who was named a principal with the company this season, as the prince. The role of Clara, a pivotal character in this production, will be danced by Emily Maciejewski.
Marina Goshko, returning this season from maternity leave, takes the Fairy Doll assignment Saturday afternoon and evening. Her prince will be husband Andrey Prikdodko. Their Clara is Ema Watanabe.
Ron Spigelman leads the MCB Orchestra in all four performances. The company is usually seen in Bass Performance Hall, but moves to its home base of Arlington for Christmas.
Fri-Sun at Texas Theater on the UT-Arlington campus. Tickets are $10-30. Call 817-275-0598.