The vision most people have of food at golf courses is usually accurate: burgers, hot dogs, and fries, all overshadowed by a full-service bar.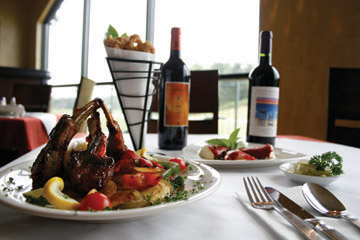 In the early afternoon, having a Red-Bull-and-vodka while lording it over daylit links is much more romantic, and less pathetic, than while slouching at the end of some dingy bar. But, today, day-drinking isn't as politically correct or reflexively accepted as it was when most current club members were young, circa 1977. South Arlington's Tierra Verde is just one of several local golf courses to ditch the picnic-food for more cosmopolitan fare. Headed by Venezuelan-raised executive chef and manager Luigi Cinelli, Ventana Grille is an imperfect but thoughtful Italian- and Spanish-influenced haven for sangrias, tapas, and cheeses.
A word of warning: Don't order the tapas plate of six spicy manchego cheese croquettes as an appetizer unless you're able to pace yourself. The temptation is to scarf the breaded and deep-fried balls of peppery sheep's-milk cheese from central Spain, and if you succumb, it will quickly kill your hunger for the rest of the meal. Served with a generous side of aioli (a garlic-enhanced mayo condiment), the sharp but delicate croquettes are delicious but heavy-duty. The pale-yellow cheese returns on the eatery's eponymous tapas plate in much lighter form: cool, thin, V-shaped slices alongside pepperoni-like slivers of salty-smoky paprika chorizo and a pile of fatty, fresh "Serrano" ham in the center. It's a lighter though no less tasty pre-entrée choice.
The soups were a little on the salty side but still solid. The potato and leek soup was served in a non-fatty chicken broth that energized the plentiful spud cubes, carrot shards, and the fragrant, mild hint of the leeks. Luckily, the creamy tomato basil soup was more than its heavy-cream base: plenty of heartening tomato pulp mixed with the sharp basil. But, again, it was so thick and rich — almost a stew — that it would satisfy the average diner as a meal in itself. On a recent afternoon, the kitchen was out of focaccia, the Italian bread normally used in Ventana's vegetable panini. In its place was thick, crispy, grilled white bread surrounding semi-melted slices of (surprise!) manchego cheese along with tender grilled squash, green pepper strips, onion, and zucchini. The cakey focaccia would've been nicer, and the house-fried curly potato chips were a bit bland, but this 'wich was still superior to anything most of us could whip up from the fridge.
Finally, the waiter steered my guest and me away from an entrée that combined salmon and alfredo sauce, so we decided on the grilled pesto chicken with sautéed veggies and a generous mound of gold, saffron-infused rice. The pesto served as a kind of breading to the thick chicken breast, which was tough to cut but still juicy. Ultra-expensive saffron is a fancy ingredient worth touting, but its mention can be deceiving: Saffron can be used as a spice, a food coloring, or both. On average, it takes more saffron to influence the flavor of a dish than to change its hue. The bright yellow long-grain rice on this plate was, disappointingly, undistinguished in flavor. While not meriting a go-there-now! rave, Ventana Grille is certainly more ambitious and intriguing than your typical golf-course hot-dog stand, worthy of an audience larger than just the retirees and folks who can afford to golf on weekdays before quitting time.
You can reach Jimmy Fowler at jimmy.fowler@fwweekly.com.