Fort Worth's cultural institutions continue to do their part to show us classical music as a vibrant, growing contemporary thing.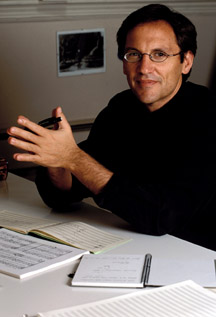 The Cliburn at the Modern series kicks off its new season with an appearance by composer Osvaldo Golijov. Much has been made of the 47-year-old's eclectic background (an Argentinean Jew of Eastern European descent) and his equally eclectic musical influences (klezmer, tango, Gregorian chant, cabaret). Less has been made of the shivery, evocative power of his work that makes him one of the world's greatest living composers. This Saturday's concert of his chamber music should remedy that. Some might remember his song cycle Lúa descolorida from Dawn Upshaw's performance of it with FWSO a few years back.
This piece, set to words in the Galician dialect of northern Spain, is performed here in its original soprano-and-piano arrangement. The other vocal piece, How Slow the Wind, is set to an Emily Dickinson poem and was inspired by the accidental death of a family friend. There Is Wind and There Are Ashes in the Wind is a piece for clarinet, piano, and narrator, speaking words from a lecture by Elie Wiesel. Rounding out the concert is another Jewish-themed piece, Yiddishbbuk. The work for string quartet is a harsh, dissonant, and anguished piece of writing for a form that's usually associated with gentility, and it is notoriously punishing for both the string players and their instruments and bows. The composer will be in attendance this afternoon, which will make this even more of a can't-miss event for music lovers.
The concert dedicated to Osvaldo Golijov is at 2pm Sat at Modern Art Museum of Fort Worth, 3200 Darnell St, FW. Tickets are $7.50-20. Call 817-738-9215.