Night & Day often recommends events that take place in concert halls, theaters, and museums, but this weekend a bunch of events skip that scene entirely and serve as a nice change of pace.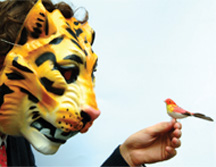 With the weather now pleasant enough to allow you to spend large amounts of time outdoors, you can head to Alliance Airport for the annual Fort Worth Alliance Air Show. Bring your video camera and your earplugs as you watch the Golden Knights, Navy Blue Angels, Army Sky Soldiers, and others perform aerial stunts. If you prefer to keep your feet planted in the downtown area, you can check out the first annual Musicarte Festival, a celebration of Latin music, arts and crafts, and dance that's probably intended as a seasonal counterpart to the Spanish-speaking community's many spring events.
As winter approaches, it's not a bad idea to make your charitable donations now before they're lost in the Christmas crunch. The Tarrant County AIDS Interfaith Network is holding its Artists Against AIDS Auction, which will feature donated works that have been hanging in the Fort Worth Community Arts Center. (If you've seen something on the wall there and thought you'd like it for your living room, now's your chance.) Of course, fledgling arts companies like the avant-garde theater troupe The Butterfly Connection need your donations, too. Theatergoers who like their work and want to contribute beyond buying a ticket can check out their Beauty and the Beast fund-raiser that includes performance art as well as live music and a seated dinner. These events all take place over the weekend, so wherever your proclivities lie, you'll likely have time to check one of them out.
Check our Calendar section for dates, times, locations, and ticket prices for the above events.