The new year is a great time to resolve to lose weight by playing more sports, but often that resolution quickly becomes "get out and watch more sports" and before long degenerates into "try to duplicate the real-life New England Patriots' offense on Madden."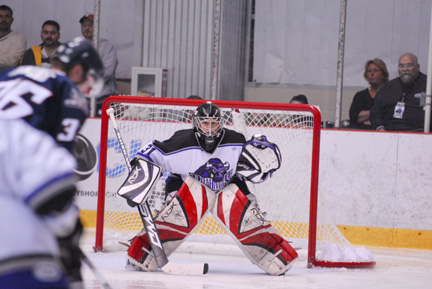 This year you can spend Dec. 31 at the stadium, cutting straight to Stage 2, indulging yourself before buckling down in 2008 or simply working up an appetite for the New Year's Eve party. The Fort Worth Bowl has been renamed the Bell Helicopter Armed Forces Bowl – ESPN.com's Jim Caple simply looked at the sponsor and decided the halftime show would be kick-ass. It might well be preferable to watching the University of California, which lost six of its last seven games and finished fourth from the bottom in the Pac-10 this year. On the other hand, their opponent, Air Force, is in its first bowl game in five years and will probably be jazzed.
If that game turns into a laugher, you can drive to North Richland Hills and take in the Texas Brahmas, who are playing their hated division rivals, the Bossier-Shreveport Mudbugs. As this issue goes to press, only four points in the standings separate top from bottom in the Central Hockey League's Northeast Division, so every division game is crucial. The puck drops early, so there'll be plenty of time to get to your party after it's over.
The Bell Helicopter Armed Forces Bowl kicks off at 11:30am at Amon Carter Stadium, 2800 Stadium Dr, FW. Tickets are $15-40. Call 817-810-0012.
The Texas Brahmas play the Bossier-Shreveport Mudbugs at 6pm at NYTEX Sports Centre, 8851 Ice House Dr, North Richland Hills. Tickets are $14-20. Call 817-336-4423.