Out on East Belknap Street, past Little Vietnam, is an odd little restaurant in a freestanding single-story building that's previously been home to a Long John Silver's and a Mason Chicken & Sea Food, among others.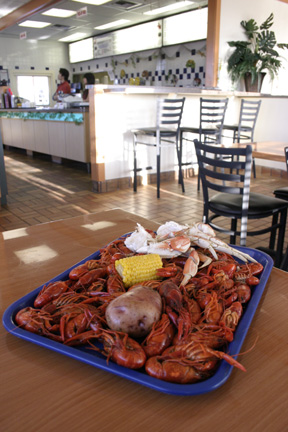 None of the businesses lasted long, but Mary's Cajun Corner has a chance. The current owner, who's been there about a year and has another restaurant of the same name in Richardson, keeps her room – 60 seats with banquettes and tables – spotless. The help is friendly (almost to a fault). And while the food isn't necessarily "fast," it is a wonderful alternative to the chains. The drive-through window that Mary's inherited is operational but rarely used. New Orleans at its best, Mary's is not. But for two bucks you can get a super-sized portion of fried okra that isn't gummy and has a nice bite. For a buck and a half you can get three whole small baked potatoes that have been basted and dressed in filé and pepper and that make a wonderful dish. Up the ante to $5.50, and you can get a po-boy stuffed with a half-dozen delectable fried oysters served on a doughy French roll with lettuce, pickles, and tomato and a generous side of decent fries.
Another steal was the Cajun chicken plate: sliced bird marinated in house dressing, then zestfully seasoned, battered and fried, trimmed with lettuce and tomato, and served with a piece of seasoned bread and the fries. All of Mary's seafood is shipped in from out of town frozen. But like the oysters, the main ingredient of the crawfish plate was doused in Mary's buttery batter and fried in a light oil that wasn't the tiniest bit greasy. Though both were thickened with a bit of flour, the shrimp étouffée and chicken-sausage gumbo were genuine winners, especially at the price. Both were huge, with plenty of meat and veggies and lots of kick. Forget the rice – it's just the plain, sticky, white stuff you can get anywhere. Go for the beans, slow-cooked bad boys with enough bay-laurel flavoring shining through to keep your taste buds rattling for minutes after each bite. Piled to the brim with sausage, the dish was also nearly sinful and certainly a meal in itself. N'awlins purists might want to avoid the place – Mary's is around the corner from authentic. But for folks with a hankering for fantastic red beans and substantial, inexpensive, tasty fare, she won't disappoint.