Anybody who grew up in New York, Philly, Chi-Town, or Jersey will tell you that once you move anywhere else, you've got to give up your appreciation for pizza.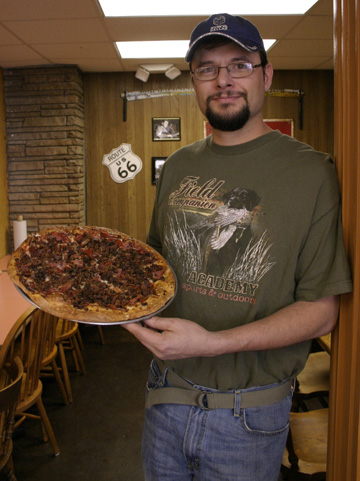 And there's truth in that. Where else are you going to get fresh imported mozzarella slathered on homegrown and handpicked Italian tomatoes? Nowhere. On the other hand, once you lower your expectations and open your mind, you can begin to appreciate what's served as pizza in places like L.A. (quail and pecans on brioche) or Des Moines (pork and corn).
Then there are the fast-food chains serving who-knows-what on thick slabs of buttered dough with processed cheese-like substances stuffed into the crusts. And then there are the little guys, like Chad's Pizza and Burgers in Weatherford (five minutes off I-20). Opened by Chad Grant in December 2006, Chad's serves heavy-duty burgers and a delightful version of pizza on wafer-thin homemade crust out of an orange stand-alone building on Main Street. Done in cowboy kitsch and old Coca-Cola memorabilia, the little two-room restaurant – it seats about 38 total – was doing brisk business on a recent early-Sunday afternoon.
Grant has been known to bring free pies out to the skateboarders in the park next to his restaurant. ("Heck," he told me, "most of those kids don't have any money.") He opened his place after seven years of serving as a manager at a Bennigan's and running a Cici's Pizza. "I just wanted to open a place that people would enjoy, where they could get fresh food, not processed food," he said. "I recognize that lots of people prefer to go to fast-food chains – I'm trying to reach the others."
And if the sampling my guest and I had the other day is an indication, he probably will. We went for a double-patty cheeseburger dressed with mustard, pickles, onions, tomatoes, and lettuce, and it was as juicy as anything you'd make at home to shatter a diet. The fries, hand-cut, were nothing to write home about, but the onion rings, which had been dipped into a homemade batter, were crunchy and full of flavor, the sort of treats an O-ring fanatic might drive out of his way for.
The two pizzas we tried were also very good. The Paul McCartney had a pesto-sauce base and was topped with sun-dried tomatoes, onions, roasted peppers, and mushrooms. For an extra $1.75, we added artichoke hearts. (If you're going to be a pizza heretic, you might as well go all the way.) When the 14-incher first arrived, it looked as if the veggie toppings were a bit skimpy, but they were actually the perfect amount, with each being allowed to stand up and shout rather than all of them talking over one another.
The Old Man Special was equally good: chopped sausage over tomato sauce with onions and jalapeño peppers, topped with oregano. There was plenty of sausage, but this time it was the mozzarella that looked skimpy. Again, it turned out to be just the right amount – it let the sausage and oregano shine. And the jalapeños gave everything an excellent aftertaste.
There are probably 500 fast-food joints between downtown Fort Worth and Weatherford. But if you're willing to drive a little farther, Chad's is waiting – and worth it.
609 N Main St, Weatherford. 817-594-5656. Mon-Fri 11am-9pm, Sat 10:30am-9pm, Sun 11am-2pm. All major credit cards accepted.
Chad's Pizza and Burgers
The Paul McCartney
(14″) $10.99
(18″) $15.99
Double-patty cheeseburger $5.45
Onion rings $2.25