On the exterior of the modest Hilton hotel that opened last year near the Southlake town square, the sign for the resident restaurant – the New Orleans-based chain Copeland's – is more conspicuous than the red "H" logo that has indirectly helped fund celebutante Paris Hilton's liquid lifestyle.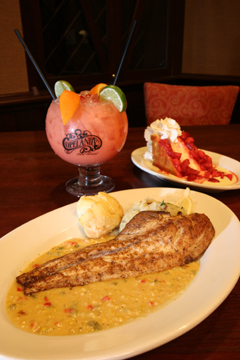 This is smart marketing, considering the backlash against Paris and everything she stands (or falls down) for. Copeland's is sure to draw its share of hotel guests, but based on its extravagant, calorie-loaded menu, plenty of locals also will be stopping by. As for ambiance, well, Copeland's plays it straight, with its deep browns and reds, fleur de lis-patterned carpets, and red roses on every table. But the place is basically one broad dining space – no cozy nooks and crannies. You may not care, though, once you've planted a fork into one of Copeland's signature dishes.
The meal began temptingly enough, with an appetizer of Bayou Broccoli: six deep-fried, steaming brown hush puppies stuffed with yellow cheese, bits of ham, and dark green broccoli florets. Upon sampling, however, it was rather ho-hum. The cheese was appealingly gooey but bland, the pork flavor was barely detectable, and the dipping sauce seemed to be average honey mustard infused with a bit of horseradish.
The main dishes, though, were uniformly marvelous. Blackened Pork La Boucherie featured four large, thick pieces of pork tenderloin that had been mildly blackened with pepper spices. So much the better – the pork wasn't the least bit dry or tough, which happens all too frequently in the "blackened" cooking process. The tenderloins rested atop a mound of parsley-flecked angel-hair pasta and a pale brown gravy of thick mushroom slices and green bell peppers, with the zesty bells ringing in most of the awesome flavor here.
The wood-grilled chicken with yams was a treat, simply because so few restaurants offer the sweet orange potato. Here, they were whipped into a fluffy, dessert-like mound and topped with two slices of chicken breast covered with velvety caramelized onions and roasted pecans. The cooked onions and the nuts were striking together. The pile of house-made onion rings was actually too generous. Cut to string-size and spiced with a peppery flame, these oily bad boys would've worked better in a more modest portion.
The best entrée of the afternoon was the eggplant pirogue: two 6-inch-long slices of eggplant breaded, fried, and stuffed with crab claws and baby shrimp. (The claw shells were left on, so chew with care). Set atop another hill of angel-hair pasta, the whole mess was ladled in a mouthwatering creamy au gratin sauce that would've been overpowering if just a few more teaspoons had been added. That's the New Orleans balance that Copeland's strives for – and mostly achieves: decadent excess that still manages to feel like a flirtatious tease.
1226 Federal Way, Southlake. 817-305-2199. Mon-Thu 6am-10pm, Fri 6am-11pm, Sat 7am-11pm, Sun 7am-10pm. All major credit cards accepted.
Copeland's
Bayou Broccoli $6.49
Eggplant pirogue $16.49
Wood-grilled chicken w/yams $14.29