More than a dozen years ago, musician Beth Wood was your typical student struggling to earn a degree in literature from the University of Texas.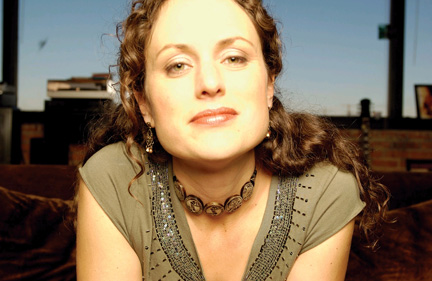 She worked two part-time jobs but also found time to read the assigned novels of authors such as Sandra Cisneros and Louise Erdrich. At the same time, she was teaching herself the acoustic guitar and writing original songs. She had spent her childhood studying the European classical masters. "I studied voice, piano, violin, and harp for years," said the 36-year-old Arlingtonian. "But it was always so intense and competitive. The schedules wore me down. I needed something different."
While pursuing her diploma in Austin, she attended a show by the great Rickie Lee Jones. During the set, Wood said, Jones looked right at her – a cherished glance that fans hope for when they catch a concert by one of their idols – and then began to improvise over the song. The performer repeatedly chanted, "You're in the wrong taxi, white girl."
Wood, who was born and raised in Lubbock, shuddered. She was not happy with her overburdened student life, and when she fell asleep that night, she dreamed of climbing into a yellow cab manned by a mysterious driver. He looked over his shoulder, grinning with a mouthful of gold fillings, and repeated to Wood, "You're in the wrong taxi, white girl."
She completed her degree about the same time that she began to play clubs, coffeehouses, and the college circuit in Austin, North Central Texas, Oklahoma, Louisiana, and Asheville, N.C., a small city she describes as a "cool, funky place, very different from the state that has a conservative reputation." She also took music classes at North Carolina's Brevard College and has methodically established a regional Southwestern/Southeastern presence with seven CDs and almost non-stop touring since the late 1990s.
Her latest CD, the self-produced Beachcomber's Daughter, sounds like a de-twanged Dolly Parton mixed with the FM radio vocalists she listened to on her bedroom radio. Anne Murray and Karen Carpenter – whose rock-candy-sweet voices are both grossly underrated – captivated the maturing Wood and helped shape her delicate phrasing and crystalline tone. Her spare, precise lyrics evoke celebrations and condemnations of the world she sees around her, both personal and political.
The new album's demos were enough to get her a paid gig on this past February's Cayamo sea tour of the Caribbean Islands. It was a six-day "songwriters" ocean cruise for about 3,000 passengers who'd paid to see live sets by the likes of Emmylou Harris, Lyle Lovett, Shawn Colvin, Patty Griffin, and John Hiatt. Wood played a short set that was well-received, but more importantly …
"I finally met Lyle Lovett," she said. "He was quiet and friendly. I'm not a stalker, but he's kind of my spirit guide. I've had dreams where he helped me make life decisions. I love his music."
Wood has always relied on her dreams, she said, because they've taken her real life to places she didn't think she could go, including being a professional musician who actually gets paid to play her own songs. Not every aspect of that life is to her liking, though, as she discovered during a co-writing gig in Nashville.
"It was weird, like a blind date," she said. "You meet a stranger with different ideas, you work together in a studio all day long, and you're supposed to come up with a hit song. It's like 'Bang-bang-bang: Make us all like the song, and we'll forget your differences.' "
For the moment, Wood prefers the label she places on herself: "barefoot acoustic enthusiast." It's casual but implies passion and intention, just like the singer's approach to her songs.