I always assumed that only "ladies who lunch" frequented Zodiac, the café inside Neiman Marcus at Ridgmar Mall.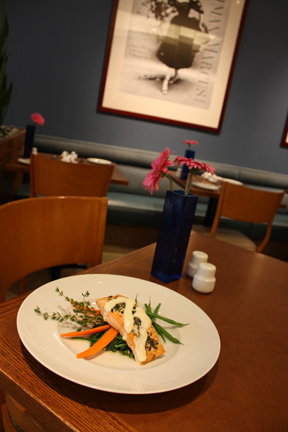 Generally, I'm not in that category. But not long ago, I wanted a midday bite that didn't come through the window of my car. What the heck, I said. I rounded up some fancy friends – for company, of course, but also to prevent me from using the wrong utensils – and into the Zodiac we went.
On the way in, I couldn't help but hum that song about how if you have to ask how much something costs, you can't afford it. My assumptions, though, were shot down almost as soon as I stepped inside. The decidedly un-snooty hostess and wait staffers looked like ordinary humans, as opposed to the fabulously dressed, wraith-thin sylphs I had imagined. While there were indeed several tables of lunching ladies, there also were casually dressed combos of mothers and daughters and grandmothers and mothers and daughters. A Paris Hilton clone (looking way too fabulous for an afternoon in Fort Worth, even at Neiman's) sat by herself near two older cowboys, who also looked perfectly at home.
Our server was attentive and knowledgeable, starting us off with Zodiac's complimentary giant popover (a crusty, fluffy, hollow muffin) and a dainty cup of chicken broth. Distressingly, there was no teensy soup spoon on the beautifully laid table. Fortunately, my friend, who may or may not have been winking at me, picked up the cup and sipped – etiquette gaffe averted!
Zodiac's menu has salads, sandwiches, and "culinary creations" (fancy-speak for daily specials) and runs the gamut from Southwestern trout, pecan chicken, and a Black Angus burger to a simple veggie wrap. If you're not mentally prepared, you might blanch when you see that the least expensive item (the quiche) is $13.75. Yet while Zodiac doesn't accept debit cards, it may be the last place in town that will take your personal check.
Manager Wes Glover could not have been more hospitable. He answered questions about several dishes and brought out the entrée we special-ordered to make sure it was satisfactory. Everything was presented exquisitely. The most stellar-looking and -tasting dish was the crab Louis, a generous helping of chunky white crabmeat next to half a head of Bibb lettuce. The dressing on the Louis was closer to a remoulade: thick and spicy as opposed to the rivulets of Thousand Island I was expecting.
The "composed salads" run between $15 and $17, and the tuna Nicoise (ahi tuna served on top and well-done, as requested) featured green beans, quarters of hardboiled eggs, and new potatoes atop mixed greens. The salad's plain vinaigrette dressing was brightened by tart capers. And the perfectly seasoned salmon served on a bed of spinach was expertly cooked, a tricky proposition, considering that mass-produced salmon tends to dry out.
With Zodiac's combo plate came a mandarin soufflé (like creamy Jell-O, though Neiman's would probably faint at the comparison) paired with chicken salad, a plethora of berries, and a dainty muffin. Although the bird was sort of bland, the soufflé was decadently creamy. The ham and asparagus quiche accompanying the black-bean soup was delicious but, in comparison to the wondrous plating of the other entrées, arrived plain-jane.
The desserts were fabulous. We bypassed the eatery's famous Frisbee-sized cookies for the "culinary creation" of the day: a light, moist lemon pound cake with cream and seasonal berries. The exquisitely smooth crème brûlée had the perfectly crunchy burnt-caramel top. The three-layer chocolate cake was moist and dense, with a fudgy ganache frosting that could have stood as a desert on its own. The Belgian chocolate cheesecake was a symphony of sweet ganache and rich chocolate cheesecake. While not made in-house like the other desserts, it was easily the best cheesecake I've ever eaten.
As we were passing desserts around, a tall young woman (who plainly hadn't had dessert in years) was walking from table to table, modeling some of Neiman's couture fashions. Now, I never use the word "couture" and occasionally mock people who do. However, her grace, the clothes, and the whole experience warrants non-ironic usage of the word, especially considering the restaurant is bedecked in black-and-white photos of women in classic ensembles from the last half of the 20th century and also considering, well, that the restaurant is located inside a tony department store.
Apparently, there's a Zodiac-type eatery inside nearly all of Neiman's dozens of stateside locations, and they all reportedly adhere to the same high standards. The one in Neiman's flagship North Texas location, in Dallas, is also called Zodiac and has been open for about 50 years. Ridgmar's opened in 1976 as the Hedges Restaurant – the name was changed in 1995 – and it's clearly a place where you go to dine, as opposed to just eat. And if you can't spare about 90 minutes (or dollars), go elsewhere. The good news: The portions are fairly hefty, especially those desserts, and I'll take attentive, competent service over a hyperactively cheerful coed who forgets to refill my iced tea, any day of the week. And for a place open only for lunch, the wine selection is incredibly varied.
Lunch at Zodiac is a lot like ordering that Belgian chocolate cheesecake – there's no way you could have it every day or, hell, every month. But for a special occasion, with or without the ladies who lunch, it's a treat.
Zodiac at Neiman Marcus
(Ridgmar Mall)
Crab Louis salad $17.00
Orange soufflé $14.00
Quiche and soup of the day $13.75
Salmon with spinach $16.25
Crème brûlée $7.00
Belgian chocolate cheesecake $7.00