After making an unlikely segue from Broadway to Las Vegas, the acclaimed puppet musical Avenue Q finally hits Fort Worth to provide some answers to the question, "What do you do with a B.A. in English?"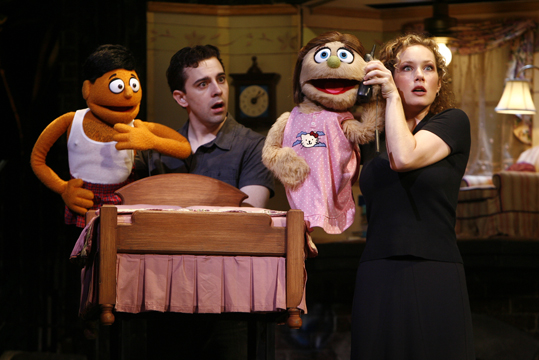 The show, which revolves around a young college graduate who starts a new life in New York, is aimed at the generations of theatergoers who grew up on Sesame Street, with its brightly colored felt puppets (manipulated and given voice by actors who are completely visible on stage) and upbeat, rhythmic songs reminiscent of Joe Raposo's best work.
However, a simple look at the song titles should disabuse you of any notion that this show is for kids. One character named Nicky serenades his closeted roommate Rod with a number called "If You Were Gay" ("That'd be OK / I mean, 'cause hey! / I'd like you anyway"). Other songs in this vein include "Everyone's a Little Bit Racist" and the insanely catchy "The Internet Is for Porn."
Yet for all its scatological sense of humor, the show exhibits surprising depth when dealing with existential angst ("Purpose") or depression ("There Is Life Outside Your Apartment"), which is why this unusual musical is more than just a funny romp. Casa Mañana brings Avenue Q to Bass Hall this week, and between this and last month's production of Spamalot, the company's hipness quotient has suddenly gone through the roof. That should have people, ahem, Q'ing up at the box office.
Avenue Q runs thru Sun at Bass Performance Hall, 555 Commerce St, FW. Tickets are $27-79. Call 817-332-2272.