The Vault Mediterranean restaurant has been "coming soon" to the Tower Building in downtown Fort Worth for months. When I learned that the owner was French restaurateur Jean Michel Sakouhi and that the chef was Gabriel Ochoa, whose tenure in Fort Worth included a stint at Kalamatas, an invite to the opening sounded too good to pass up.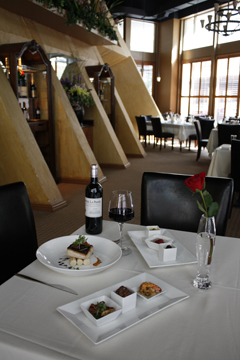 Generally, I have a rule: Never dine at a new restaurant before the dust in the wine cellar has settled. However, after sampling a plethora of delicious appetizers featuring "cuisine from the Mediterranean basin" (and meeting the genuinely charming manager, K.G. Nair), I broke my rule and invited some friends to lunch. Mediterranean doesn't necessarily mean Italian. Although pasta's on the menu, cuisines from Spain, Portugal, and Southern France, as well as the Middle East and Greece, are well represented. Spices include fanciful combinations of saffron, peppers, paprika, and more exotic seasonings along with the traditional garlic, basil, and oregano.
On opening night, The Vault's paella – a traditional Spanish saffron, seafood, vegetable, and rice dish – was deliciously gooey, with al dente veggies and perfectly cooked seafood. Any chef who can keep the rice creamy while not letting the calamari get rubbery is well worth his or her, um, salt. Sadly, the special pans required to create individual servings are apparently en route from Spain, so the paella, as of this writing, is not available for lunch. The menu changes often, evidently because Ochoa likes using fresh produce, meat, and seafood. I can only hope that if you visit, the calamari will be there. The Vault's delicately fried, perfectly spiced appetizer came with a tart aioli-garlic-caper dipping sauce that was subtly flavored with something that none of us could identify. The chef's not keeping secrets; when we asked the waiter, we were told that the "something" that made the sauce divine was … Tabasco! Our second appetizer was a wondrously creamy-crunchy treat of Spanish ham and parmesan enveloped in paper-thin, flaky phyllo dough and served with a base of creamy balsamic vinegar that did double-duty as decoration.
A generous salad of a half-dozen shrimp on a bed of baby spinach, blue cheese, eggs, and other veggies was good, despite the disappointing dressing. Billed as "cherry vinaigrette," it was mostly vinaigrette and little cherry. The New York strip sandwich, a mound of thinly sliced strip steak on an oversized bun, came with The Vault's freshly made-in-house chips that were savory enough to be an appetizer by themselves – our server said that people come in just for the chips, and I believe him. Everything was seasoned beautifully, and Susan, the self-proclaimed "Queen of Salt" at our table, left the shaker alone.
There were a few culinary misses. The bun for the hamburger was too small to hold the monster patty and arrived slightly charred. The Florida flounder and asparagus in a type of butter sauce was a mixed bag: While the asparagus was delightfully al dente and the sauce deliciously creamy, the thin fillet was a bit dry. A possible remedy: more of that buttery sauce. Splurging on dessert makes sense at a restaurant with its own pastry chef. The pots du crème trio – three desserts, each described as "similar to crème brulée but without the crust" – starred a large serving of sinfully rich, fabulous dark chocolate crème. The second pot, the vanilla, was also very good, but the third, meant to be raspberry, was definitely more citrus-y than berry. We also tried the banana bread pudding: a giant cube of the stuff accompanied by a river of chocolate sauce and touches of caramel. Everything was well worth the calories.
The restaurant's color scheme is traditional French country-kitchen blue and yellow. However, as with the menu, the décor is a mélange: French country meets Art Deco, with sculpture on the walls and industrial, black-painted ceilings. And there's also a downstairs area, where a lounge is located. With wood floors, oversized couches, and a bar that looks as if it would seat two dozen, V Lounge is as dark and dramatic as the restaurant is light and airy. And The Vault's prices aren't unreasonable. In fact, they're comparable to those of most of the non-burger restaurants nearby.
There's a lot to like about The Vault. The food was tasty, and some of it was truly remarkable. Our server Jacob was attentive, friendly without being gushy, and knowledgeable about the intricate menu. And, as my friend Tricia said, you can actually carry on a conversation here without being overpowered by the ambient music. Our food came quickly, but we never felt rushed. Other groups of diners came and went as we occupied our table for more than two hours. Time can stand still at The Vault, and if you dine with good (chatty?) friends, you may find yourself overstaying if not your welcome than at least your parking meter. But between the calamari and the chocolate pot du crème, you won't mind paying either ticket.
The Vault:
Fried calamari appetizer ………………$6
Cured ham in phyllo appetizer …………………..$7
Spinach salad w/shrimp………………$16
Pots du crème trio …………………………….$7
Banana bread pudding ……………………$7