Every ethnic group has its stereotypes. Some people take umbrage at these clichés. Other folks use them to their advantage.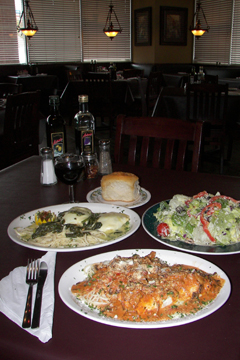 And so, near the intersection of I-30 and Loop 820 on the East Side, Italy Pasta & Pizza's décor features photos not of Mediterranean landmarks and cityscapes but of high-living, eternally hip patron-celebs with underworld connections like Frank Sinatra and his Rat Pack. In one instance, there are filmland mafiosi in the form of a cast picture from Martin Scorsese's ultra-violent Goodfellas. It's all very tongue-in-cheek, and as any longtime fan of Italy Pasta & Pizza can tell you, the bedrock cuisine here is a lover, not a fighter.
Given the buttoned-down atmosphere, it seemed fitting to try a traditional goombah appetizer. The fried calamari fit the bill rather well: a large steaming platter of freshly breaded and deep-fried squid rings, with a small bowl of warm, sweet, pulpy marinara on the side. The calamari combined the best qualities of the fried-food universe – greasy enough to oil up your fingers but also crunchy – and the squid was firm without being rubbery. Even though the dish was an "appetizer," it could've served three or four hungry people.
Next we turned our attention to some of the less-familiar pasta dishes. Here, too, Italy Pasta & Pizza is determined that you leave the premises with leftover containers in tow. The plates are piled thick with noodles and sauces. The Chicken Dame Blanca was a variation on Chicken Alfredo: spaghetti mixed with still-crisp broccoli florets, sautéed sliced mushrooms, and a pair of medium-sized baked chicken breasts with all of the fat trimmed away. The rich white sauce bordered on pure uncut cream, so forceful was its dairy flavor. The fare was mouthwatering, but a light summer repast, it wudn't.
The Chicken Niccola offered larger versions of those baked chicken breasts but stuffed with moist chopped spinach and a gooey, tangy white cheese that may have been fontina. The whole thing rested atop a nest of spaghetti. The sauce was a considerably thinner reddish-brown brandy-based recipe that boasted hefty slices of mushroom caps. Mellow and a little smoky, and, though not overpowering, it was way denser than any gravy you'd get at the grocery store.
The fettuccini carbonara featured a return of the dairy-rich white cream sauce, though this time, intriguingly, it didn't dominate the dish's flavor. The main players here were the generously distributed, thinly sliced black olives, with their wonderful meaty taste, and small bits of pancetta, a salty, cured bacon. The duo, accompanied by wide bands of fettuccini pasta, was a knockout, a testament to the deceptively simple cooking methods used in Italy Pasta & Pizza's kitchen – and a partial explanation for the joint's loyal following.
Italy Pasta & Pizza:
Chicken Niccola…………………………$9.50
Chicken Dame Blanca……………….. $9.50
Fettuccini carbonara…………………. $8.50