Montgomery Ward Plaza's burgeoning retail complex now includes a variety of sit-down restaurants. However, there are very few grab- and-go options, unless you count the 99-cent bagged popcorn at the SuperTarget. Wayne Jones, owner of Planet Smoothie, saw this gap as a great opportunity for his new franchise. After considering locations downtown and by Texas Christian University, Jones decided that the demographic of West 7th Street's new retail core would be most welcoming.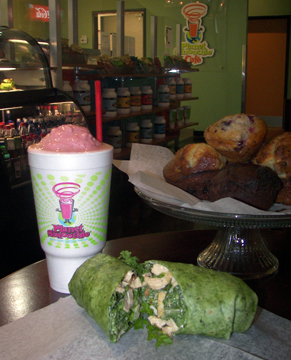 Planet Smoothie is a dizzying array of neon and bright pastels. The store has five two-top tables inside and a few patio seats outside. There are about two dozen smoothies, all categorized by "lifestyle need." Each drink comes with one boost (in the form of an invigorating powdered product), and you can order as many extra boosts as you like, including the one for your immune system, echinacea powder. (Ew.) Trying to get buff? Add nine grams of creatine monohydrate. If you're trying to stay slim, try the "Rasmanian Devil" (raspberries, banana, and a "fat burner blast"). Stressed out? There's the "anti-stress" boost of kava, gingko, and B-vitamins. Planet Smoothie even has a (cue angelic chorus) "Hangover Over" smoothie, in addition to protein smoothies and kids' smoothies (no fancy powders). And in the interest of grabbing and going, there's also a selection of breakfast items, three kinds of sandwiches, four wraps, and even two salads. What they don't have is a way for a new customer to easily understand what she's ordering.
The teenagers working on a recent Saturday afternoon were pleasant but couldn't answer any technical questions, leaving my guests and me to order based on luck and our rudimentary understanding of smoothie-dom. Our first order was a letdown: a hot ham and cheese sandwich on ciabatta bread with chips. Although the lettuce and tomato were fresh, the sandwich came on wheat bread and wasn't even warm, much less hot. We pointed this out to the employees, thinking perhaps that they'd be glad to know their mega-toaster wasn't working, but they must have just chugged a giant anti-stress smoothie. Their response was a casual "Oh?"
The plain bagel with cream cheese was tasty, although the equipment used to toast it didn't even produce a light tan. The Thai chicken wrap on a pretty green spinach tortilla was a little better. The veggies were fresh, and the spicy sauce was fragrant and delicious. The chicken, however, had obviously been thawed and microwaved – it was rubbery. At that point, we decided to turn our attention to the Planet's, uh, bread and butter: smoothies. The "Chocolate Elvis" – peanut butter, banana, yogurt, chocolate, and an energy boost – was thick, creamy, and wonderful, more peanut butter'n'nana than chocolate. The dairy-free "Road Runner" combined three kinds of berries, orange juice, and a booster blast into a sweet/slightly tart mix. (Any smoothie can be altered to meet dietary needs, including eliminating yogurt.)
We also tried the acai fruit smoothie. The health benefits of the trendy purple berry from a Brazilian palm tree supposedly include high fiber and a plethora of phytonutrients. Acai fruit also is purported to have undertones of chocolate – didn't notice any in the smoothie, however. Regardless, the rich flavor and slightly pulpy texture of the acai-plus-yogurt grew on me.
The 12-ounce (kid-size) "Purple Primate" (raspberry, strawberry, blueberry, and yogurt) was "berry-licious," according to my daughter. Additionally, it caused her tongue to turn an unnatural shade of purple, which she enjoyed for the rest of the afternoon.
In the confusion about what to order, I didn't look at the nutritional content of the smoothies we were slurping until mid-meal. I was horrified to learn that my 22-ounce "Chocolate Elvis" packed more than 500 calories. Ditto for the acai smoothie. The "Road Runner" weighed in at a more modest 279 calories. Jones cautions that many of the products are "meal replacing," meaning that a smoothie doesn't accompany a meal – it is the meal. Plus, since most of the 22-ounce smoothies start at $4.20 and the sandwiches cost about $5, getting both pushes your tab into the territory of a lunch special at anyone of the nearby sit-down restaurants, rending moot one of the basic ideas behind the concept of grab and go.
Planet Smoothie:
Chocolate Elvis……………………………….$4.29
Hot Ham and Cheese…………………..$4.99
Thai Chicken Wrap……………………$5.49
Acai Smoothie………………………..$5.29