If you simply have to see a Christmas play this holiday season, you can check out some original works going on stage this weekend instead of the usual standbys. SceneShop's annual A Fifth of Christmas show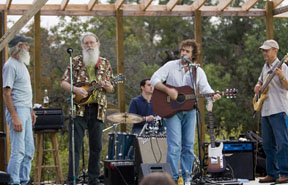 features Jackie Pickard's "Holiday Musings" and Steven McGaw's "Christmas for Grown-Ups," and also features the provocatively titled "Tinsel and Pepperoni," a piece by Steven Cashion and Nicholas Irion. The performance also includes live music by the Lake Rats, who often play the outdoor Hip Pocket Theatre. Nice to see them get an indoor gig, especially now.


While SceneShop is on only for one night, the Butterfly Connection's Reindeers Unplugged plays for two weekends and envisions holiday lawn decorations coming to life and trying to save a fellow decoration who's no longer lighting up. They have to hurry, though, before "The Collector of Broken Things" comes calling. Rob Bosquez and Kate McDougall's comedy was described in our pages as "Pixar," though the synopsis makes it sound more like those Rankin-Bass TV specials that are being rerun right now for the season. Whichever it is, its novelty value alone should make it worth checking out.
A Fifth of Christmas is at 8pm Sat at Arts Fifth Avenue, 1628 5th Av, FW. Tickets are $10. Call 817-923-9500.
Reindeers Unplugged runs Dec 12-21 at Rose Marine Theater, 1440 N Main St, FW. Tickets are $8-15. Call 817-333-4028.