Attention Twilight fans: You really should check out Let the Right One In. This Swedish vampire flick appeared on a number of critics' year-end lists of best films (including Fort Worth Weekly's), and it electrified a packed house at last November's Lone Star International Film Festival. If you missed it back then, you can catch up to it at the Modern Art Museum this weekend.


Set in the 1980s, the movie is adapted from a John Ajvide Lindqvist novel that reverses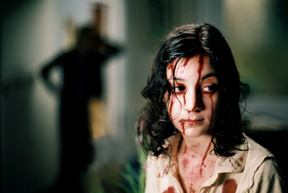 the usual vampire-story gender roles. Twelve-year-old Oskar (Kåre Hedebrant) dreams of revenge on the boys who bully him at school until he meets Eli (Lina Leandersson), a girl who moves into his apartment building in the Stockholm suburb of Blackeberg. Though she looks his age, she's not like other girls – she walks around wearing short sleeves in the dead of a Swedish winter. She's a vampire, of course, and they fall in love. Those school bullies are in for a very bad time.
The film boasts fine-as-a-flake cinematography by the awesomely named Hoyte van Hoytema, as well as better special effects than Twilight had. It also introduces inventive notes on the old conventions of vampire stories; one hair-raising scene shows what happens to a vampire who walks into a house without an invitation. Oskar's spontaneous expressions of love for Eli give the movie a warmth and sweetness that turns disturbing when you ask yourself what future these two have together. Director Tomas Alfredson (a veteran of Swedish TV) does a masterful job of cutting the horror with romanticism and black humor, and makes this a creepy and insinuating movie that won't get out of your head.
Let the Right One In shows Fri-Sun at Modern Art Museum of Fort Worth, 3200 Darnell St, FW. Tickets are $6.50-8.50. Call 817-738-9215.