OK, I get it, Mellow Mushroom. I can read between your lines. I mean, your menu is probably not the only menu that calls appetizers "munchies," but it is probably the only one in town with a wizard on it (never mind a bunch of anthropomorphic 'shrooms). Given what I got into on a recent Monday evening at your place, those things were right up my alley.
The mermaid sitting on the counter, however, was a bit of a surprise.
There are a couple things about that Monday night that I'm not so sure of (the less said, the better), but the mermaid was definitely real. I didn't catch her name, but she was apparently modeling for a regular Mellow Mushroom Monday night activity called Drink and Draw.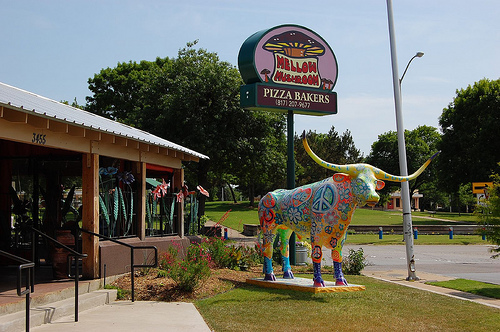 Created by the pizza chain's corporate office in Atlanta, the program partners Mellow Mushrooms across the country with local art stores — in our case, Asel Art Supply — to provide local neighborhoods with something fun to do on a school night. Better yet, the program's ultimate goal is to help local nonprofits. You basically show up, grab a provided sketch-board and some charcoals or pastels, and sketch a model during 10-minute posing rounds. At the end of each round, the results are collected and judged, and at the end of the night, winners take home $25 gift cards provided by the sponsoring art store or the restaurant.
You might think that combining art with a popular chain restaurant would amount to crayons and a children's menu, but the "Draw" part is pretty legit – I saw lots of serious faces on Monday but maybe only because they were busy contemplating serious art. I wouldn't call these folks ringers, because that suggests competing at a pool table or basketball court, but I was really impressed by the quality stuff that was produced. I asked Felicia Taylor, Mellow Mushroom's "Ambassador of Fun" (that's her actual title), about this. She told me that some local notables have been showing up and that the store intends to eventually start selling the best pieces and donating a portion of the proceeds to the Metrognome Collective, a local multi-disciplinary nonprofit group. What I really liked, though, was the age range of people thoughtfully scratching away at their boards. There were high-school kids, retirees, and everyone in between, and there appeared to be as many spectators as there were participants.
I think it's a great idea, and, frankly, I'll go just about anywhere that combines all-night happy-hour-priced beers with something weird or cool. From what I've gathered, the Mushroom's beer specials are sort of on an ad hoc basis – there are always happy-hour prices on some kind of beer — but there are also surprises. Abita Brewery, for example, recently handed out free samples. (Felicia mentioned they're looking for a sponsor for freebie nights, too, so if you know a brewmaster thirsty for business, you know where to send him.) – Steve Steward
Interestingly enough, it seemed as if most of the drawers were there more for the art than for the cheap beer, indicating that creativity and camaraderie can trump inebriation. I don't know about all that, but given the size of the crowd, Drink and Draw is shaping up to be a must on your libation itinerary.
Contact Last Call at lastcall@fwweekly.com.