WED ? 14
Spoken-word poet Mike Guinn, a member of the nationally ranked Fort Worth Slams team, conducts a poetry workshop at Cooper Coffee every Wed. Admission to the event at 1209 S Cooper St in Arlington is free. Call 817-795-1848.


THU ▪ 15
A trombone quartet? From Argentina? That gives master classes all over the United States and performs music written specifically for the odd instrument? No, we're not kidding. The inimitable Viento Sur will perform at 7:30pm at PepsiCo Recital Hall, 2800 S University Dr, FW. 817-257-7341.
FRI ▪ 16
No, their heads won't be covered in brown paper bags. Rather, dancers will be performing during lunchtime at the TCU Dance Building, Studio B, 3000 S University Dr on the TCU campus as part of a semi-impromptu show called Brown Bag Dance! You're encouraged to bring your lunch and watch some moves at noon. Admission is free. Call 817-257-7615.
SAT ▪ 17
Today is Day 2 of the Historic Mansfield Music Festival. Be sure to catch performances by Fort Worth legend Delbert McClinton, Bubba Hernandez y Los Super Vatos, Jim Suhler and Monkey Beat, Naked Lunch (a Steely Dan tribute band), and more. Food from local restaurants, microbrewed beer, classic cars, and classic movies will round out the celebration at the corner of Main and Broad streets in historic Mansfield. Admission is free. Visit www.historicmansfield.net.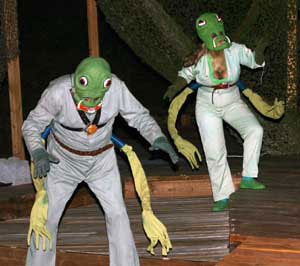 SUN ▪ 18
This week is your last chance to catch Hip Pocket Theatre's adaptation of Edgar Rice Burroughs' A Princess of Mars, a fantastical tale about an astronaut stranded on the red planet, where he's held captive by green-skinned baddies and falls in love with an enchanting princess. The show runs Fri-Sun thru Oct 24 at 1950 Silver Creek Dr, FW. Tickets are $5-15. Call 817-989-5057.
MON ▪ 19
A stop-motion animated film based on the short stories of Israeli author and filmmaker Etgar Keret, $9.99 will be screened at 7pm at Union Gallery on the campus of the University of North Texas, 1155 Union Circle, Denton. A question-and-answer session with Keret will follow the screening. Admission is free.
Call 940-565-3805.
TUE ▪ 20
Hotshot multi-media artist and Brooklynite William Lamson will be at the Modern Art Museum of Fort Worth to discuss his vibrant, whimsical, slightly off-kilter work. The lecture gets going at 7pm at 3200 Darnell St, FW. Admission is free. Call 817-738-9215.