Chris Rock explains the premise of Good Hair right at the beginning. While photographs of his two young daughters fill the screen, he says, "Even though I tell them that they're beautiful every single day, it just isn't enough. The other day my youngest came up to me and said she wished she had 'good hair.' I couldn't help but wonder where she got that idea." What follows is a not overly deep but highly entertaining documentary about a small but fascinating subject, often the best kind of subjects for films like these.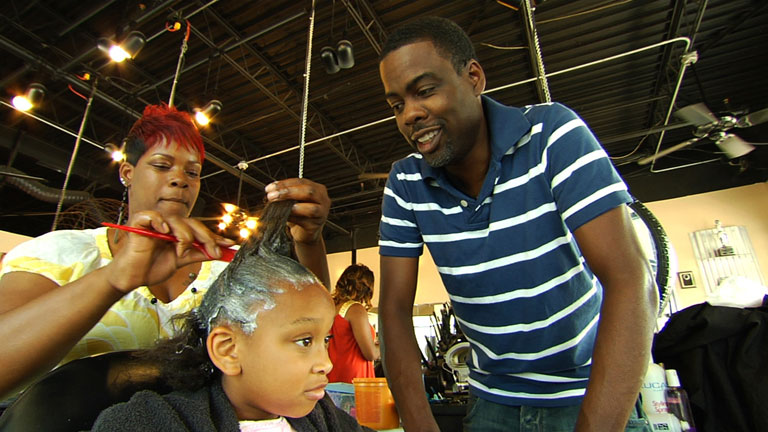 The movie focuses specifically on African-American women and their relationship with their hair. Men are present in this film only for their perspectives on women's hair. (There's no discussion of dreadlocks or shaved heads, though the inventor of the Jheri curl shows up late in the film with a memorably demented rant.) Rock attends the Bronner Brothers International Hair Show in Atlanta, which features a hairstyling contest whose competitors are deadly serious about themselves and their baroque presentations. He goes to a North Carolina firm that makes chemical relaxer, which one user nicknames "creamy crack" for the way women become addicted to its ability to straighten kinky hair. He then explores the wonderful world of hair weaves, going all the way to India, where the locals cut off their hair as a show of religious devotion, which is then brought to America and used to make the weaves. All sorts of viewpoints on African-American hair are gleaned from interviews with hair care professionals, industry titans, beauty shop customers, and a string of celebrities ranging from Maya Angelou to T-Pain.
Rock uncovers some surprising stuff. Two members of Salt-N-Pepa reveal that their assymetrical 'dos in the rap trio's 1990s heyday were the result of one of them accidentally burning off part of her hair with relaxer. Meanwhile, Tracie Thoms (best known for her role on TV's Cold Case) marvels that she's regarded as a revolutionary in Hollywood simply for doing nothing to straighten her hair, instead keeping it in short, loose, neat cornrows. Fellow actresses such as Nia Long, Raven-Symoné, and Melyssa Ford discuss the ins and outs of wearing weaves, which make swimming untenable and sex a bit of a challenge. On the less glamorous side, a group of high-school girls from Santa Monica give a dispiriting interview saying that straight hair looks more professional, while the girl in their midst with an Afro remains silent.
Noting that the active ingredient in relaxer is sodium hydroxide, Rock visits a scientist who demonstrates the chemical's corrosive powers on some aluminum soda cans. This leads to the movie's hardest-hitting passage, when Rock talks to some mothers who straighten their daughters' hair when they're still toddlers, using a product called Kidee Perm. You can easily imagine the standup comic letting loose with a signature "Let me hear y'all say that ain't right," but here he and director Jeff Stilson (a TV writer and producer helming his first film) pull back and let us form our own judgments.
This aside, Rock and Stilson could have used a bit more of Michael Moore's spirit in looking at the beauty-industrial complex. The Rev. Al Sharpton complains at length about African-American hair-care products firms now being controlled by Asian conglomerates, but later on the film shows that the Indian hair that provides raw material for this $9 billion industry is obtained free of charge. The film should have sharpened the juxtaposition and asked who's really exploiting whom. And why doesn't Rock talk to any non-Americans? It'd be interesting to see if black women from Africa or the Caribbean had different attitudes about their hair. Late in the film, Rock opens a huge can of worms with the male customers in a New York barbershop when he asks if some black men who prefer to date white women do so because Caucasian women don't mind having their hair touched by men. The discussion that follows is vehement and many-sided, and you wish the filmmakers had kept the audio on longer.
Still, for all the questions that Good Hair leaves, it's fun to watch. Rock is an engaging guide to this world that many non-black moviegoers might well be unfamiliar with, exuding gentle befuddlement when his subjects wax too philosophical on the subject of hair. Most of all, the film is a valuable document for those keeping track of the never-ending catalog of strange things that people (particularly of the female persuasion) do to their bodies to look good and feel good about themselves.